Elton Muço from 67 Pall Mall Shares His Stories As A Sommelier
21/07/2022
Elton Muço, a certified sommelier at 67 Pall Mall, started his career as a waiter and emerged as one of the recognized professionals in the wine industry.
Tell us about your journey!
I am a certified sommelier by the Court of Master Sommelier in January 2022 and a work in progress for the Advanced Course. I have been living in London since December 2016 after a very long journey in Italy that lasted 13 years. It was in Italy that I started to work in the hospitality sector. And it was in 2003 that I started my journey in this industry.
My routine was in the morning- there were lessons at La Sapienza University in Rome. In the evening, I worked in the restaurant "Bacchanale" Campo de Fiori to support my studies. That's where my curiosity about beverages started.
From being a waiter in 2003 to a bartender diploma in 2005! Exploring the world of spirits, beers & cocktails wasn't enough for my curious character, so I started to learn and understand more about wine.
I took the 2013-Course of sommelier in Hilton, Rome Cavalieri Waldorf Astoria Hotel with Fondazione Italiana Sommelier (FIS) , following with "Vigneti e Territori" course Attilio Scienza in 2015 and "Cheese Pairing " with Daniela Scrobogna in 2016. After that, I arrived in London and started as a sommelier in Marcus Wareing at the Berkeley Hotel, 2 Michelin Star in 2018.
It was a huge step for me in terms of empathy, reading the guest from their first steps in the restaurant, body language, and around 1000 bins wine list. I was multitasking- like serving ten tables in the main room with eight courses of wine matching plus a chef's table and finding the time to grab the bottles downstairs in the cellar. It seems hard, it is hard, but it comes to a point where you manage it, and you own those skills.
All this is in high standards as Michelin Guide requirements. Up to date, I have been working in 67 Pall Mall since May 2021 with one of my mentors, Ronan Sayburn, Head of Wine as a Senior Sommelier with around 6000 references in the wine list and an outstanding sommelier team.
Current place of work: 67 Pall Mall
Why did you want to become a sommelier?
During my journey in Rome and after 10 years of experience in hospitality, I realized I wanted to become a Sommelier because I like wine. I am curious, and I learn something new every day in this profession. Every day I taste a different wine, a different vintage, a different producer, a different country, and every year are coming out new wines.
What do you look for in a new brand before taking in a restaurant?
I think various factors guide me in my final decision but to point out a few of them
- The first thing I look at in a new brand is the QUALITY of the wine or beverage.
- Does it FIT OR MATCH well with the food menu of my restaurant?
- Is it inside of my BUDGET?
- What value will this brand GENERATE for my restaurant?
All this information should become useful in creating a complete Wine list with different options for different types of guests.
What sources do you follow to stay on top of industry trends and new launches worldwide?
Keeping up with industry trends is critical, so I always keep my ear to the ground.
I read books like "The South America Wine Guide "by Amanda Barnes, "Inside Burgundy "By Jasper Morris MW, and International organizations like Guildsomm and listen to podcasts. Podcasts are an easy and enjoyable way I keep up with trade journals, Decanter Magazine, Social media, and word of mouth. They all help, but nothing can replace the expertise of my guests - I always listen to them!
Especially working in a private member's club like 67 Pall Mall, where high knowledgeable members come in every day and share their experiences with you about the vintages, new releases, and so on. I feel very lucky to work in such an environment. It is a Non-Stop-Learning experience.
Questions you would ask a customer who doesn't know anything about wine?
What kind of fruit do you like? The aim is to identify a wine with the same characteristics and satisfy the customer's wishes.
What are some of the most important skills for a sommelier?
Confidence in their knowledge, understanding of the guest, positive attitude, curiosity, and great communication skills are essential qualities for a sommelier to deliver an outstanding service. It is a hard job that requires a lot of studying, so one should have a passion for this profession to go ahead.
How would you train the new staff member in their first seven days of joining?
With a slow and very gentle start, we introduce them to company values, our vision, and our goals for the future by showing the structure of the team and rules and introducing them to each and one of them.
What methods do you use to grow wine sales? Please explain with examples.
Staff training, and proper training, will increase not only wine revenue but also customer satisfaction.
Offering Options, a wider selection of wines by the bottle & by the glass on the list so the guests can choose according to their taste buds and pocket. Food and Wine matching offers options like sommelier (basic matching) or prestige selection (good wine matching). Wine of the day or wine of the week!
What methods do you use to grow profits?
Positive upselling by communicating more with our guests, creating incentives for staff, and having clear, well-defined goals.
How do you self-learn and improve your skills?
Self-Disciplined (very important), and I stick to my goals. I spend more time practicing things I find difficult until they become part of my behavior. The ability to accept constructive feedback is another way to push yourself to do better.
What's the best part of your job?
The best part of my job is seeing the guest's faces happy and smiling because of the good service delivered. That, for me, is the best feedback and gives me satisfaction and pleasure.
How do you elevate the guest experience? Please give 4-5 examples and insights here.
To enhance the guest experience is to focus on what guests secretly crave. Starting from a warm welcome like "Good evening Mr. Starr. Glad to see you again. May I lead you the way to your favorite table?".
A good memory always helps to follow up by recommending their favorite wine style.
Special Occasion is another way to organize a nice surprise like a note on the table on their arrival or a glass of champagne on the house.
What's your personal career goal? And how are you investing or planning to get there?
My personal career goal is to become a Master's Sommelier, which is the top level in this profession. Following the Court of Master Sommelier career path, I passed the Introductory & Certified on the same day and was on the waiting list for the Advanced level. Studying and practicing in the restaurant is the only way to get there.
Give us one good story that you remember of a customer and you.
In my current role as Senior Sommelier at 67 Pall Mall, I've had several opportunities to provide our guests with excellent service. Situation: One day, I was responsible for looking after one of our three private dining rooms booked for 11 guests, dinner service with preselected wines.
Task: 7 flights with six wines per flight and different glassware each, all in coordination with food timing.
Action: Preparing myself with a good studying of all the wines, vintages, producers, regions, grapes, and good glassware set-up is crucial—the right temperature of the wines and ready for the big night.
Result: An exceptional communication between myself, the waiter, and the chef make everything goes smoothly. Great customer service and happy guests.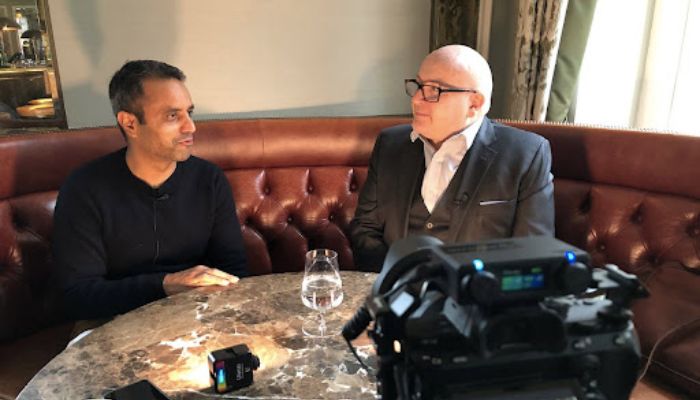 Image: An interview with Ronan Sayburn MS
Continue reading more on 67 Pall Mall: Ronan Sayburn MS sits down with Sid Patel, CEO of London Competitions and Beverage Trade Network for an interview.