Deadline
September 30, 2023
Enter Now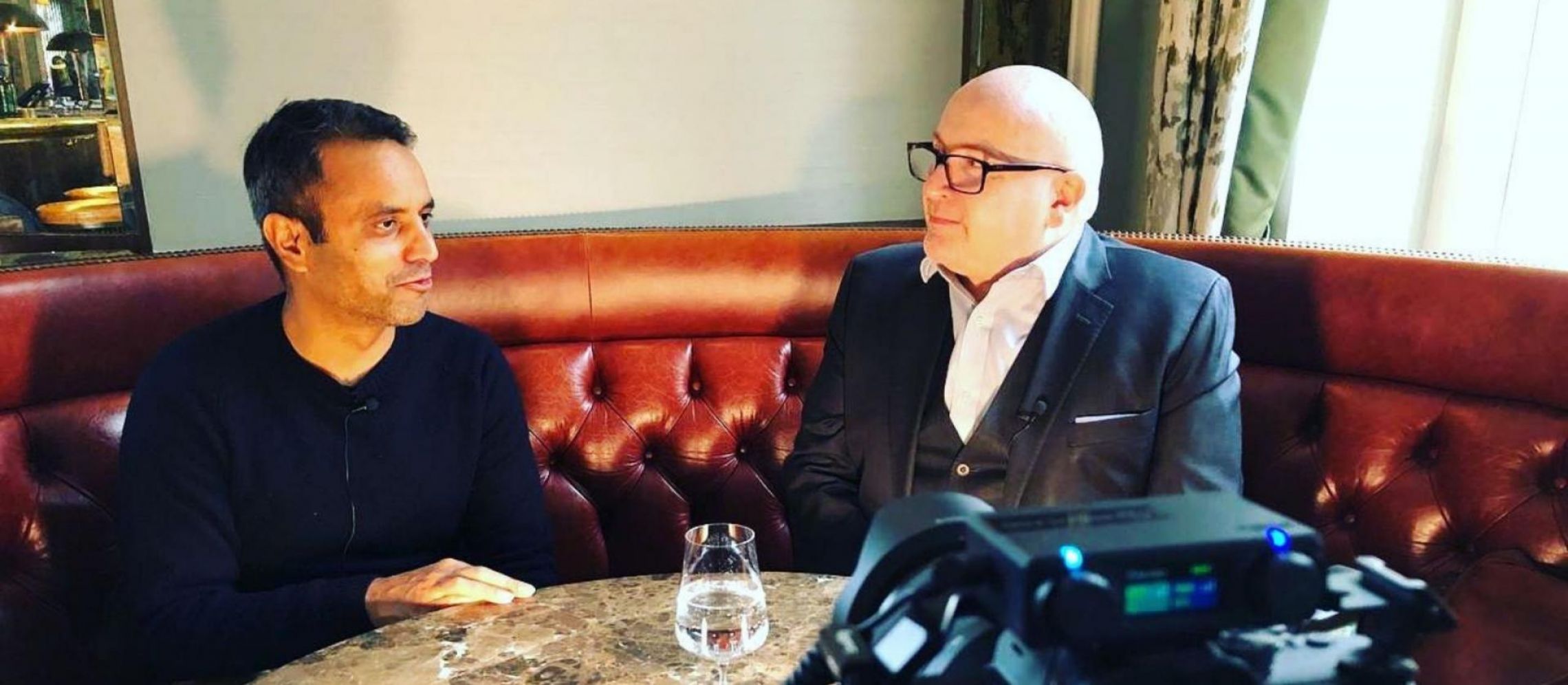 Candid Conversation With The Head of Wine at 67 Pall Mall
The brain behind one of the most extensive wine lists in the world, Ronan Sayburn MS sits down with Sid Patel, CEO of London Competitions and Beverage Trade Network for an interview.
Tell us about yourself and your journey.
I'm the CEO of European Court Master Sommeliers. I'm also head of wine for 67 Pall Mall which is now going global. We're in London, Switzerland, just opened in Singapore, soon to open in burgundy and Bordeaux and many other sites apart from that. A bit about my journey, so I grew up in the north of England up in Yorkshire, not many sommeliers there. We don't make any wine up there, sheep and beer that's what we got there. I got interested in cooking, I started to be a chef, got more interested in the management side of things, and moved into university to do a hotel catering management degree, and then discovered wine.
What was your first job?
A Chef Barman at a local restaurant in Yorkshire. The barman generally did the wine. We had a small wine list and I would look up and it was just kind of wanting to know what grape variety it was and what that meant, it's grown in Bordeaux but it's also growing in napa valley and it's like why is it grown there and what is it and why is it. With wine it's like an onion, you peel away the layers and you realize that it looks like you got curious yourself and you just want to know more and more and I just wanted to know about things and then you kind of realize, you have just scratched the surface.
We're sitting at one of the best wine programs out there in the world. 67 Pall Mall is an iconic place, especially for all other wine professionals who admire working here. Why don't you give details about your exact role, what does your day look like?
On the wine side of things, we've got a big team here of about 35 people. 19 sommeliers, we have a head sommelier, assistants, and junior sommeliers. We have a team of bar back, so they're the people that do all the glass polishing, replenish all the bars and glassware do all that sort of stuff. Then we have a full cellar team, six people in the cellar, they receive all the wines everything that comes in, gets signed off, checked and goes into our inventory system. Every bottle gets barcoded, goes into the cellar and during the service time when the sommeliers request the bottle on the floor, the cellar team will deliver it. Apart from that we've got two wine buyers and then me.
Here is the full interview with our CEO Sid Patel and Ronan.
What are the business deliverables like the margins, and top-line segment?
The whole premise behind this place started off as a group of businessmen meeting for a drink who already had big wine collections. Most of them work in finance, all had big wine collections, probably more wine than they're ever going to drink in their lives and they didn't want to go out and buy wine that they already owned and pay four times the amount for. It started off as a supper club where they would buy an old restaurant and put in a chef a few nights a week. They would take their own wine and then they would go and eat steak and drink their own wine. More people wanted to get onto this idea, so it grew and eventually became this. So the whole premise behind the club is to have very good wines but low markups but generally our markups are 40 percent so in most restaurants it would be 75. It's almost like a retail market. We weigh 40% and the more expensive the wine is the lower the profit margin comes down so our standard market is 40 but for the most expensive wines it's 20 percent.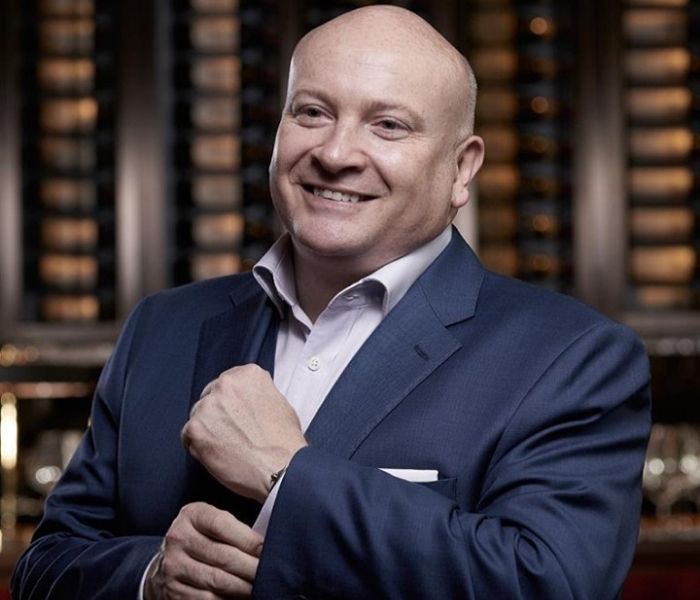 Image Source: Instagram
Tell us something about your business model, how does the club make money?
Our business model is based on membership and membership renewal. So 2500 pounds to join and then 1500 to be a member and every year after that. So the first year, you pay 4000 pounds and then 1500 every year after that. If you're a part of the wine trade, everything's half price, so if you're a restaurant owner or something, if you're in the wine business everything's half price. Moreover, if you technically live more than 50 miles from the club you're considered overseas member, that's half price a day. If we have a visiting winemaker they would be paying a quarter of the full price because they're only in London occasionally, they only come to us once or twice a year.
Walk us over the checkpoints, what do you do in the mornings then afternoon your morning routines when you enter the club?
No two days are the same. I don't have a routine, I can be here late at night or come in early in the morning or I can come in late in the afternoon whatever. Nowadays obviously everything's done mobile and as we're open in Singapore, we have big what's-up groups. So I'm talking to the sommelier team here on our London what's-app group during the day and in the middle of the night I'm talking to our Singaporean team. I am always on the go whether on a laptop, on a mobile phone, whether I'm on a train, whether I'm on a plane, whether I'm at home. I do have a desk across the road in our office which is kind of covered in cobwebs. I like to be on the floor with the sommeliers and with the members.
Who's a good sommelier according to you?
For me, it's someone who's great at hospitality. I mean that's really what we do it's hospitality rather than being in the wine business. So great hospitality skills, being able to welcome people and to make people feel comfortable and make them feel well looked after. So being friendly and sociable are some of the traits that are very important. I don't like when people call me an expert. I'm not an expert, to be an expert you need to know everything about wine. It changes too much about everything. So you've got to have a constant hunger for knowledge. Sommelier's role is a niche part of the catering industry that is multifaceted and involves lots of different disciplines and I think that that's why it's so interesting.
What does the standard greeting service look like, especially when you have different personalities that need to be treated in a different manner?
You know people arrive they get water, they get bread, they get menus and then you bring the wine list and you put the wine list down. You definitely don't give it to the man or the lady, you give it to the table. You go and you can say "who would like to look at the wine list?" You don't assume that man is going to order it, could be the lady that's going to order. So you offer the wine list, you put it down and you say "I'll leave the wine list with you. I'll let you look for a few minutes and then I'll come back and if I can offer any assistance I'm quite happy to give it to you" Don't go and hang out there and say can I give you some advice about the wine. When you first meet people, do more down selling because people come in and they think, "oh! This guy is going to rip me off" You know that they're quite happy to spend 100 pounds, and then you recommend something for 50 pounds, the guest would be happier and will help them trust you.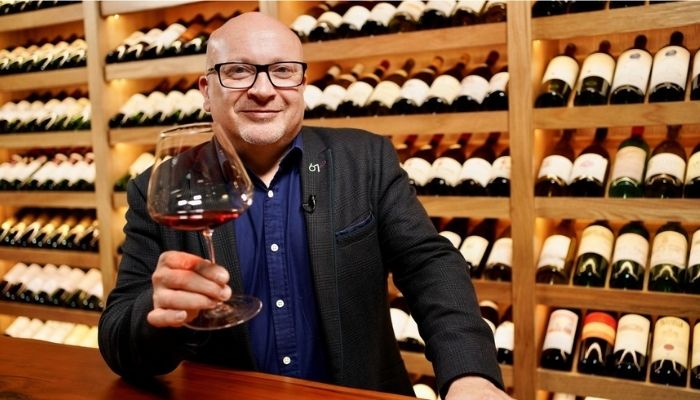 Image Source: Instagram
What do you look for in a candidate while hiring him/her for the club?
I think everyone can pick up a book and learn about wine. Everyone can go online and learn about all the vintage or all the classic things about wine but what you can't teach anyone is attitude. So, for me, people have to come with the right attitude. My number one rule when I look for people working here is about teamwork. We have a team of 19 sommeliers, some are taking their master sommelier's exams, some are doing their advance, and some are doing the intro and certified while some haven't even started. Everyone on the team respects each other whatever level of knowledge you're at. Everyone works together as a team. You respect the hierarchy within the organization but you never disrespect somebody because they don't have a huge knowledge or they're learning. You never embarrass a colleague because they don't know something. In the interview, I ask about their previous work, whether they worked in a big team or a small team, and a few technical questions.
How do you see the sales personality in a candidate?
With the members, we never know what their level of knowledge is. Some of them are massive collectors who have incredible knowledge about certain regions and certain wines so another golden rule is you never know a customer truly. So you should never make anything up if you don't know. You say "I don't know" If they say which is a better vintage. If you don't know you say "I think it's this one I'm not sure but let me check with somebody"
In recent years, like the last 12 months, when the pandemic was there, what business problems did you face and how did you deal with them?
A lot of our business model works on membership and membership renewal so when covid hit, we were shut for a year, and then after that year we went to all the members and said it's time to renew and it made no sense. Thus, we tried to take this wine experience, online. We started bottling in small perfume bottles and it's very standard now. We were the first to do it so we were buying little perfume bottles from Italy, 100 ml perfume bottles and we were doing 75 mil fills and topping up with argon and packing them into a case of six. We were sending that out to people and we would accompany that with an online meeting that you could either watch live or you could watch afterward. You could order your pack of wine and then you sit in your living room. You could put the zoom meeting up on the big plasma screen and enjoy the tastings at home. During that period of lockdown, we did over a thousand zoom meetings.
How do you grow your wine membership sales? Is there a sales and marketing activity?
We have a very good social media team, our social media and marketing people are very good at that but it's really from the word of mouth. ​​At the moment membership here is about three and a half thousand while there are some clubs in London that have fifteen thousand members but it's impossible for anyone to get a table there. We don't want it to be like that because as a part of the membership, you feel that you can come to your club and when you come to your club there'll be a table for you too.
Based on your experience, this is for the restaurant owners, what elements they can pay attention to or checklist to help drive wine sales?
Coravin for us has been an absolute game-changer. We do 900 wines by the glass and most of them are opened by Coravin but you got to use it correctly. We store all of our wines by the glass horizontally as to give some airspace to argon gas in it. The argon is not pushing directly against a cork, and thus, there is no chance of leakage. For a restaurant, the main thing is, you don't necessarily need to have a sommelier, a formal sommelier with a great badge and all that sort of stuff but you must have a person dedicated to beverage service as liquid sales have the highest profit margins.
Tell us about the purchase model and your opinion on what you look for while buying wine for the club?
A lot of our members have huge wine collections. We have a consignment model where the members that have huge amounts of wine might bring us 100 cases of wine and we put them in our cellar. We basically can sell that wine, they can come in and drink any of that with a 20-pound corkage. We put all of that wine on the list and when we sell it we will credit the member's account with the cost price of that wine and we take our profit margin.
What about the suppliers, winemakers who try to pitch you, what do you look for while making a purchase decision?
First of all, quality compared to the price ratio, as long as the wine is good, as long as we feel that it's an artisan product, as long as we feel that there's passion behind it, we would purchase it. We've got a big wine list so there are a lot of bins to fill. We have wine from 42 countries so as long as the quality is good, we don't mind racking it in our cellar.
Here is the full interview of Sid's visit to 67 Pall Mall.
The London Wine Competition is now open for submissions. Register your wines today to save BIG on super early bird pricing. Ship your samples later.