Wines from Blue Pyrenees Estate Shine Bright
15/02/2019
Elation for Blue Pyrenees Estate as four of their wines were awarded at the 2018 London Wine Competition
The journey of Blue Pyrenees Estate began in 1963 when French company Remy Martin established the winery in Victoria. It was among the first Australian wineries to venture into cool climate viticulture. Today, the winery is 100 percent Australian owned and takes a lot of pride in creating beautiful wines from their estate grown grapes.
Four beautiful wines from Blue Pyrenees Estate were awarded with medals at the London Wine Competition, 2018.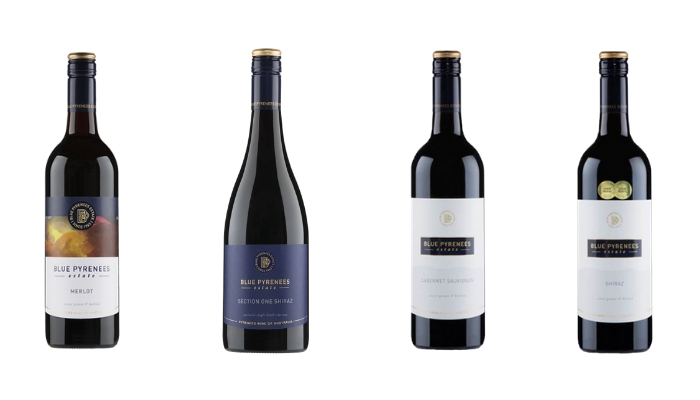 Section One Shiraz- With a score of 90 points from the judges, the Section One Shiraz was awarded a gold medal at the competition. Bright ruby red in color, this Shiraz has aromas of ripe blueberry fruit along with pepper, mushroom and toasty oak at the nose. The tasting notes include dark fruits and licorice intermingled with toasty vanillin notes. These notes precede a long lasting finish of pepper and spicy tannins. A firm structure, fruit vibrancy and medium weight make the Section One Shiraz a delightful fo pairing option.
Blue Pyrenees Merlot- Ruby red in color with a purple hue, Blue Pyrenees Merlot was awarded a bronze medal at the competition. At the nose, the Blue Pyrenees Merlot has notes of ripe blood plum, regional mint and French oak. At the mouth the wine is vibrant with notes of fresh plum-like fruit complemented by notes of forest flavours like mint leaves, earth and cedar wood. What makes this merlot stand apart is its ability to please both immediate drinkers as well as the people who love to give their wines cellar time as well. The Blue Pyrenees Merlot is a medium-bodied wine with a firm structure that comes from the fine grain tannins.
Blue Pyrenees Cabernet Sauvignon- This Cabernet Sauvignon was also among the bronze medal winners at the London Wine Competition. At the nose it has fragrant aromas of blackberry fruits, varietal leafy notes and toasty cedar oak. At the mouth flavours of blackcurrant are complemented by choc-mint, undergrowth and cedar oak flavours. The Blue Pyrenees Cabernet Sauvignon has a ruby red color and is a medium-bodied wine with classical cabernet sauvignon structure. It has an elegant and persistent dry finish.
Blue Pyrenees Shiraz- Bright ruby red in color with notes of black licorice over ripe red fruits along with an undercurrent of vanilla oak, the Blue Pyrenees Shiraz was also awarded a bronze medal at the competition. At the mouth, ripe fruit notes give way to rosemary like herbal tones. The wine also has a mid-palate of chocolate, vanilla and has balanced acidity. Blue Pyrenees Shiraz has a soft tannin structure which allows lingering fruit flavours to shine throughout the long dry finish.
The Blue Pyrenees Estate is a winery dedicated towards producing authentic, world-class wines. Wines that people will adore and enjoy extensively. Along with producing wonderful wines, the estate also offers a wonderful view from their cellar door. A view that can be enjoyed even more with a glass of wine from the Blue Pyrenees winery.
Enter your brands now to save with early bird pricing and ship your samples later. Give a boost to your brand globally.