Meet The Winery Of The Year At the 2020 London Wine Competition
01/09/2020
d'Arenberg From Australia Bags The Prestigious 'Winery Of The Year'.
d'Arenberg From Australia won 'Winery of the year' along with eleven other medals for its various wines at the London Wine Competition held on July 7, 2020.
d'Arenberg is located in McLaren Vale, which is a home to some of the oldest vines in the country, dating as far back as 1850.
The Mediterranean climate, huge array of soil types and proximity to the ocean with the resultant cooling sea breezes makes McLaren an idyllic location for wine grape growing.
Best known for Shiraz, McLaren Vale also excels in the production of ultra-premium Grenache and Cabernet. Mediterranean red varieties such as Vermentino, Tempranillo, Sangiovese are also very well suited climatically, along with the white varieties of Marsanne, Roussanne, and Viognier. These interesting varieties provide wine lovers with yet another layer of discovery.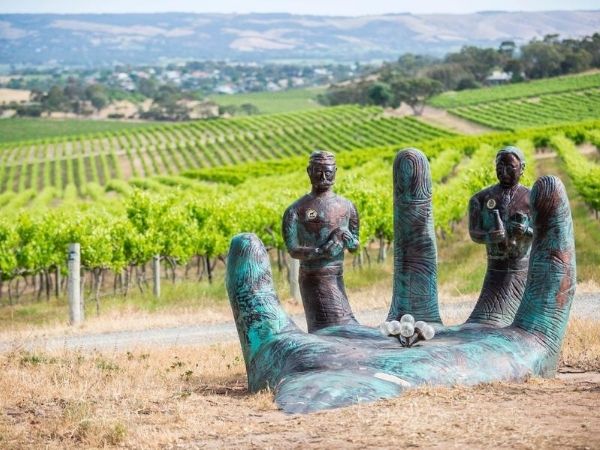 d'Arenberg is one of the only wineries in Australia to basket press both white wines as well as reds, making for a labor-intensive process, but the quality of the results make this worthwhile as the action is controlled and extremely gentle.
All d'Arenberg estate owned and leased vineyards are NASAA Certified for organic and biodynamic processes.
This natural and environmentally friendly philosophy encourages strong root systems that penetrate the soil, resulting in lively tannin structures, soil characters and fine minerality. These practices also ensure that yields are kept low with concentrated flavors and excellent natural acidity.
White wine d'Arenberg style.
Varietally expressive wines, with lifted aromas and delicate bouquets. Full-flavored, elegant and balanced, with bright, fresh acidity giving way to a long, lingering finish.
Red wine d'Arenberg style.
Sophisticated, fragrant, fruit flavoured wines with excellent palate texture, free of excess oak. Long, lively, gritty and youthful tannins full of fragrant fruit and mineral notes, melding seamlessly with complex spice, game and earthy body.
Commitment & Aim at d'Arenberg: Harmony between environmental sustainability and wine industry practice is a strong commitment upheld at d'Arenberg, with the aim to pass on a sustainable business to the next generation.
2020 London Wine Competition Results are live. Click here to check out.
Enter your brands now to save with early bird pricing and ship your samples later. Give a boost to your brand globally.