Meet Italy's Best In Show By Country
04/08/2020
Fattoria Villa Saletta's 2015 Chianti grabbed 'Best in Show By Country (Italy)' along with three other medals.
2015 Chianti by Fattoria Villa Saletta, Italy won 'Best In Show By Country' (Italy) along with a Gold medal, Best In Show By Varietal, and Best Wine By Value at the London Wine Competition held on July 8, 2020.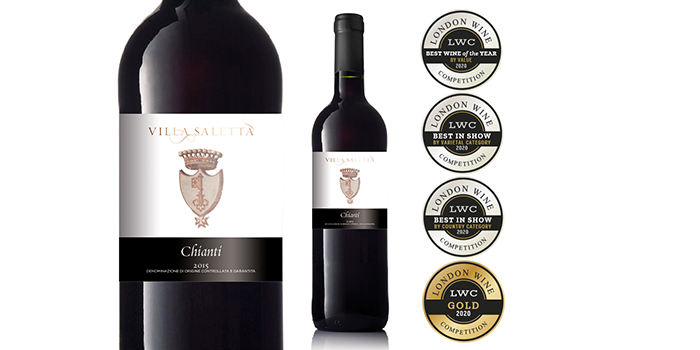 Aged for 12 months, the 2015 Chianti is ruby red in color with violet hues. It has a full, intense aroma, which recalls floral and red fruit notes. In the mouth, 2015 Chianti is fresh, smooth, and well balanced with a complex consistency, recalling hints of violets, cherries, and vanilla. This blend is well fused with smoky sensations. On the palate, it shows the characteristic intensity of Sangiovese, tannins that boast suppleness in their texture, and a vibrant, dynamic freshness.
2015 Chianti is a blend of 92% Sangiovese, 4% Cabernet Sauvignon, and 4% Merlot.
Fattoria Villa Saletta's 2015 Chianti blend follows the traditions of the winery's Tuscan heritage. The grapes are picked variety by variety, de-stemmed, pressed and placed into stainless fermentation tanks, at temperatures between 26° to 28° C. The period of skin contact is approximately 10 days for Sangiovese and 15 days for Merlot and Cabernet Sauvignon. The extraction techniques are aimed at maximizing aroma and fragrance, soft and supple tannins, and emphasizing the tonic acidity and savory, mineral character. The wine is placed in Slavonian oak casks and two-year-old barrels, where it receives a year of cellar ageing prior to bottling.
2020 London Wine Competition Results are live. Click here to check out.
Enter your brands now to save with early bird pricing and ship your samples later. Give a boost to your brand globally.