What grows together, goes together
06/12/2021
This is Shane McHugh's approach to matching food and wine. He also says that it is a much more open field today with the plethora of food and wine options out there.
Where do you currently work?
Goodman Restaurant Holdings Ltd.
Tell us more about yourself.
I am soon to be 29 years old. I was born and raised in the west of Ireland but am now entering my eighth year living in the City of London! I have been in hospitality for the last 15 years, I have a Bachelor of Business in bar and restaurant management and working in wine for the last nine years. I live in East London and when I'm off the floor I love exploring the area I live in.
I'm also a keen gamer, cook, reader (mainly biographical, people fascinate me) and also love drinks that are not wine (Irish whiskey for the win!). I also love music (country being my favourite) so any time I walk in somewhere there's usually a pair of earphones in tow!
Why did you want to become a sommelier?
I finished my degree and realised how much I disliked the idea of managing a bar or a restaurant. I did a wine module in college and really excelled and got bitten by that bug. I loved the idea of having my own, unique little department within a restaurant, that provides a part of one's experience and can have a positive impact on people. I love it.
How according to you has the role of the sommelier evolved, especially now during Covid times?
I think now more than ever, in every good restaurant, I believe every element of a restaurant now understands their place and how they affect their business even more so.
Sommeliers have learned to become flexible, i.e, carrying out other duties in which wouldn't usually be their wheelhouse or even being more financially savvy, how to hit targets and ever changing budgets without jeopradising or overcharging guests in a restaurant.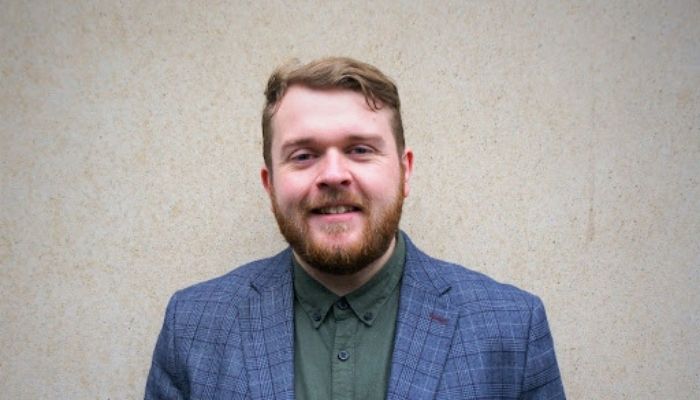 Shane McHugh, Group Wine Buyer at Goodman Restaurant Holdings Ltd
What are some of the most important skills for a sommelier to have?
Charisma, thirst for knowledge and humbleness. If you have all three of these, you can go absolutely anywhere.
What do you look for when you plan to buy wine for your business?
Everything. It needs to be perfect, from it's labelling and presentation, to how the wine shows when the cork is pulled initially. I do that a lot, I will sit one of my guys or myself at a table, open it and serve it as if one of us were a guest and try to imagine it, then tell them how much it costs! If it all doesn't add up then it won't hit the list. The other thing, obviously, is food. If I taste a wine and it does not make me think of a dish from one of my menus, it won't be listed.
Your favorite places to enjoy great wine in London?
For the last two years it's been my house, which I would highly recommend! When I do get to go out, places I usually frequent are like Noble Rot, Vinoteca, Sager + Wilde, I mention those because they all hold really happy memories for me.
Since reopening I have been showing some love to some fellow steak brethren, Hawksmoor and Blacklock are both great spots, Blacklock in particular, it's superb hospitality and easily my favourite restaurants that aren't my own!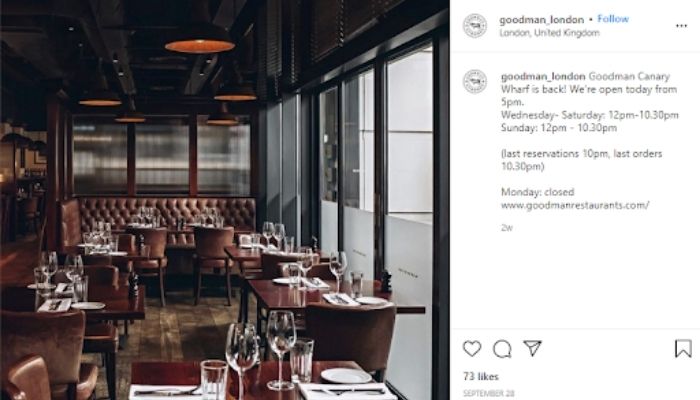 Goodman, Canary Wharf.
What is your approach to matching food and wine?
What grows together, goes together. Besides that, it is a totally open field. There is such a plethora of food and wine produced today, that all of those parameters that previously existed are no more in my eyes.
If you had to pick one red and one white wine as your personal best, which wines would they be?
2011 Chassagne Montrachet 1er Cru 'Les Chenevottes', Michel Niellon + 1966 Cabernet Sauvignon Reserve, Robert Mondavi, two brushes with the Gods.
What's the best part of your job?
People, the guests that we serve and make happy, and my team who I try my best to ensure they are happy. People tell me I write great lists, and that's nice, and also flattering. But when my team tells me how happy they are at work and how much they enjoy working for me (the odd time they do!) that gives me a buzz that I cannot really describe. The interesting thing is that in all of this, the wine is secondary, the people are most important.
What are 5 challenges you normally face in your job and how do you tackle these?
Difficult guests, I tackle that with a smile and a red hot corkscrew with the desire to open as many bottles as possible until they are happy and having fun. Rising prices, knowing my supplier and portfolio base to go look for alternatives that will be great value for my guests without jeopardising quality. Staff poaching, making sure my team feels safe, well paid and doing work they are enjoying and walking in the door with a smile on their face everyday.
Stock shortages, creating an internal community in my restaurants to ensure all people, bar and wine are helping each other out, when that delivery doesn't show up. Personal burnout, going 100mph at work while studying WSET, I used to find it impossible to switch off, now I can do it at the drop of a hat, I can relax and draw breath.
Any favorite food and wine pairing suggestions for London drinks enthusiasts?
I love BBQ, so anything that has been done in or accompanied with a BBQ sauce is a dream match for red Burgundy for me, other than that, fish and chips with Albarino from Rias Baixas is a real soft spot for me as well.
Any tips for wine brands trying to grow in on-trade and how they can help sommeliers.
Way too many. Try and tell the trade what they want without asking, this is the first cardinal sin. This industry is outspoken and will tell and show you what is required. If you go and talk, and listen to as many people as possible, you can begin to understand the key people and places and then understand what they want.
From there, the worst thing you can do is try and push a singular brand on all markets, that's impossible. Pick and choose, draw a shortlist and go for that, saturating yourself too quickly is all but too common.
Explain your weekly tasks, please go in detail about what all you do.
Monday is inventory day, everyone does stock takes, so I spend the day assisting with those and getting all teed up with our brilliant Food + Bev Cost Controller (whose my brother would you believe!) The rest of the week? I'm on call like the doctor, I visit all the sites and be in touch with everyone there and help out in any way I can.
From there it stems out to meeting with my team of course to discuss everything to do with their sites. I am also in touch with GM's and chefs, and from there looking at portfolios and fine wine lists to dig out some gems for the sites, I am also in touch with my suppliers to keep up to date and ensuring the sites are getting what they need and then some. My week finishes with a meeting with the head of the company, Helen, to discuss the week that has passed and plan our next steps.
What's your personal career goal? And how are you investing or planning to get there?
Education wise, I plan on going all the way down the MW path and would love to educate myself in the future as I love training talent! Otherwise, I would love to keep on the buying side of wine, I love it and really enjoy it. I also cannot help myself and would love to make wine one day!
Give us one good story that you remember of a customer and you.
Sir Tom Jones was a regular of mine when I worked at The Savoy Grill. He came every Saturday night and on this particular one he had a good night. I believe he had finished filming the Voice, which he loved doing, but was strenuous. He ended up being the last guest in the restaurant along with his agent, a lovely man.
He asked me for one more glass of Mersault (his favourite) and I said tills were closed off etc. He came out of nowhere and said he would sing a song from my favourite singer if he knew one. I poured a glass of Mersault, which he split with me and sang a song by Merle Haggard, that rocked.