Vindinista's Paola Tich on what it takes to run a top independent wine merchants
07/01/2022
Vindinista's Paola Tich on how to create a wine range in tune with your customers
Paola Tich has swapped newspaper and TV deadlines for the demands of running a local independent wine shop. But it is a move that has seen her and her team named London Neighbourhood Wine Shop of the Year in the prestigious Decanter Magazine Awards. Here she explains her approach to running a successful independent wine merchants.
What is your background and how did you get into the drinks industry?
I'm still a comparative newcomer. I started my working life as a journalist, training in local newspapers then moving into radio and finally television as a reporter and producer. After 12 years, seeing resources being cut back again and again plus an over-reliance on newspaper stories and press releases, I jumped over to the dark side of PR and corporate communications, working for global tech and banking.
Growing up with an Italian father, wine was part of a meal - though he was not particularly discerning. Something light, juicy and cheap did the trick, as a condiment to food. My first wine love was that stuff that masqueraded as Lambrusco in the 1980s.
My lightbulb moment came in Australia in the early 1990s, and that led me to joining a local merchant's wine club, to taking WSET exams, to blogging (so I could stop boring friends, primarily - though I am not sure it was 100% effective…).
Meeting wine bloggers from around the world in Brescia in 2011 was my next lightbulb moment. We visited producers including Cantina Terlano in Alto Adrige - still a favourite - and Skerk and Zidarich in the Carso. But there was also a lot of chat about 'the consumer' and how to communicate with 'the consumer'.
As an ex-PR and marketeer, I knew blogging was not going to move the dial from my perspective. So, after a year of research, I opened a wine shop called Park + Bridge in Acton to sell to real people.
We rebranded in 2019 as Vindinista when we merged the shop with the wine bar we had opened in 2015 on the same street, and took the bar's name for our new hybrid model.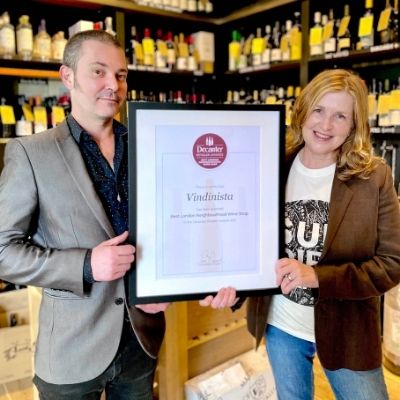 Paola Tich recieving certificate from Decanter
Why did you want to work in the wine sector and wine retailing in particular?
I guess after many years working in corporate comms, I wanted a change of pace. I'd started a digital communications agency with my husband and a new flexibility gave me more time to explore my enthusiasm for wine and explore independent wine shops, especially those springing up near where my sister lives in Hackney.
West London was well-served for wine shops, but my perception was they were more focused on fine wines and classics. I wanted to be showing people how amazing wines from Austria could be, or how English sparkling wine could be better than Champagne… or how wines from Swartland in South Africa were nothing like the dull, lifeless Chenins many people plonked in their weekly shoping baskets.
I wanted to run a place that was quirky and hyper-local, that would appeal to a wide range of people, while also focusing on more unusual grapes and regions, but still had stellar classics and a strong value range that might tempt people away from the supermarket.
It had to be in an area where people were happy to spend on good food and wine, but not necessarily on a high street. Enter Churchfield Road in Acton, a parade of shops with an independent spirit near where I live.
What do you see as your point of difference at Vindinista?
Firstly, we've never organised wines by country, but by occasion and style. When you only have about 150 lines, it would look very bitty and fragmented. I also wanted to encourage customers to explore and read the handwritten labels on each wine rather than just buy on a country.
It didn't seem logical to me to buy a wine purely on the fact it came from, say, Italy and was red. You could end up with an ethereal Pinot Nero from Alto Adige or a dense Primitivo from Puglia. And if you did want a Pinot Noir, why not try one from Bulgaria. Or why not try a different grape that would give you a similar experience?
Obviously, we still have a number of customers who still buy or avoid based on a wine's origins, but we can help them locate all the relevant wines and talk through the style and taste. We've never stocked a wine because we feel we've had to, or to hit a price point - though the hardest part of my job is choosing the wines under £11. If I can't drink them, I don't expect anyone else to.
Secondly, good service is key. You can have the best wine selection in the world, but it is pointless unless you offer a good experience, too. Even before we offered drinking on premises, we saw ourselves in the hospitality industry rather than just retail.
Thirdly, we're keen on pushing different formats for wines. We have four wines on tap from Uncharted which we use for people drinking on the premises (which we hope to bring back inside next year), but also offer in reusable refill bottles to take home. Bagnums from Le Grappin have been popular with our customers for a number of years, especially in the summer. We are selling wine in cans but these have not taken off…yet.
I think being neighbourhood and only having one shop is a bit different - though not unique. We made a decision a while back not to expand and instead to sweat the asset we had (we'd done markets and pop-ups and the return versus the investment made us re-asses any expansion plans).
While we do now have a web shop thanks to the pandemic and have opened ourselves up to customers around the country. But our focus remains on super-serving W3 and its surrounding postcodes.
How have you gone about building up your range and deciding on what regions and countries to concentrate on?
When we started in 2013, we were all about wines off the beaten track with a preference on organic and biodynamic, that would fit into different taste profiles such as rich and smooth, juicy and crunchy, crisp and aromatic, rounded and creamy. Another key metric was, if we were served this wine by a friend, would I happily drink it, even if it wasn't one we'd choose to take home?
With eight years under our belts, we have evolved to what we know our customers love and come back for, or where we think we can create a demand, while sticking to our original proposition. So, while there may be more wines from the Rhone, these include an organic white, a non-vintage blend and a Cairanne - and we sell a Georgian Saperavi to people who like Southern Rhone red blend.
We sell heaps of a Navarre blend at £10.95 to Rioja lovers and a Greek white to customers who want a Chablis experience, but not pay the Chablis price. We do New World as well - Australia and South Africa in particular. But we don't do any country for the sake of it.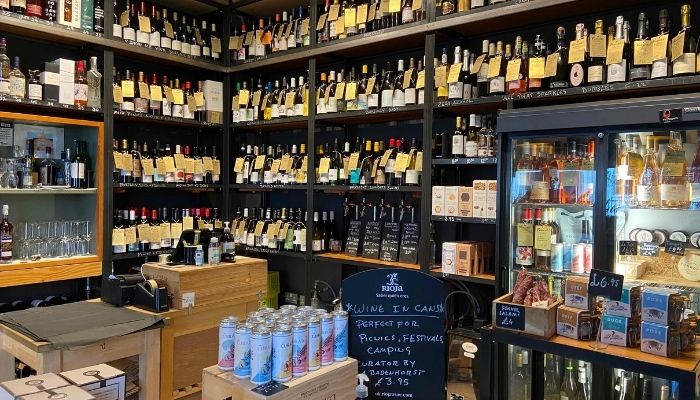 Vindinista
What are the key factors you look for in a new wine or producer before taking them on?
The key criteria now are: Does it excite us? Do we think it will excite the relevant customers? Does it compete with anything we currently sell? Can it replace anything on the shelf? Will we look super-cool if we stock it? OK - so the last one may be a bit of a joke, but you do want a few wines that make you stand out and show that you are not a flogger of any old wine and doing it just by the numbers.
What are the things a producer can do to make your life easier?
My main one is technical sheets on each vintage, not just a flowery tasting note. For example: How the wine was made and matured; sulphite levels; age of barrels; type of fining agents. A good number of customers now want more information on what they are consuming, so we need that information.
What are the things that suppliers get wrong that frustrate you and make you less likely to want to work with them?
We work with some great suppliers and probably more than a small shop should do, but we want to keep things interesting for our customers. The suppliers we work best with are ones who don't treat small independents as a second fiddle to restaurants and wine bars in more fashionable, on-trend areas of London. The pandemic hasn't changed things as much as I thought it would in that respect.
A number of our suppliers now go direct to consumer (and some always have) and that is only an issue if they dramatically undercut their retailers' customers. It's amazing how some really do not get it and think our customers are happy to pay higher prices for convenience. That is fundamentally not understanding the market.
High case rates but no drinkable, cheaper wines that can help hit that rate (and that's speaking as someone operating within the M25). Not knowing or understanding our approach or range. Having said all that, there are huge stresses at the moment with getting wines landed and delivered and retailers need to understand that. As a veteran of local paper golden wedding write-ups, I'd say it is all about give and take.
What trends are you seeing post lockdown in terms of wines being bought, styles and price points?
Not a huge difference, apart from March to June 2020, when people bought at volume but cheaper, safer wines. And we sold a lot of sparkling wine, including Champagne, once lockdown was lifted this year.
We are getting more requests and interest in orange and skin contact wines, but mostly under £20. Once we get back to serving drinks inside again (we've only done it outside, in the summer, the last two years) that might creep up again. It's a category which really benefits from try-before-you-buy. We are doing small, seated, ticketed tastings again (the Sherry one sold out in a day), but the free tastings we did regularly inside are currently not possible. It can get crowded very quickly in our place.
What changes did you have to make during the pandemic?
Obviously we lost the all-year drinking-inside-the-shop business, though we managed 12 covers outside for summer 2020 and 2021. But the single biggest change we made was opening a full webshop online. We had never wanted (or expected) to have to do this - and compete with everyone else online.
But after manually publishing a daily PDF "stock available" list, taking email orders and then credit card payments over the phone for a few weeks at the beginning of the first lockdown, we realised that we'd have to up our game. We moved our simple Wordpress website to Shopify, photographed all of our bottles and became clicks and mortar.
We offered customers a safe way to click and collect from the store and brought in free local delivery for orders over £40. This we offer from Hammersmith to Hanwell in West London. And we had to migrate our POS system (our existing supplier went belly up) which was fun. We also restricted access to the shop to a spot by the door, so that people couldn't browse.
Some customers found our web shop incredibly helpful, and would come in with a list and some additional questions, as they still wanted the shop experience. Many were happy to have a selection of wines bought over to them, and some still like to shop that way. Occasionally, you'd have a difficult person. But that's the nature of retail.
How many of those are here for the long term?
Online still works well for us - with both click and collect and free local delivery still popular.
What are your plans for the next steps for the business to help you grow?
Getting back to drinking on premises all year round is important. We are focusing more on sustainability both from the producers we work with, and how we operate as a business. I think this will become increasingly important when consumers make choices about who to support.
We'd like to get back to importing a couple more wines, and doing more ex-cellars with particular suppliers and I'd love to have an own-label red, white and rosé.Finally, staying relevant to the customers who currently buy from us and ensuring potential customers moving into the area know about us.
What are key skills to be a good wine buyer?
Choosing wines you love is easy. Being able to assess a wine that you may not be your desert island choice, but you know a good segment of your customer base will like, and that fits into your proposition, is a lot harder. But essential.
Tasting widely - including supermarket wines. You need to keep abreast of what's out there, not stay in your little bubble.
Never putting a wine on the shelf at a price higher than you would pay yourself.
Staying curious, and connected to what your wine trade colleagues are talking about, drinking and sharing on the socials.
Knowing when to negotiate for a better rate on a wine, and knowing when to step back.