Q & A with Lucian Obreja, Head Sommelier
27/07/2021
Lucian Obreja, Head Sommelier at L'Ortolan on how to grow wine sales at your restaurant.
1. Tell us a little bit about yourself, and how you progressed into this role.
I had great mentors, first of all, working in different countries and environments ( Italy, Silver Sea Cruise Line Company). I tried to take on board very seriously the feedback of my guests and understood where I was doing well and where I needed to improve. I always had a plan, regarding what I want to do (took as many wine courses as possible WSET2, WSET3, Court of Master Sommelier Introductory, Certified, Advance on the way). I tried to be as informed as possible, regarding the trends, of the industry. I tried to make and improve my network of connections throughout the company.

Wine and food displayed at L'Ortolan Restaurant
2. Define your role and what all tasks are involved in your role.
My role in the company is to run the wine and beverage program, train and assist my colleagues and drive sales.
3. Let's say you were given a restaurant to fix its wine program and grow wine sales, where would you start and what would be your strategy. What questions would you ask the restaurant owner to get good insights before you plan your strategy.
The first person, to whom I would address any question, would be the head chef. Depending on the style of the menu (tasting menu, a la carte) I would introduce wine flights (classic, fine wine flight, mocktail flight, more and more people do not drink alcohol, recently we introduced a champagne flight).
The training of the sommelier team and the FOH staff is crucial, also the rewards. It is imperative that the sommelier knows the best pairings possible with all the dishes and also with the items such as cheese or anything extra in the menu (ex we have a caviar dish in our testing menu, that we sell as an extra, so of course it would be great if we could upsell a nice glass of champagne or a shot of chilled vodka.)
The training would be provided by our wine suppliers, so no cost, just benefits for the company and the staff.
Regarding the wine list, there should be a fusion of classic and let's say little gems that you wouldn't know about it unless you would visit our venue. The introduction of more prestigious wines by the glass, because 'it is a treat' for some of the guests.
Investing in wine preservation system!
Introducing a digestive trolley. 5 out of ten guests are more likely to order a digestive, only because they can actually see the bottles and everything is poured at the table.
4. How can suppliers work with you to drive sales?
Well, first of all, they can help by providing courses for sommeliers, bartenders. By supplying coravin capsules, special pricing or discounts, depending on the volumes.
5. Give us an example of a solid wine program with examples of wine names and why you have them.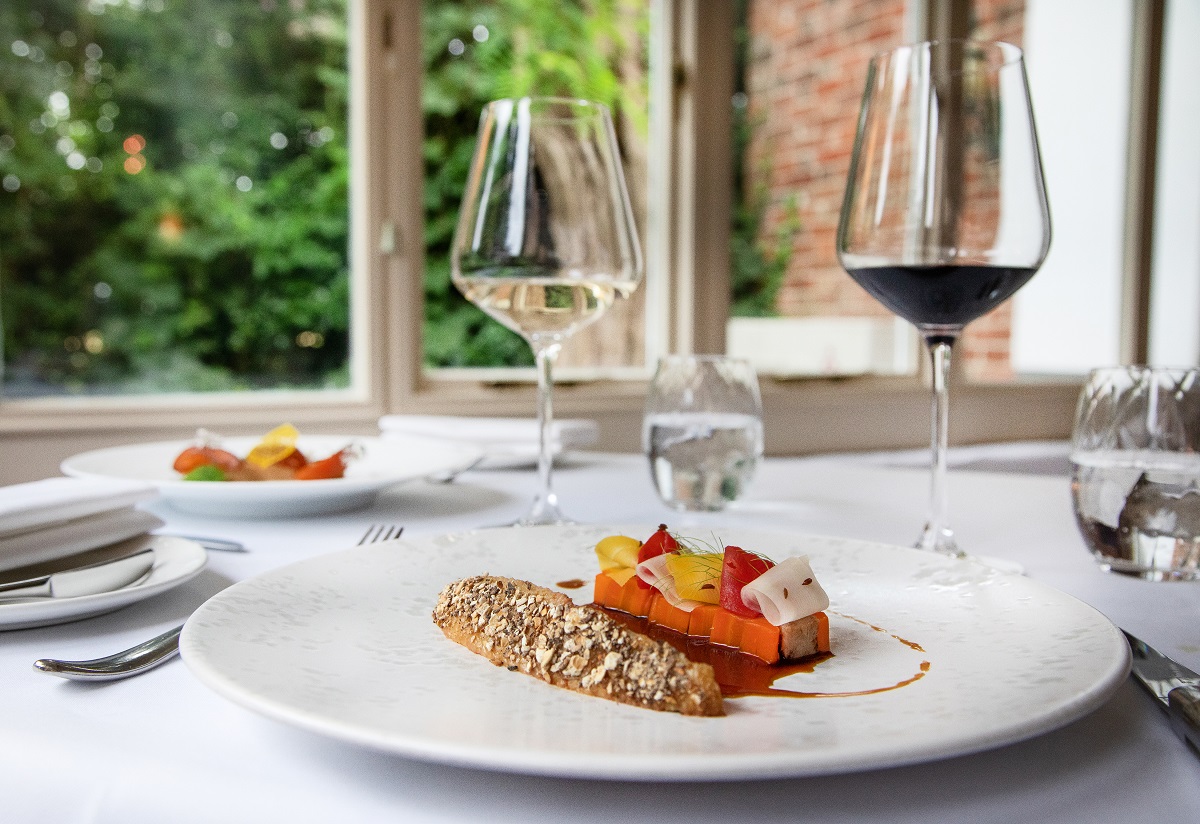 White and Red Wine
Our list 'by the glass', reflects the fusion of classic and a bit more quirky wines.
NV Charles Heidsieck, Brut Réserve Reims, France
NV Charles Heidsieck, Brut Rosé Reims, France
NV Charles Heidsieck, Blanc de Blancs Reims, France
White Wine
2019 Zghihara de Averesti, 'Nativus', Domeniile Averesti Averesti, Romania
2018 Pinot Gris, Stopham Estate West Sussex, UK
2018 Alb de Purcari, Château Purcari Stefan-Voda, Moldova
2018 Wild Sauvignon, Greywacke, Kevin Judd Marlborough, New Zealand
2019 Chardonnay, Vie di Romans, `Vie di Romans` DOC Friuli, Italy
2018 Savennières "Les Vieux Clos", Clos de la Coulée de Serrant Loire, France
2013 Mersault, Gouttte d'Or 1er Cru, Domaine Louis Latour Burgundy, France
Orange Wine
2019 'Back To Silence', Lugana DOC, Ottella Veneto, Italy
Rose Wine
2020 Bandol Rose, Domaine Tempier Provence, France
Red Wine
2019 Susumaniello, A Mano Puglia, Italy
2018 Negru de Purcari, Château Purcari Stefan-Voda, Moldova
2019 Cullen, `Mangan East Block` Malbec/Petit Verdot Margaret River, Australia
2011 Il Carnasciale IGT, Podere il Carnasciale Tuscany, Italy
2015 Barolo 'Monroj', Teo Costa DOCG Piemonte, Italy
2007 Margaux, Chateau Durfort-Vivens 2nd Growth Bordeaux, France
2013 Volnay 1er Cru, "En Chevret", Domaine Louis Latour Burgundy, France

Delicious food at L'Ortolan - Michelin starred restaurant
6. Lets dive deep into your restaurant wine program, break us down on why some elements were there in wine menu and how it helps the bottom line.
Some of our producers for example are the most awarded wineries ex Chateau Purcari, Il Carnasciale is made with a grape varietal that doesn't exist anywhere in the world (Caberlot). Orange wines are great with fusion cuisine and our restaurant was the first restaurant in the UK to list this kind of wine. Recently we have a list with only cider by the glass (ice cider, cider, fruit wine). Most of our wines are either organic, biodynamic or practice sustainable viticulture. Classic and famous producers are listed as well.
7. What are the four main things you focus on daily in your role?
Ensure that the bar station and the wine station is ready

Ensure that the bar lists and wine lists are updated

Ensure that the staff is updated about any changes regarding wines/ cocktails

Ensure that all the enquiries regarding eventual functions are dealt with properly
8. What are the things that are NOT so important to the bottom line that many sommeliers/wine directors tend to focus on?
Lately, a lot of restaurants or employers asks for certification or experience of their candidates, forgetting about someone's passion for this industry.
Anybody with passion can be trained.

The passion for this industry is very rare.

A piece of paper doesn't guarantee the success of your programme but the passion for the job will pay dividends.
9. What are the points you look at when selecting a new wine for your wine program?
What is the story of the wine?

What can be paired with the dishes from the menu?

What is the cost?

What price I will sell it and does it give me the GP that I want?

Do I get any discount if I list it 'by the glass'?

Is it organic, biodynamic, or sustainable?
10. What is the difference between a sommelier and a wine director?
There should be no difference, the wine director doesn't work on the floor, but a wine director worked as a sommelier, hopefully.

The wine director should be an artist regarding the right selection of wines and make sure to get the best possible deals.

Define a good sommelier and what qualities you would look for when hiring one

A good sommelier should have passion and commitment.

Naturally, a good palate and depending on the type of venue where he/she works, to be able to adapt his style and approach.
11. What do you look for when you have to evaluate the effectiveness of the wine program?
The balance between guest satisfaction and business requirements. When I create a list ' by the glass or a wine flight, I try to create an experience for the guest. So from the point of the guest, it should have a wow factor. To create that wow factor we introduced the orange wines with dishes that have an Asian twist, for classic dishes like foie gras we introduced the ice cider etc. From the business point of the view, the GP is higher than if we had to sell those wines by the bottle. Of course, you need to be trained staff to sell and explain everything.