Passion, Professionalism and Profit in Wine: Michele Orbolato
15/12/2021
Michele Orbolato has a passion for wine, he's a thorough professional and emphasizes the importance of creating a profitable wine program for his establishment.
Where do you currently work?
The Petersham Restaurant - Covent Garden.
Tell us more about yourself
I'm especially passionate about wine and spirits. I'm a professional Sommelier who has developed an entrepreneurial instinct and a clear vision for the future of the wine industry in the UK.
I studied as a Sommelier at the prestigious Italian Sommelier School (AIS), WSET, and Court Of Master Sommelier. Since my diploma, I achieved outstanding personal goals and team results in the wine industry. I'm driven by my passion for wine.
After a few years in the wine industry in the UK, I understood the market well and I developed a strategy to make a difference and generate wealth. My success formula: 80% Execution (do it) | 20% Strategy
Guided by this formula, I led teams to breakthrough results. I believe strongly in the right people that can execute and put in action the strategy to achieve any goals. I have contagious enthusiasm, that I instill in my team members with extraordinary energy and dedication in an environment where creativity and innovation are encouraged.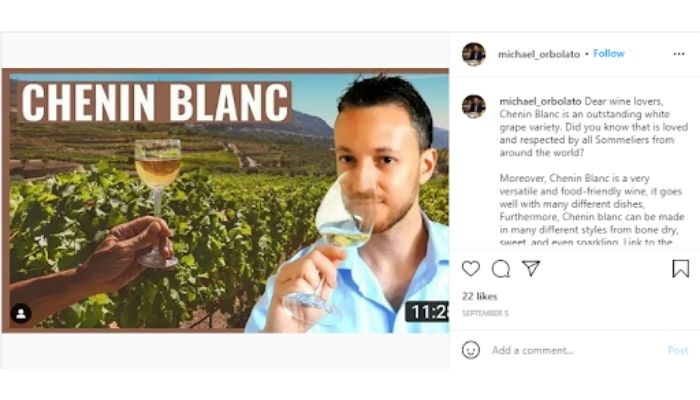 Michele Orbolato provides some great wine tips on his Instagram.
Why did you want to become a sommelier?
It happened casually about 10 years ago. I've always been fascinated by wine in general but I didn't have the chance to understand exactly what the world of wine really means.
Once I had the opportunity to attend a prestigious wine fair and went over the many different stands, I met exceptional wine producers and tried outstanding wines. After that day, I understood what the word wine truly means and I decided that I wanted to work in this industry.
One month later, I immediately started my studies and from that moment I never stopped studying and learning.
How according to you has the role of the sommelier evolved, especially now during covid times?
I believe the role of the Sommelier is always mutating toward a broader spectrum. We are always becoming more 'Wine Manager" rather than only Sommeliers on the floor.
A sommelier nowadays also needs to have financial skills, know the market, be able to have a deep understanding of the stock rotation and stock levels and generate a good return of investment.
For the hospitality industry, a well-run wine program can really really a difference in the financials of the companies.
What are some of the most important skills for a sommelier to have?
In my opinion, first a Sommelier needs to have great knowledge of the wine he/she is selling and buying, secondly financial acumen, and be able to motivate and drive his/her team.
What do you look for when you plan to buy wine for your business?
First of all, does this wine make sense in the overall wine program? Secondly, quality and value for money, thirdly, will this wine be well received and understood by the business's clientele?
These are the most important questions I ask myself when buying new wines.
Your favorite places to enjoy great wine in London?
One of my favorite places in London is Noble Rot in Russell Square. Great wine list with fair prices.
What is your approach to matching food and wine?
Normally, I'm driven by two key concepts:
1) The body of the dish has to match the body of the wine; for instance, a rich pasta dish usually needs a rich wine consequently; a light dish needs a light wine. In this way, I try to create balance in the palate of my guests.
2) It is also important to understand the acidity of the dish and/or how much fat there is in the food. A very acidic dish normally doesn't go well with an acidic wine because you will find that you have an explosion of acidity in your mouth, I normally try to soften it with a more rounded wine.
These are the main two points I normally try to understand in a dish, of course there are other important factors as well like traditional pairings, spices, cold or hot dishes, as well to consider.
What's the best part of your job?
The best part of my job is working with beautiful wines from all over the world, having the possibility to discover new wines and producers every day, and interacting with the guests, especially the ones that like to be driven by your recommendations.
However, the best part of my job is the passion I have for this wonderful world and I'm very grateful to have the opportunity to work with wine every day.
What are 5 challenges that you normally face in your job and how do you tackle these?
Well, especially this year I'm experiencing a lot of difficulties with sourcing wines from different suppliers, mostly due to Brexit. Today it is very difficult to secure some specific labels, suppliers often run out of stocks, and to get the wines back to stock takes a while.
There is an increase in duties that consequently increase the final prices of the bottles and clients will see an overall increase in prices. I try my best to get deals with suppliers and retros programs.
Deliveries. It is often very difficult to get smooth deliveries without having issues. Not much we can do...
Last moment events with last moment orders to satisfy. I'm trying to build up a wine stock for events.
Inexperienced guest who think they know everything. This issue, however, happens less frequently. I try to accommodate their needs anyhow, always trying to explain the reasons and what's behind certain labels.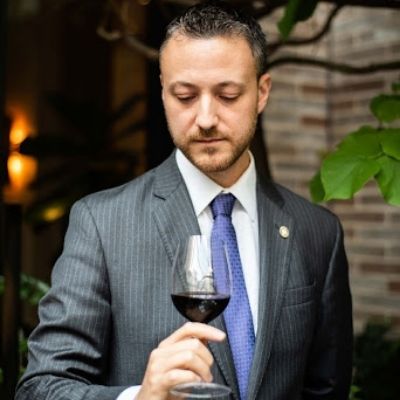 Michele Orbolato, Head Sommelier
Any favorite food and wine pairing suggestions for London drinks enthusiasts?
One of my favorite, although a bit unconventional pairing but one that work amazingly is Beef stew with Oloroso Sherry or Palo Cortado Sherry. As said, it is a bit unusual but very tasty and a great pairing.
Any tips for wine brands trying to grow in on-trade and how they can help sommeliers.
Well, normally from what my experience can tell, they have to try to market the wines that can represent their terroir better, and they have to try to communicate it to the players of the industry.
Secondly, finding the right agency that can represent them is also important, and thirdly especially if they just started to approach a new market, good value for money is always an important factor for different wine buyers.