Living And Loving The Funfair Of Wine
27/01/2022
Dario Barbato enjoys wine with a true passion, from the ones still developing at a winery to the bottles from esoteric regions to the revered ones. This is what makes him a Sommelier.
Tell us more about yourself
I have a diverse background in the hospitality industry, built on a broad foundation of over 15 years. My experience across the globe includes event catering, bars and restaurants, hotels, music venues, pop-ups, and private functions throughout Italy, Bermuda, London, and cruise ships. I proudly worked on QE2.
I moved to London 8 years ago as Bar Manager in a restaurant in Victoria but after two years I moved to Manchester with the plan to develop wine culture in an Individual restaurant. My background helped me to take on this challenge to improve the wine list of a group that has 32 restaurants and to create a training structure to develop the FOH wine knowledge.
Why did you want to become a sommelier?
I started my career as a Bartender very curious to know more about spirits and quite scared to ask for information about this difficult and impossible liquid called wine. It was clear to me that to understand wines you need to study, do tastings, and need time. All this made me even more curious and I started to study, attending wine exhibitions, getting qualifications (AIS, CMS, WSET) and falling in love with this fantastic wine world.
Dario Barbato DipWSET, CS, Head of Wine Department and training at Individual Restaurants
How according to you has the role of the Sommelier evolved, especially now during covid times?
Covid times gave me the time to study even more, to get ready enough to finish my WSET Diploma program, and also to convince myself that it is time to invest more time in studying and to try to start the MW course.
What are some of the most important skills for a sommelier to have?
To become a sommelier you need to study a lot as said before but it is very important not to show off your knowledge. The risk is to scare people and make them not interested in the matter. Surely a sommelier should be humble, always a step behind, and a great listener rather than a talker.
What do you look for when you plan to buy wine for your business?
To list a wine is not so simple. There are many considerations to take into account. Will the wine be sold by the glass or by the bottle? Do I need a wine with a screw cap or cork? The label will be considered together with the shape and colour of the bottle. Probably an element to consider also is if the wine is vegan or organic or biodynamic. These are all elements that should be considered during a wine selection including also the cost price.
[[relatedPurchasesItems-22]]
Your favorite places to enjoy great wine in London?
I used to call it my funfair. Hedonism Wine in London is my favorite place where I can spend hours checking the bottles, reading labels. It is an intensive course and refresh of knowledge. Simple, nice to go to from the Sauternes Wall where you can enjoy the different wine tints from lemon to brown considering the vintages. Or to walk along with the large format and dream next to massive bottles of Petrus or Opus One.
What is your approach to matching food and wine?
On my own, I like to experiment with food and wine matching even the impossible ones, like trying a simple lemon sole with an Amarone. Just when you know what you do not like you can understand better what you love. Food and wine should always match together to better enjoy the food and the wine having a fantastic experience at a restaurant. Also, it is interesting to drink a wine which is not your favourite and discover that with a certain food it will become different and adorable.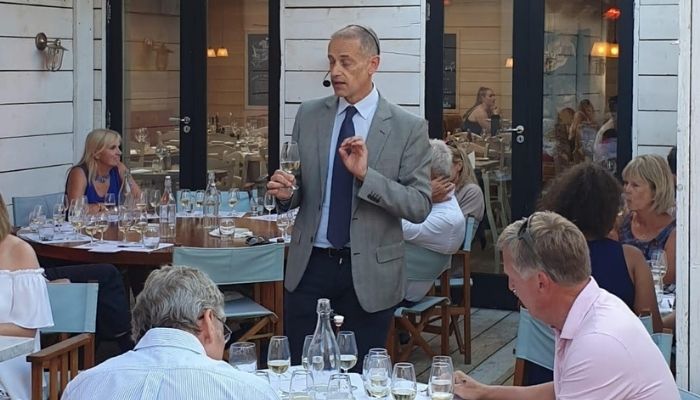 Dario Barbato sharing some insights into wine at a session.
If you had to pick one red and one white wine as your personal best, which wines would they be?
My favorite red is Monfortino Conterno. I tasted it with friends many years ago and it is still clear in my memory. As white, I love Furore Marisa Cuomo.
What's the best part of your job?
The most interesting part of my job is to visit producers. I love to see the soil, the canopies used, to study the leaves. Also to visit the winery in all parts, tasting wines not ready from the barrels and from the tanks trying to guess what it will be like in a few years. This is the part that drives me crazy because I can work a lot with my fantasy and imagination.
Any favourite food and wine pairing suggestions for London drinks enthusiasts?
Try roasted salmon with Bardolino.
What's your personal career goal? And how are you investing or planning to get there?
It was my challenge to get a WSET Diploma but finally, I can tick it as a career goal. I studied a lot really and was very worried about it. I prepared on my agenda my next challenge. To become a MW. This will make me very committed and focus on my books from January to get access to this prestigious and limited group of qualified sommeliers.
Tell us one good story that you remember of a customer and you.
On a busy night on QE2, I had a table of six order a super-expensive bottle of California red. It needed to be decanted, and I had it in the cradle. Now, as much as I warn others on my team to be careful so that the wine does not shoot out in a vertical position onto the decanting cart, it happened to me.
There was a woman sitting at the table to my left. She was wearing a gold lamé sweater set. When I pulled the cork out, that wine shot out and went about a foot or so and hit her right in the back. She gasped and kept right on participating in the conversation. I was so stunned! One of my somms was standing next to me.
We were both horrified but trying so hard not to laugh at the same time. I quickly went over to apologize to her and she said, "Don't worry about it. It really is not that big of a deal." The fabric had some small holes in it, so I knew it was probably running down her back on the inside of the sweater. Her graciousness has never been lost on me. When a server or someone spills something on me, I brush it off and tell them not to worry about it.