In Conversation with Abdelilah Ait El Caid - Sommelier at COYA London
14/06/2021
"Apart from being able to work in a fast-paced environment, with an unfaltering can-do attitude, a Sommelier should genuinely enjoy helping people." - Abdelilah Ait El Caid
LWC interviews Abdelilah Ait El Caid, the wine judge at 2022 London Wine Competition which is going to be held on March 21, in London. In this short Q&A, Abdelilah explains about his journey in the wine industry especially now during covid times.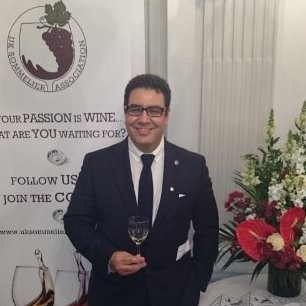 Back in 2002 I joined Vinopolis in London as a Wine Tour Guide. It was a great introduction to the world of wine as I hosted tours and private wine tasting sessions both on site and on the London Eye. I then had the opportunity to gain retail experience at Harrods in the Wine & Spirits department before relocating to Dubai with MMI for the launch of their fine wine and luxury spirits store, Le Clos. I developed my skills and knowledge further at Fortnum & Mason and went on to complete my qualification as a Sommelier in 2016. Soon after, I was recruited as a Sommelier on the Cunard Queen Elizabeth II cruise liner for the World Voyage 2017, and have since worked in some of London's best-known restaurants, including SushiSamba, Milos, Le Comptoir Robuchon and Coya where I am currently employed. I have also participated in several wine and sake tasting events and have been judging at the London Wine Competition since its first edition in 2018.
Becoming a Sommelier was a natural evolution from the previous experience of working in the wines and spirits' environment. As I come from a hospitality background, the study of wine and food pairing was of particular interest to me, alongside providing great customer service.
Q. How according to you has the role of the sommelier evolved, especially now during covid times?
A. The greatest impact on the service that Sommeliers had to adapt to is undoubtedly due to the wider restrictions implemented because of Covid. Specifically, the replacement of traditional, printed wine lists by digital versions accessible via the QR code is not well received by customers. The authenticity of browsing an actual wine list is part of the sensory ritual of selecting the wine and this is lost in the impersonal, cold digital version. In addition, the time constraints affect the flow of service as customers might feel rushed to make a choice and to consume, which in turn can affect Sommeliers too as it becomes a stressful situation for all involved.
In addition to in-depth knowledge and a true passion for wine and food pairing, important skills that a successful Sommelier should possess are linked to a charismatic personality. Apart from being able to work in a fast-paced environment, with an unfaltering can-do attitude, a Sommelier should genuinely enjoy helping people. A Sommelier forms part of customers' experience and should therefore be entertaining, as diners are looking for an enjoyable experience, not a lecture. Finally, a conscientious Sommelier should be committed to understanding customers' needs and assist them in making an informed choice with honesty.