2023 Winners
London.
March 20 & 21
Announced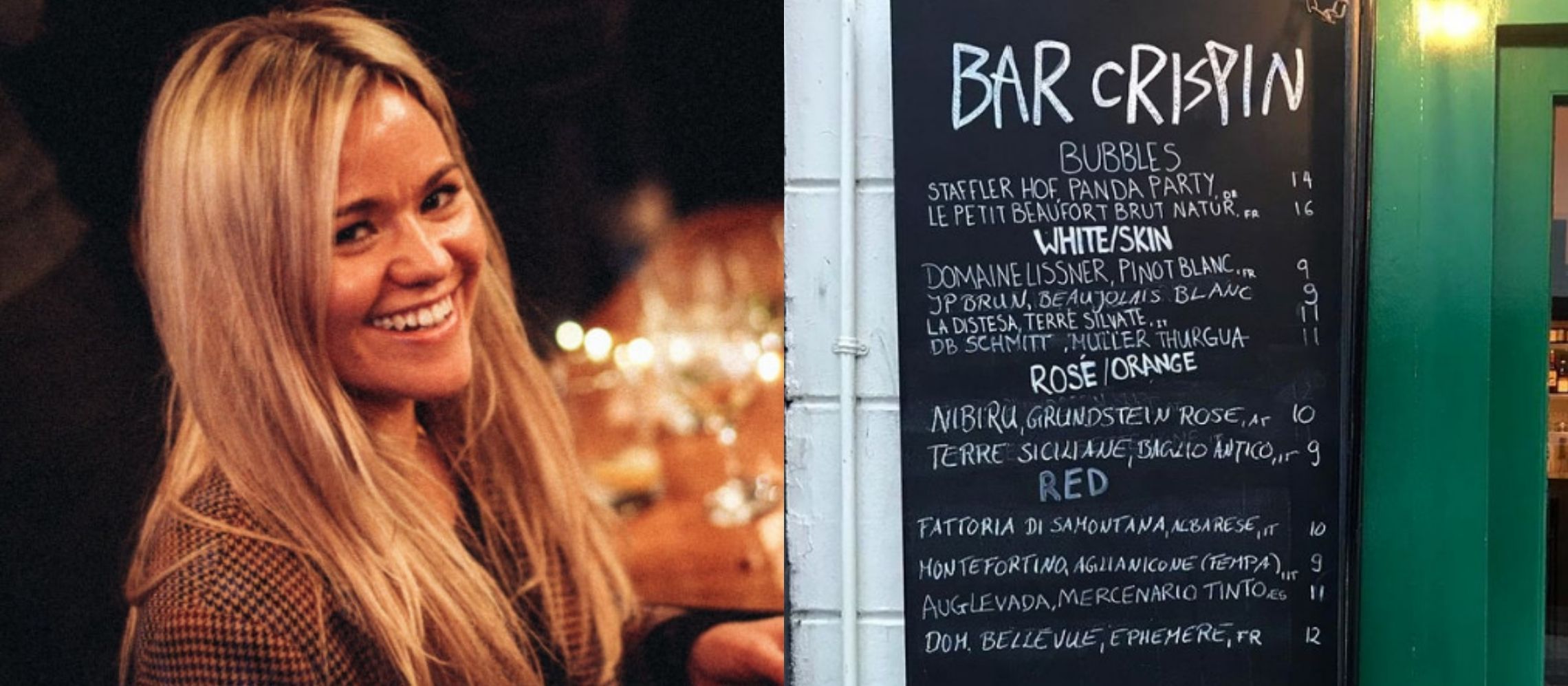 Alexandra Price at Bar Crispin
Alexandra Price manages the restaurant and wines at Bar Crispin, a new natural wine bar in the heart of Soho with an extensive list of around 150 wines.
Where do you currently work?
I've been in the wine trade since 2013, after graduating from Manchester Uni with a degree in History of Art. A slight change in career choices led me to Annabel's Cellar and the Birley Clubs. Here I got my first job working in the historic cellars of Annabel's where I had one hell of an introduction into wine and was incredibly lucky to taste some of the things I did. From there I did my WSETs and became part of the buying team, for the Birley clubs and wider Caprice Holdings group.
[[relatedPurchasesItems-22]]
Following Annabels, I moved to Burgundy specialist Domaine Direct, then to Beaverbrook Members club where I did an unintentional move to FOH serving as Sommelier and Assistant Manager of the Garden House. Now I am restaurant Manager and sommelier of Bar Crispin, a new natural wine bar in the heart of Soho with an extensive list of around 150 wines.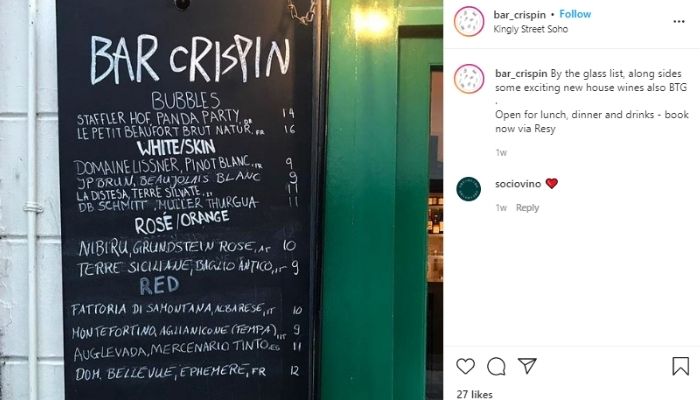 Bar Crispin's By-The-Glass List posted on Instagram; Image Source: Instagram
Why did you want to become a Sommelier?
I originally didn't, I always had back-of-house roles. It was a happy accident that I ended up doing it!
How according to you has the role of the sommelier evolved, especially now during Covid times?
I think that a lot of people chose the lockdown to learn new skills and I think learning about wine was one of those that saw an uptake. There were so many cool Zoom tastings and wine subscriptions that really took off and I think it helped people connect more with a subject that is often seen as quite daunting and elitist. With this, I think people have been more experimental and willing to try new things and are now actively seeking out different styles and wines that would perhaps previously be overlooked. This makes my job a lot of fun, as I get to chat and taste with guests who want to learn more in a relaxed setting.
What are some of the most important skills for a Sommelier to have?
Learning how to read people, knowing what to offer when as well as knowing when to encourage them to venture outside of their comfort zone.
What do you look for when you plan to buy wine for your business?
A good balance of icons, quirky talking points, up-and-coming producers who are doing wonderful things, and interesting alternatives to classics.
Your favorite places to enjoy great wine in London?
Noble Rot, Drapers Arms, Sager & Wine, and The Mulwray.
What is your approach to matching food and wine?
It's such a subjective topic, one person's palate is going to differ from the next, and most of the time food and wine choices seem to be based on mood. When it comes to my approach I am not too fussy, I just make sure either the food or the wine isn't going to destroy each other with over-powering flavours.
If you had to pick one red and one white wine as your personal best, which wines would they be?
Hard question! But desert island wines would probably be Jean Louis Chaves, Hermitage, and anything from Raveneau.
What's the best part of your job?
Getting to meet and talk to winemakers! Hearing about all their philosophies and stories, really allows you to understand the wine that little bit more and creates that wonderful connection. Working as a Somm is a real people's game, and to have that opportunity to talk to people about your passion is incredibly special.
Any favorite food and wine pairing suggestions for London drinks enthusiasts?
Big Mac & GC Chablis when you are feeling extra fancy!
What's your personal career goal? And how are you investing or planning to get there?
To eventually have my own restaurant as well as consulting for other wine lists. The investment side still needs work...
Give us one good story that you remember of a customer and you.
A recent visit from a group over here from Canada asked if they could take a copy of my list home. A real proud moment! I jokingly asked If they wanted me to sign it and they did.