Deadline
September 30, 2023
Enter Now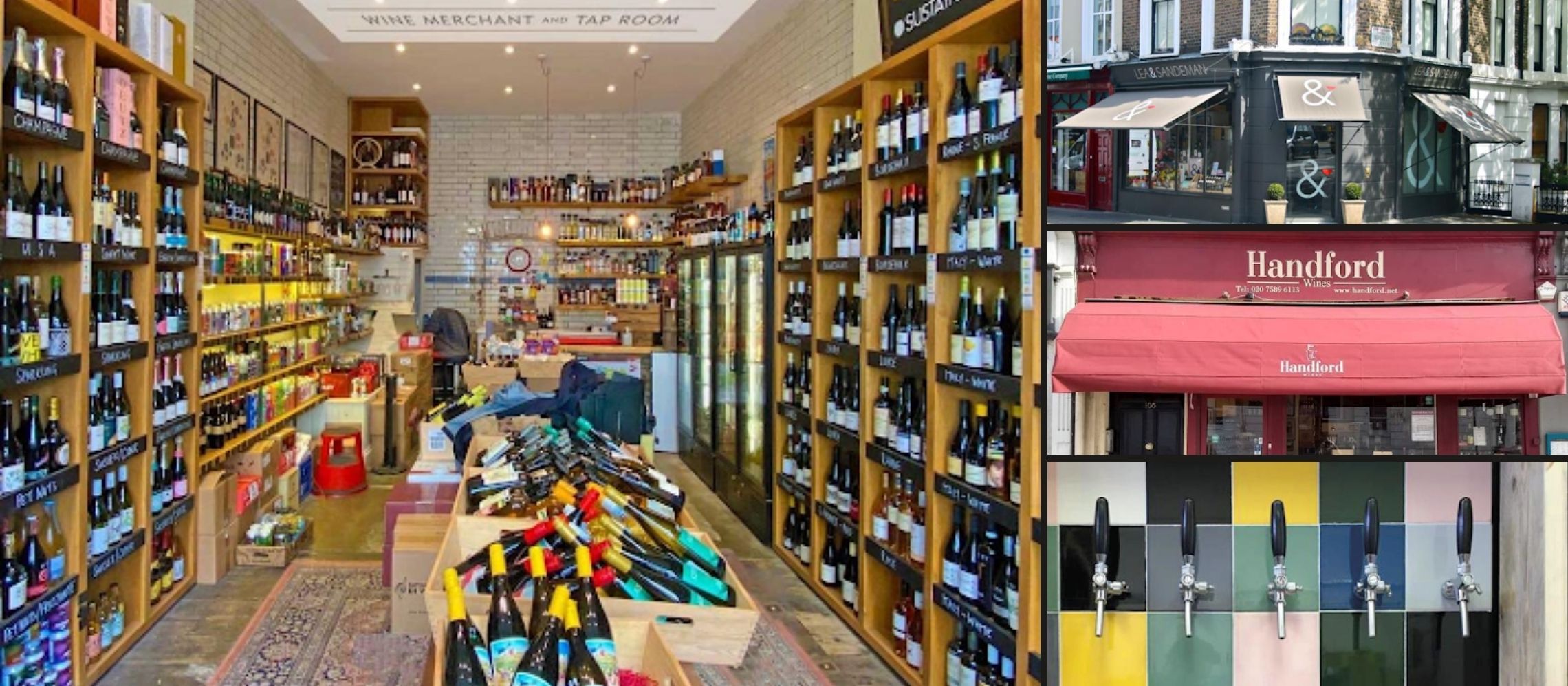 London's Awesome Wine Merchants
London Wine Competition brings you the awesome wine merchants of London.
London Wine Competition brings you the awesome wine merchants of London. If you are a wine lover looking to explore a great wine selection, looking for wines at the right prices, looking for unique wines, these merchants are the ones you need to pay attention to.
Bottle Apostle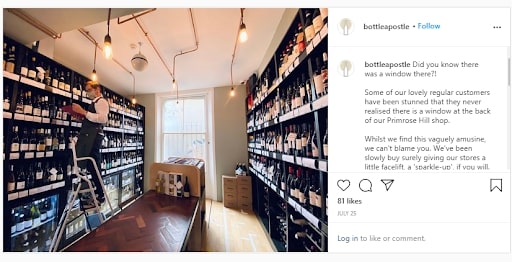 Bottle Apostle - 49 Park Rd, London N8 8SY, United Kingdom
Bottle Apostle started in July 2009 in Victoria Park with the idea that a wine shop could cater as much to the wine novice as it does to the seasoned tippler. This approach to wine quickly spread leading to the opening of Crouch End in 2012, Clapham in 2014, and Primrose Hill in 2015. All four locations carry our belief that customers should be able to explore wine without intimidation.
Butler's Wine Cellar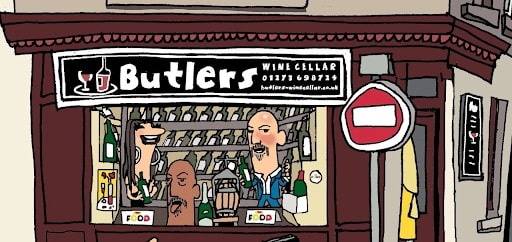 Butler's Wine Cellar - 247 Queens Park Rd, Brighton BN2 9XJ, United Kingdom
In 1979, Margaret Thatcher came to power, Sid Vicious died, and the AyatolahIn Khomeini was voted 'Man of the Year' by Time Magazine. None of which mattered very much to Henry Butler's parents Gillian and Geoffrey. Butler's wine cellar were busy opening their small family-run wine shop in Brighton's Queens Park Road, with the intention of bringing interesting, characterful wines to a British public then largely unfamiliar with much beyond Black Tower and Mateus Rose (historical fact: there were only three good bottles of wine in the whole of the UK in 1979, and all of them belonged to Mick Jagger).
[[relatedPurchasesItems-44]]
Davy's Wine Merchants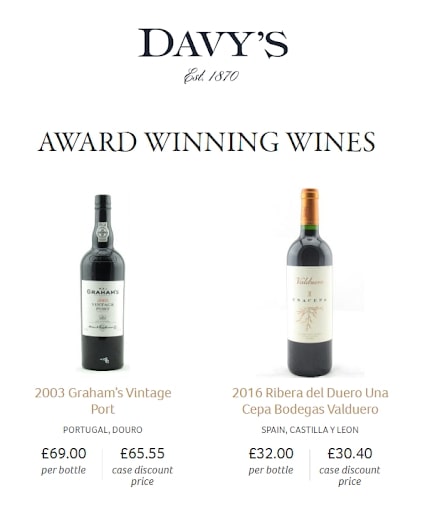 Davy's Wine Merchants - 20 The Market, London WC2E 8RB, United Kingdom
Their story begins in 1870 when Francis Edwin Davy opened the Rising Sun just off Strand. Known as a "wine house", it opened at a time when the area around Strand and Charing Cross was changing fast with pubs and theatres – and their wine house – springing up to cater for customers arriving via the new railway station. The Rising Sun thrived so more establishments soon followed.
The wine merchants' side of the business grew quickly too, with sales particularly strong to upmarket, West End hotels. A new headquarters and warehouse were established in Barking, East London, to cater to the demand. In 1902, F.E. Davy introduced our first own-label wines. 150 years later, they remain the cornerstone of our range, much-loved by our customers and representing our view on how the best wines of each region should taste.
Gerry's Wine and Spirits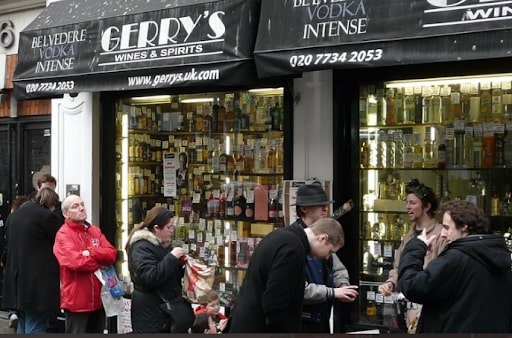 Gerry's Wine and Spirits - 74 Old Compton St, London W1D 4UW, United Kingdom
Gerry's Wines and Spirits pride in stocking the UK's largest selection of spirits and liqueurs. Over the years, their store in the center of London's vibrant Soho has become famous for being something of an Aladdin's Cave of rare, weird, and wonderful examples of the distiller's art.
Hedonism Wines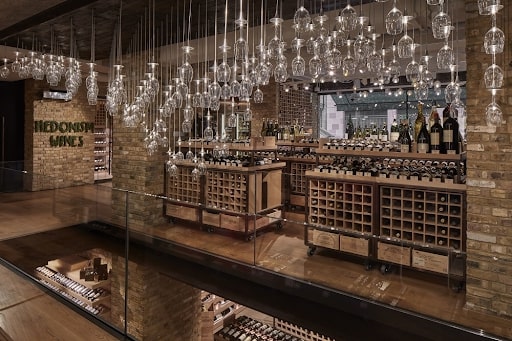 Hedonism Wines - 3-7 Davies St, London W1K 3LD, United Kingdom
Established in August 2012 and located in the heart of London's Mayfair, Hedonism is a fine wine and spirits boutique that has already become the most talked about wine project of recent times. The hedonistic way of thinking originated in the early Greek philosophic schools where it was believed that pleasure was the only intrinsic good.
Amathus Drinks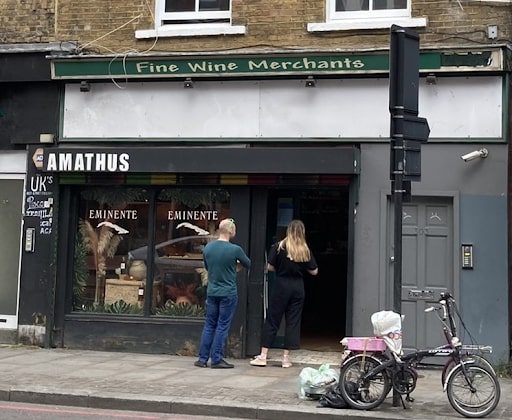 Amathus Drinks - 310 Kingfield Rd, Coventry CV1 4LD, United Kingdom
Established in 1978, Amathus Drinks is a family-owned drinks importer, distributor, and specialist retailer. Their mission is simple: to provide first-class products and services to their customers. They now have seven retail stores located in vibrant and cosmopolitan areas of London including Soho, Shoreditch, City, South Kensington, Muswell Hill, Brighton, and Bath, where all their staff are highly trained.
Grape Minds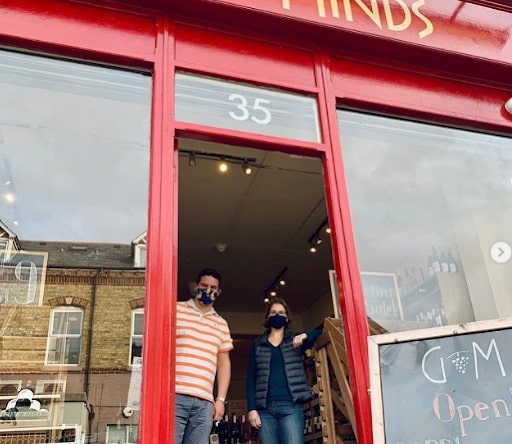 Grape Minds - 35 S Parade, Summertown, Oxford OX2 7JN, United Kingdom
Oxford's independent specialist in wine, spirits and beer that provides free delivery on 6+ bottles, wine tastings, wine gifts and friendly advice. Grape Minds was established by two young wine lovers with little history in the area. Graeme and Michael ran Majestic Wine in Summertown for two very happy years, and when this beautiful shop on South Parade became available in Autumn 2018, it was too tempting to ignore!
Jeroboams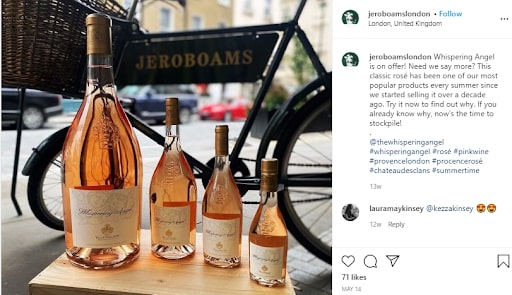 Jeroboams - 13 Elgin Cres, London W11 2JA, United Kingdom
Jeroboams has been at the heart of some of London's oldest neighborhoods for over thirty years. Incorporating Laytons, now called Jeroboams Trade, their history stretches back to 1934. They believe in being personal, attentive, and using our extensive knowledge to ensure you walk away with the perfect bottle. Whether in the shops, online or in the trade, we are here for you.
Seven Cellars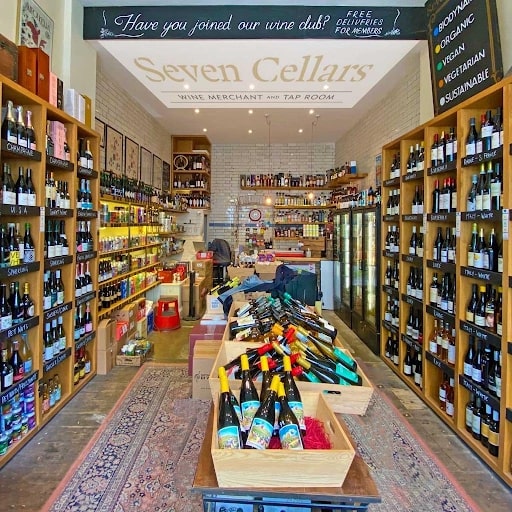 Seven Cellars -104 Dyke Rd, Brighton BN1 3JD, United Kingdom
Seven Cellars has been serving Brighton and the South East with great drinks since 2015 from their shop in the heart of Seven Dials. They support small wineries, fledgling breweries, craft distilleries, and local businesses with authentic expressions of what the world has to offer in a bottle.
Run by Louise, Proprietor for the Seven Cellars, it offers its consumers different wines that are not available in supermarkets.
Hay Wines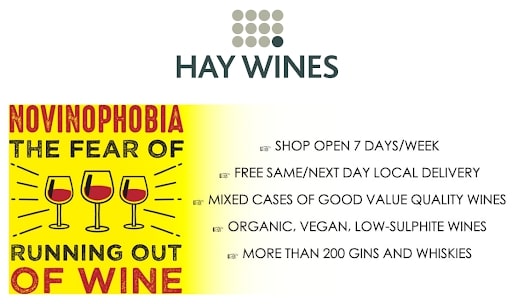 Hay Wines - 11 High St, Ledbury HR8 1DS, United Kingdom
Hay Wines is a family-owned & independent wine merchant based in the medieval market town of Ledbury, Herefordshire. Founded in 2009 as a wholesale business in Hay on Wye, they supplied quality wines to Pubs & Restaurants, their first shop opened in November 2009.
The company is managed by Jane and Chris, together with their enthusiastic team of wine professionals. With over 75 years of experience in the wine merchants trade, the Hay Wines team brings a wealth of knowledge, passion, and expertise to its customers.
Hay Wines also has an extensive range of organic, biodynamic, natural, vegan, and low sulfite wines.
Passione Vino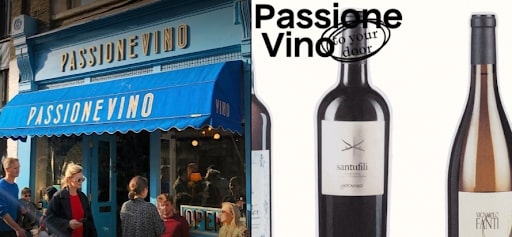 Passione Vino - 85 Leonard St, London EC2A 4QS, United Kingdom
Passione Vino, 'Passion for Wine', is a wine shop and bar on Leonard Street in Shoreditch. The wine shop and bar specializes in and serves only Italian wines, usually from smaller artisan producers. Knowledgeable staff and a relaxed and friendly atmosphere make it a joy to visit and the cheese and meat platters are a delicious accompaniment to some excellent wines.
Philglas and Swiggot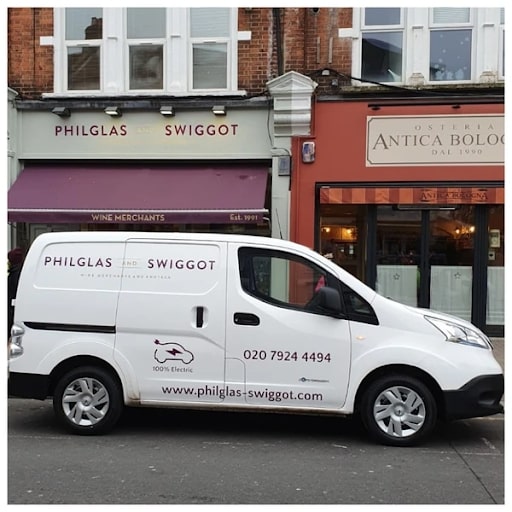 Philglas and Swiggot - 22 New Quebec St, London W1H 7SB, United Kingdom
Philglas & Swiggot was founded in 1991 on Northcote Road in Battersea by Mike and Karen Rogers. Over the next 23 years, it expanded to add stores in Marylebone and Richmond and became one of London's most loved independent wine merchants gaining a reputation for stocking an exceptional range from around the world with notable strength in Italy, South Africa, Australia, and California.
In November 2018 O'Briens Wine purchased the business to begin a new chapter in its history. Founded as a family business in the 1940s and specializing in wine, beer, and spirits since 1973 growing throughout the Republic of Ireland. Philglas & Swiggot is now managed by Marcus O'Brien with Justin Knock MW and Lynne Coyle MW (Wine Director for O'Briens in Ireland) overseeing the wine range. Justin and Lynne are recently pictured here in a vineyard in Paso Robles in California.
Lea and Sandeman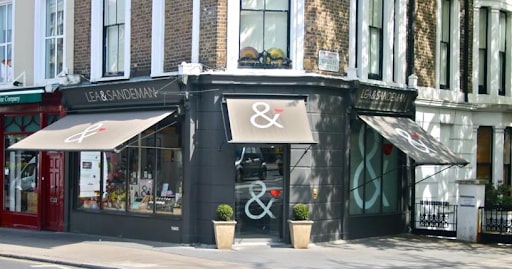 Lea and Sandeman - 170 Fulham Rd, London SW10 9PR, United Kingdom
Lea & Sandeman is about wines to drink - not just wines that impress at tastings. They particularly emphasize drinkability and try to offer wines that do not just impress on first taste but leave you wanting another glass. More important than meeting price points, Lea and Sandeman are about value for money. From the very beginning, this meant sourcing wines direct from growers. Although many of the domaines and growers on our list today are the same as when we started, our range has developed over the years, reflecting the introduction of both traditional and innovative producers. We are not name-buyers, we are quality buyers - our Sauvignon de Touraine is better than cheaper Sancerres, our Sancerre is among the best in the appellation.
Made in Little France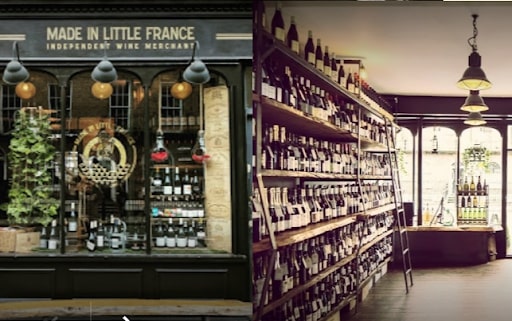 Made in Little France - 397 St John St, London EC1V 4LD, United Kingdom
At Made in Little France, for over 8 years, they have been very happily sourcing and importing fantastic wine from small independent producers.
Connaught Wine Cellar
Connaught Wine Cellar - 8 Porchester Pl, St George's Fields, London W2 2BS, United Kingdom
Connaught wine cellar is a quality-focused independent wine merchant and tasting room, near Marble Arch in Central London. At Connaught wine cellars they specialize in French and Italian wines, which they import directly from small independent producers, and we also source blockbuster fine and rare bottles. In their beautiful tasting room, they run weekly wine tastings on a broad range of topics with plenty of cheese and optional spitting!
Handford Wines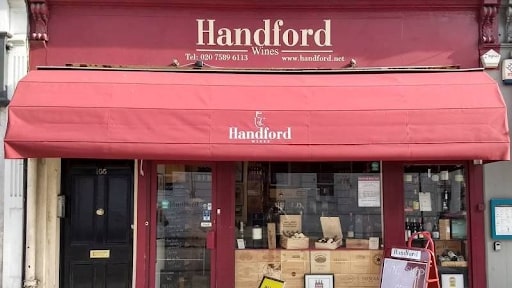 Handford Wines - 105 Old Brompton Rd, South Kensington, London SW7 3LE, United Kingdom
Handford Wines has offered hand-selected wines and bespoke wine services since 1989. They have two Masters of Wine and aren't ashamed of keeping loyal to some old-fashioned values of personal wine merchanting.
Davy's Wine Shop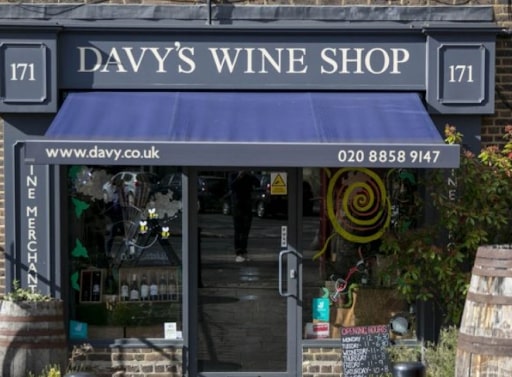 Davy's Wine Shop - 171 Greenwich High Rd, London SE10 8JA, United Kingdom
Davy's Wine Shop in Greenwich offers more than 600 quality wines from around the world. The majority of their wines are exclusive to them and range from interesting bottles for everyday drinking to an exceptional selection of fine wines. Their friendly team is happy to offer advice to guide your purchase and you can taste a selection of our favorite wines from our sampling machines.
Borough Wines

Borough Wines - London SE1 1TL, United Kingdom
Borough wines were the first to champion smaller, independent producers for the U.K. market, offering unique and interesting wines with real provenance. Many are certified organic and vegan, with 'natural' and biodynamic wines featuring heavily.
The London Wine Competition is now open for submissions. Register your wines today to save BIG on super early bird pricing. Ship your samples later.