Early Deadline
December 20, 2023
Enter Now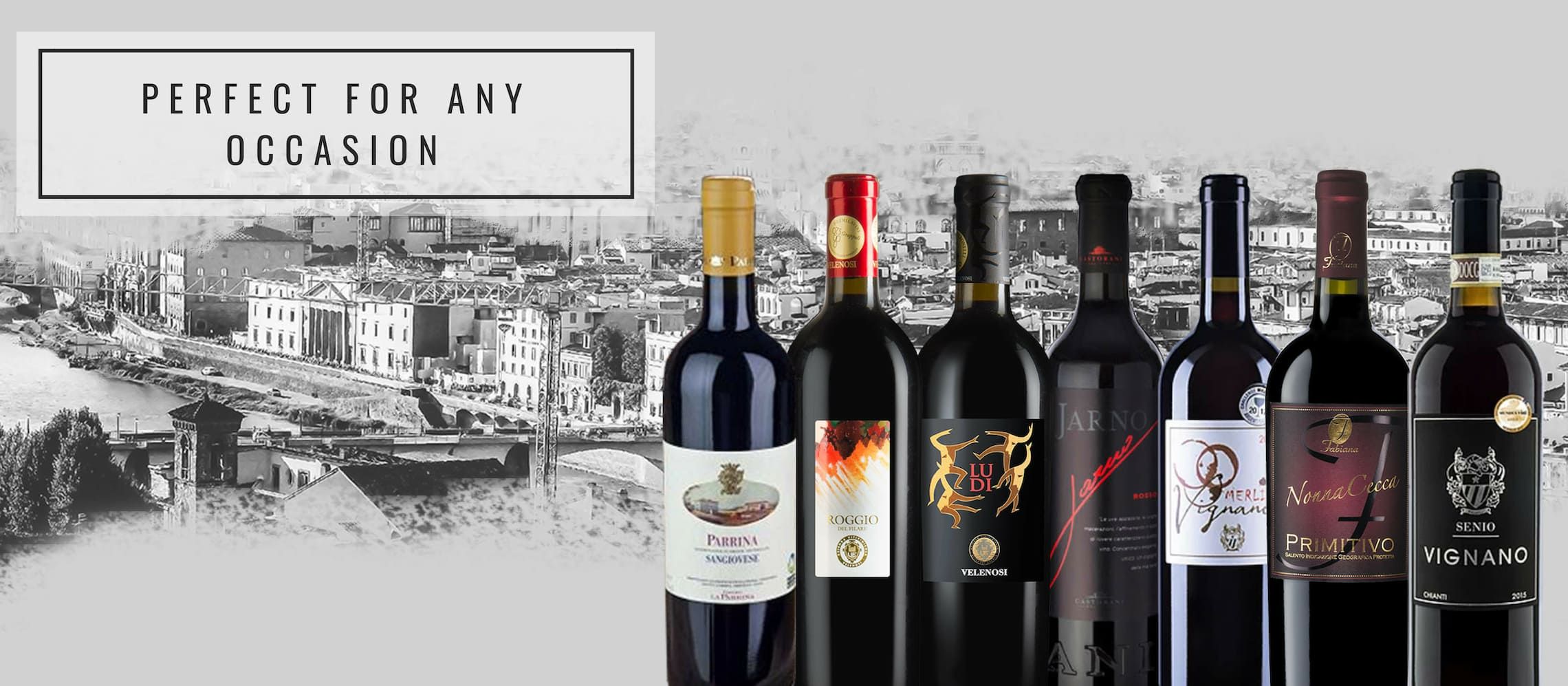 Top Italian Wines That Suit Every Occasion
Here is the List of Top Italian Wines that You can include in your Celebrations
Italy is the origin of many of the best wines in the world. The rich and diversified wine styles are what the old and prominent wine-producing regions of Italy are known for. Here are several top Italian wines that will suit every occasion perfectly.
Jarno Rosso
Jarno Rosso comes with an intense ruby red colour with violet tones. The nose is full of aromas of faded grape, spices, liquorice and small forest fruits mingled with the light notes of vanilla, chocolate and faded rose. The palate is rich, full-bodied and well balanced by elegant tannins. The after taste finish has deep notes of preserved fruits and tobacco.
Nero d'Avola
Nero d'Avola is made from the black grape of Avola which contributes to its bold and fruity flavour. The producer of this wine only works with the members' grapes. All agricultural practices are organic and no wine contains pesticides. Almost all of this producer's wines are boxed and not bottled.
Offida DOCG Rosso
This hand-harvested Offida DOCG Rosso comes in ruby red, bright and lively appearance. Deep and persistent nose reveals the aromas of fresh fruits, particularly black berry and notes of licorice and graphite. It is elegant and has strong impact on palate, with a thick character marked by soft and round tannins.
Podere Castorani Reserva
Podere Castorani Reserva appears ruby red with violet tones. The nose detects aromas of spicy liquorice, small forest fruits and light notes of vanilla, chocolate and faded rose. The palate is rich and full-bodied with elegant tannins. The finish reveals the notes of mature red fruits and tobacco.
Roggio Del Filare
Roggio Del Filare appears brilliant with ruby red color with light garnet hues. The dark and ripe fruits like plum and blackberry dominate the nose. It is pulpy on the palate with the right amount of tannins, fruits and spices. The finish is warm and long lasting.
Nonna Cecca
Produced at around 100m above sea level, Nonna Cecca (Grandma Primitivo Cecca) is a deep ruby red wine with violet hues. It has fruity aromas with the hints of cherries and plum, rosemary and vanilla. This easy to drink and pleasant wine can be perfectly paired with red meats, games and hard cheeses.
Parrina Sangiovese D.O.C
Parrina Sangiovese D.O.C is a full-bodied wine with unique aromas of Sangiovese grapes. It comes in an intense crimson appearance. Its delicate nose reveals the aromas of wild Mediterranean vegetation, eucalyptus and raspberry. It is fruity and velvety on the palate. It perfectly pairs with meat dishes, half-matured cheeses and fish dishes.
Fra Antonio
Fra Antonio is made from Merlot grapes that are grown in hills on medium textured soils. With intense aromas, elegant character, freshness and good character, it satisfies all the demanding palates.
Senio
Senio comes in a bright ruby red color with violet hints. The nose is filled with aromas of cherry, almonds and vanilla with smoky and spicy after notes. This full-bodied wine has a long finish and after notes of cherry, vanilla and chocolate.
Merlino
Merlino has deep ruby red appearance. It has fruity aromas with after notes of strawberry and mint and red berry. It is quite smooth and silky in the mouth with notes of strawberry and white chocolate.
We often update our articles with the new information, so stay tuned with LWC for more similar and enhanced content.