The Smashing 3rd Edition of London Wine Competition
04/11/2019
The wheels are fired up for the 3rd Edition 2020 London Wine Competition!

"For Wild Witch Shiraz to be judged Wine of the Year at such a prestigious international event is a massive achievement for Kellermeister." -Mark Pearce, Kellermeister, for London Wine Competition
With every passing year, London Wine Competition is walking in strides to create a bigger, better and more rewarding competition than that of it's preceding editions.
With its 3rd edition, London Wine Competition has held the same hunger for the winners of its various categories to segue their way into rewards that will truly create an impact for their wines.
What's New in the 3rd Edition?
Beverage Trade Network is one of the largest networks that organize trade shows and competitions all across the globe. With its web of community it has now decided to expand its reward horizons in two key ways:
Winning results will be sent to 50,000 trade professionals in the UK in the Beverage Trade Network Community.
These trade professionals include head buyers of national chains, master sommeliers, head sommeliers, wine experts, wine journalists, and several others that are an integral part of this industry.
Winning results will also be sent to 20,000 top buyers of the UK.
Since the London Wine Competition is not just judged on a Quality score but also on Value and Package, which are considered equally important aspects for any national off-premise buyer, the winning results sent to all these trade professionals become that much more worthy.
It is a dream for any labeled wine brand owner to place his/her wine in front of these professionals with individual attention.
"You can convey scarcity and exclusivity even when scarcity is not an issue", Eric Guerra, Chief Sales and Marketing Officer, Vineyard 29, spoke these words in a speech at the alcohol and beverage import and distribution conference, hosted by the Beverage Trade Network.
Professionals like our judges don't know how scarce your wine is if it isn't scarce. Judges undergo a blind tasting test while experiencing your wine, which decides your quality and your value score.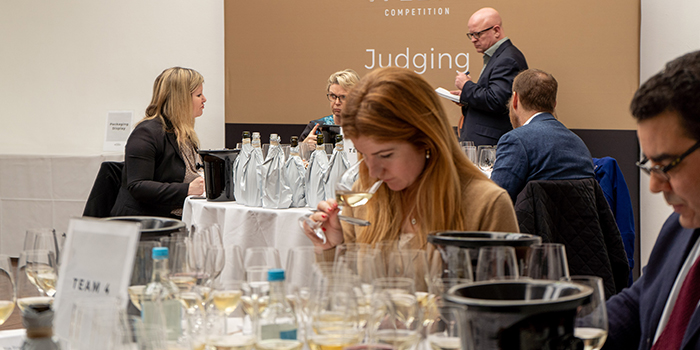 The bottles are then revealed to them for packaging, which implies that they are completely unaware of which wine they have tasted which seals off all edges of competition fairness. This precedes the fact that once you have won the competition under any category you will get a chance to now decide how you'd want your wine to be perceived by people since your wine is unquestionably going to be hot of the wine town. Any wine carrying a double gold or even a gold batch by London Wine Competition is rewarded generously and given all the opportunities to grow and shine. The following rewards have remained consistent throughout all our editions of the competition:
Media Partners of London Wine Competition are some of the influential wine media across the globe. Winning results will get an opportunity for press awareness amongst our media partners, and the results will also be posted on BTN News and Bevroute News.

An all-year social media promotion. If your wine on social media is non-existent you will not only be promoted but become simultaneously aware of how to promote on social media which is curated by our expert teams.

Most importantly! You will be entitled to receive 1000 free stickers of the badge or title that you have won in the competition on your first stickers order that you make to be placed on your wine bottle label. The chances for that become multifold since London Wine Competition proposes the following awards:
Awards at London wine Competition
Apart from the above awards, depending on how much your collaborative score is you will be awarded Gold (90-100 points), Silver (76-89 points) or Bronze (65-75 points), and hence will be entitled to receive the stickers for the same.
"The London Wine Competition is going from strength to strength each year with some of the best judgest from the wine trade. The Gusbourne team are delighted to have done so well at this year's competition against increasingly stiff competition." Charlie Holland, CEO &Chief Winemaker, Gusbourne.
What's more, you ask?
Yes! Tasting notes are in again this year! Judges will be writing feedback about your wine in the form of tasting notes this year as well. You could use them on the back of your label with our logo if you wish to do so! A positive word from a world-renowned MW or a Master Sommelier or a buyer of a big national chain will make a huge difference in a world where there are thousands of wine brands trying to make their way onto shelves of national chains.
What several wine brands wonder is how to create a particular perception about their wine amongst the community that they want to sell to, but what they often do not realize is before perceiving the community needs to atleast notice the wine. London Wine Competition is doing exactly that, bringing your wine to the limelight, and then allowing you to then create the perception in whichever that you'd want.
Enter your brands now to save with early bird pricing and ship your samples later. Give a boost to your brand globally.