Marcello Colletti: Focussing on the positives amidst Covid
09/11/2021
Although Covid was a harsh time for the hospitality business, Marcello Colletti focused on the positives like the opportunity to learn with masterclasses, and share their knowledge via social media.
Where do you currently work?
ROKA.
ROKA is a meeting place where food and drinks are shared with friends (ro) and heat, warmth and an all-embracing energy surround (ka). The principle cuisine is from the Robata grill, which originates from the fishermen of the northern coastal waters off Japan, who would cook the fish on the boats with different charcoals and share the bounty with one another using their oars.
Having started back in 2004 in London the brand has grown to 4 sites within the English capital. We added ROKA Dubai as the first international location in early 2020 and are now looking forward to expanding into new markets in the Middle East.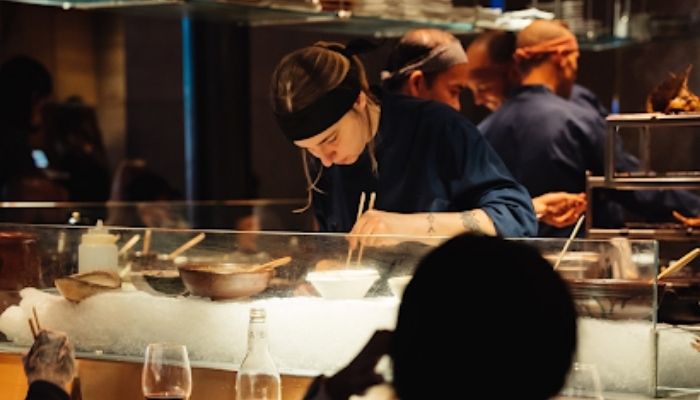 Roka, contemporary Japanese robatayaki.
Mayfair — Aldwych — Charlotte Street — Canary Wharf.
Tell us a little about yourself
I have grown up in a small town close to Arezzo, in the heart of Italy. I started to work in restaurants when I was 17 and I have never left this job since then. I have always been passionate about different cuisines, the world of beverages and customer service. This passion allows me to travel and to work in restaurants all around the world. After working in Australia and Spain, I finally moved to London in 2015 to follow my dream, working with the best professionals.
Here, I worked at the Lanesborough, Lecture Room at the Sketch, Gymkhana and Mana in Manchester. Working with chefs and sommeliers from everywhere enlarges my knowledge of different ingredients, wines and stories to share with guests and colleagues. I am currently working at ROKA and studying at WSET and CMS. In my spare time, I like doing wine tasting, wine masterclass, visiting vineyards and playing football.
Why did you want to become a sommelier?
I have started as commis, chef de rang and then head waiter before becoming a sommelier. I fell in love with wines while I was looking after the wine cellar at the Carlton Club in St. James. It was a huge cellar with wines and port from the best vintages. Every day, I was listening to the Head Sommelier talking about grapes, wines, geography and it was a pleasure to listen to his stories.
In 2019, when I started in Gymkhana, I was working close to Valentin Radosav and, thanks to him, my knowledge and skills improved more and more. From then, I started to focus on indigenous grapes, history, geography and wine tasting. I simply love my job and share my passion with everyone.
How according to you has the role of the Sommelier evolved, especially now during Covid times?
From my point of view, the role of a Sommelier has evolved positively. Many of us had the time off to study, to take masterclasses and to teach on social media. Few restaurants were open only to take away food and they also gave the opportunity to customers to buy wines from their cellars.
Now, the role of sommelier is very important in a business. We are supporting all the departments in a restaurant and we have better preparation for training staff that has become a fundamental aspect in hospitality.
What are some of the most important skills for a sommelier to have?
A sommelier needs to multitask. First of all, he or she needs to be an expert in all the beverages, food and services provided by the hotel or restaurant. Working in hospitality you need to be genuine and passionate in what you are doing, that is what makes the difference in customer service. If you love what you are doing you can provide the best experience.
Knowing all the wines you are serving is also very important to guide the guests for the best choice regarding their tastes, preferences and pairings with their food. It is important to know the likes and dislikes of your guest, ask questions, discover them and then sell your product in keeping with their budget.
What do you look for when you plan to buy wine for your business?
The location allows you to understand the clientele. From there you can start planning your wine lists. The type of cuisine you are serving needs to match with the wine you are pouring. Quality for value is also important. Depending on the guest you are serving, you can understand the style of wine they like.
They usually go for classic regions but I like to recommend similar styles from small artisans, smaller regions and different styles like sake or sherry. Non-alcoholic options such as teas or mocktails are important to have on a drink list as well.
Your favorite places to enjoy great wine in London?
At my house is the best place :). I love cooking and pairing with good wines. I usually buy wines from independent retailers directly from the shop or online. If I go out, my favourite places to drink wines are Davy's and Black Book. I love my pint sometimes, so another option would be a pub which serves artisanal beer.
Marcello Colletti
What is your approach to matching food and wine?
I start by focusing on the main ingredient, the star on the plate. After that, it is important to know the way it has been cooked (pan fried, sauteed, barbecue) and the other ingredients (spices, herbs and garnish). I have always tried to experiment, tasting the food with different wines until I found the best pairing. On the palate, It has to create a wonderful sensation and the food or the wine does not overcome the flavours, it has to enhance them.
If you had to pick one red and one white wine as your personal best, which wines would they be?
Working with food, wine, sake and all my colleagues that are great and professional. The interaction with the guests and making them happy is the most satisfying part.
What are the 5 challenges you normally face in your job and how do you tackle these?
There are many challenges I face every day. Making sure all the wines are available for service, providing impeccable service, dealing with suppliers, keeping the cellar organised, taking control of the stock, stock count, processing the invoices, updating the wine list and weekly wine training. The best way to tackle them is to be organised (have your own agenda) and to work proficiently (prioritise your jobs).
Any favorite food and wine pairing suggestions for London drinks enthusiasts?
- Scottish Salmon cooked in the tandoor and served with Bengali mustard and green papaya salad with a nice Viognier from Condrieu;
- Langoustine smoked in pine and egg yolk emulsion with a vintage Gusbourne Blanc de Blancs. At ROKA you can come and try our grilled corn fed baby chicken marinated with garlic, ginger, dried chilli and served with lemon zest and miso butter with our ROKA Junmai Ginjo Nama Chozo.
Any tips for wine brands trying to grow in on-trade and how they can help sommeliers?
Try to participate at annual wine tastings or wine fairs so they can stay in contact with sommeliers and let them taste your new products. Send wine ambassadors to the restaurants to tell the story of the wine brand. That is also positive for us and the team to have training about wine and how they make them. Send samples to restaurants so sommeliers can taste them.
I believe that it is important to have a good connection between wine brands and sommeliers: a sommelier can advertise your product and a wine brand can organise wine tours and training for the staff.
Please explain your weekly tasks, going in detail about everything you do.
The first thing I usually do at the beginning of the week is to order the wines and have them ready for service. General cleaning is important to have an efficient service. Speak about wine by the glass at the briefing before service. Check the lists before service and prepare the station for service. Before the end of the week, I process all the invoices and deal with suppliers if needed.
What's your personal career goal? And how are you investing or planning to get there?
At the moment, I am focusing on my studies and reaching an advanced level. I would like to expand my knowledge in sake, beers and cigars after that. I invest part of my free time on studying, doing blind tasting, meeting with colleagues and trying different styles of wines like sparkling and fortified. At work, I am always focused on providing the best service while recommending, pouring and decanting as if it was an exam.
Tell us one good story that you remember of a customer and you.
When I was working at Mana I was pairing a dish with Lustau Palo Cortado. One day a beautiful old couple came to our restaurant to enjoy our experience. I still remember them, after many years of marriage together, they were still in love. When I served the sherry at that table, the couple started to smile and became emotional.
The producer I was serving touched their memories older than 40 years, when they were in Andalusia visiting that bodega. It was a great experience that I have always remembered. Sometimes, the best story that happened to me with a guest is when you can share your culture, passion and stories. With a professional manner and service you can go the extra mile and provide a wonderful experience that makes it worth a visit.