Frederic Marti: Adding another Dimension to Food with Wine
27/01/2022
Frederic Marti believes that wine should be paired with food in a way that it adds another dimension to it.
Where do you currently work?
The restaurant Cut at 45 Park Lane.
Tell us more about yourself
I've been brought up in the south of France near Toulouse. My family is really into hospitality and well after having an epiphany with wine in the weirdest way possible I decided to come to London for a year and here I am after 11 years. I've been around a bit, but what really made me the Sommelier I am today is working alongside Eric Zwiebel. A mentor and well a man I am lucky enough to call my friend and certainly a mentor.
Why did you want to become a sommelier?
I couldn't do anything else. I tried a bit but I was just interested, focused, and happy being in wines.
How according to you has the role of the sommelier evolved, especially now during Covid times?
The role has changed in a positive way as we could see a real boom of interest in wines, wines courses, and private sommelier consulting and guidance. So personally I really do think that the role of sommelier now does not limit itself to only restaurant service which is great.
What are some of the most important skills for a sommelier to have?
Patience, persistence, staying humble, and recognizing that without the amazing job of the winemaker we couldn't achieve much.
What do you look for when you plan to buy wine for your business?
Emotion, vibrancy, and deliciousness.
[[relatedPurchasesItems-22]]
Your favorite places to enjoy great wine in London?
Black Book / City Social / Brat.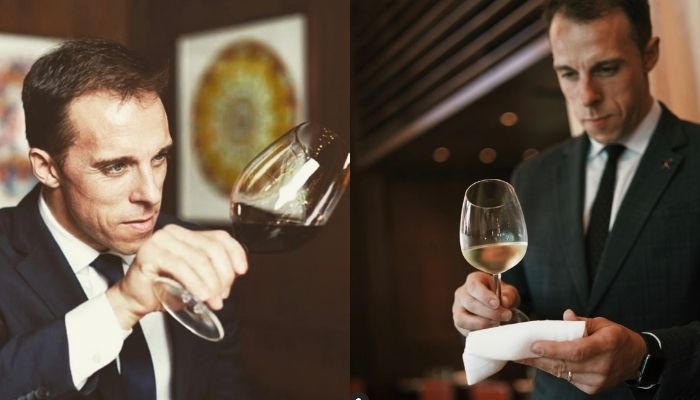 Frederic Marti, Director of wines at Cut at 45 Park Lane, a restaurant by Dorchester Collection
What is your approach to matching food and wine?
It should make sense. The wine should be like seasoning on top of the food and it should add an extra dimension to the food.
If you had to pick one red and one white wine as your personal best, which wines would they be?
White, I will say Marcassin three sisters 2014. Red, I will say Pintia 2008.
What's the best part of your job?
Renew yourself table after table.
What are the 5 challenges you normally face in your job and how do you tackle these?
1. Stress/with meditation
2. Businesses/with collaboration
3. Shortage of wines/stock turnover
4. Shortage of staff
5. Time to spend with my family
Any favorite food and wine pairing suggestions for London drinks enthusiasts?
Manzanilla sherry and ham pata negra with tomato bread and aioli.
Any tips for wine brands trying to grow in on-trade and how they can help sommeliers?
Choose the right moment. See as many sommeliers as possible and invite them to visit your vineyards.
Please explain your weekly tasks, going into detail about what you do.
Weekly tasks are as follows:
1. Maintenance of the wine program
2. Maintaining the training of staff
3. Keeping my stock afloat and being super careful in the way we handle everything from the glassware to the complementary wines to the pouring.
It's a tough job but the challenge keeps us on our toes and this is addictive.
What's your personal career goal? And how are you investing or planning to get there?
Being a wine buyer for a big group and traveling to as many vineyards as possible.
Tell us one good story that you remember of a customer and you.
When organising a private party for a guest they actually invited me to join and offered me a case of mixed wines, which was super unexpected.