2023 Winners
London.
March 20 & 21
Announced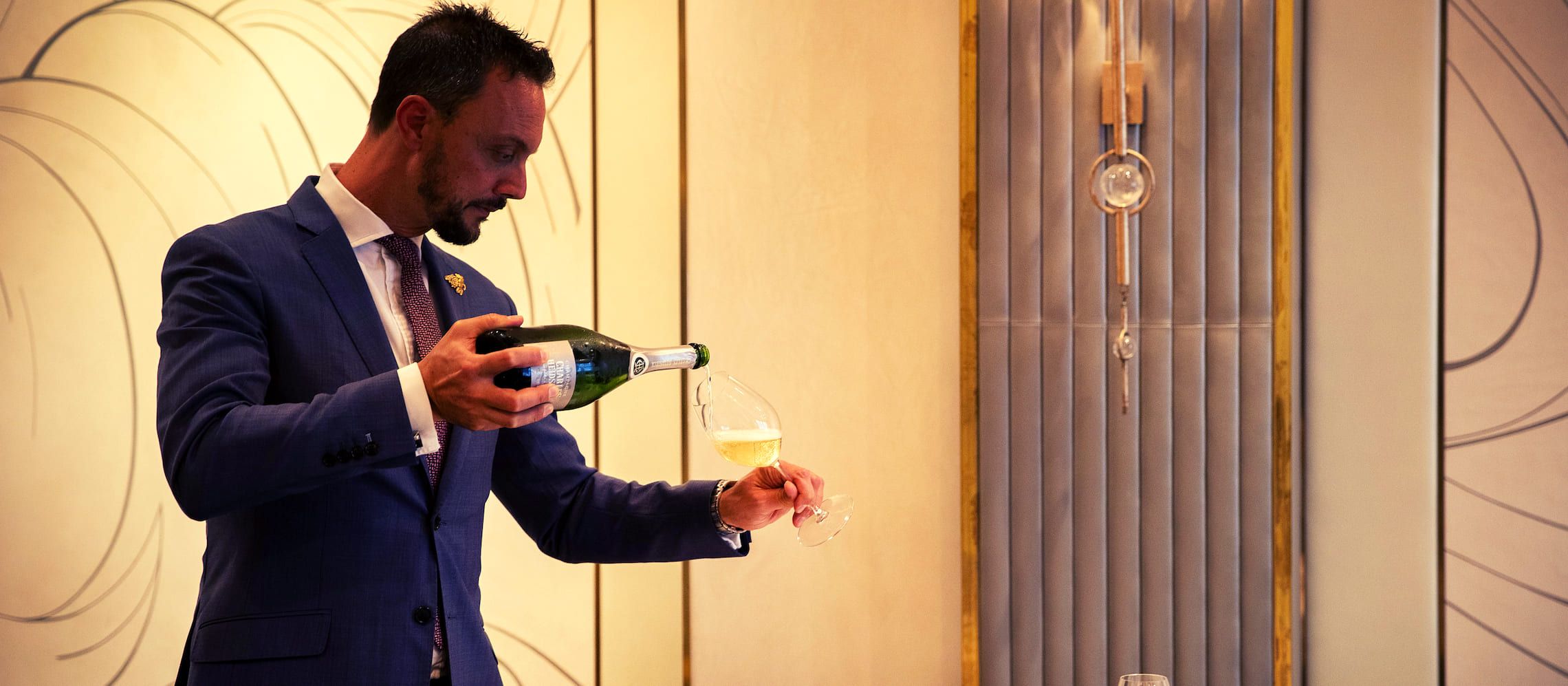 Being a Sommelier – In Marco Iaccarino's Words
In a Q&A with LWC, Marco Iaccarino, the Head of Wine at Berkeley at Maybourne Hotel Group talks about wine, UK market and what it takes to be a Sommelier in one of London's best dining venues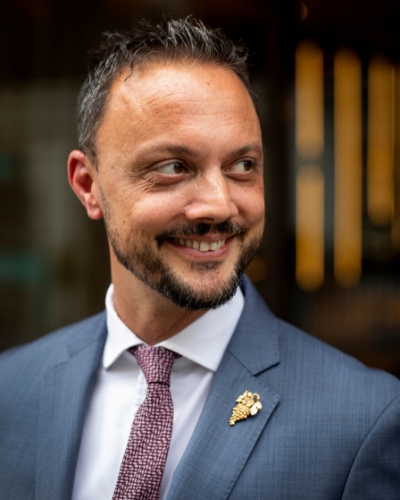 Marco Iaccarino is Head of Wine at Head of Wine at Berkeley at Maybourne Hotel Group. Murano opened in 2008 and within 4 months achieved a Michelin star, followed by 4 AA Rosettes.
Murano's style is to of an ambience and approach to service that focuses on making guests feel instantly welcome and at home.
Marco answered our questions about what it takes to be a sommelier in one of London's best dining venues.
What is the role of a sommelier in your opinion?
There is a team of 5 sommeliers at Murano and my role is as Head of this team. The essential sommelier role is to suggest wines to guests, food match where required, and to do that with the certain style of the restaurant.
Murano's menu is 75% Italian and the wine list reflects that, so we have to be knowledgeable about Italian wines and food matching.
My role is also to be head of the buying wine for the restaurant, training the staff across the whole restaurant, including the sommeliers.
Glassware falls under the sommeliers' responsibilities, including selecting the right glass for the right wine and ensuring that polishing briprovides for spotless delivery.
Marketing also falls to us to a certain degree – doing interviews like this for example. However, on a more detailed level, a sommelier's tasks go beyond wine. We must talk with guests, ensuring that they are comfortable and to be able to engage in a wide range of subjects from culture through to football.
On Sunday Lunch's we are required to provide a smaller list with fewer wines.
In order to keep our knowledge at the cutting edge then we go to relevant tastings, understanding new wines and their regions.
Tell us about the role in Murano? Are there any quirks, differences points of interest?
Murano is primarily an Italian restaurant and fortunately, it is relatively easy to find smaller producers with sustainable production. However, we need to go deeper and search out organic, environmentally friendly producers of indigenous grape varieties. We need to know our guests and what they like so that our selections are in tune with their current styles, tastes and desires.
The food menu changes on an almost daily basis and we aim to provide a customised experience for every guest.
Our wine pairing is different from many where we offer a choice and many guests opt for the wine pairing. We have 30 wines by the glass including a small selection of Fine Wines closed with Coravins.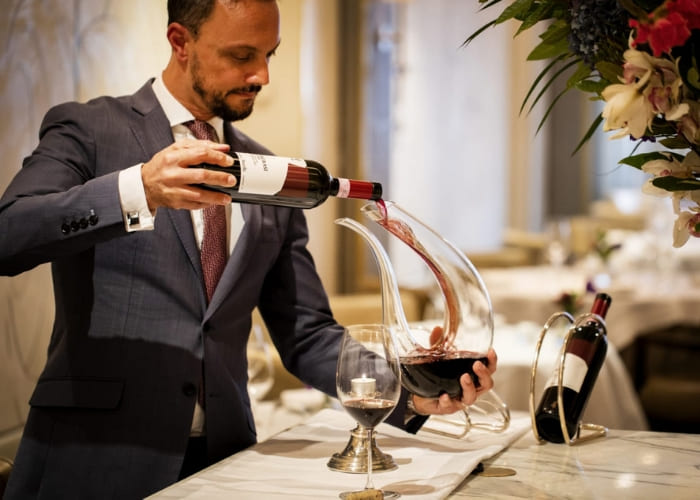 What personal qualities do you require to be a sommelier?
A passion for knowledge is critical and not only wine but history, geography and especially travel. You have to have visited vineyards in order to deliver integrity to the guests, so a love of travel is important.
Integrity is possibly the most important quality a sommelier requires. I have seen a number young sommeliers view the guests as an opportunity to get the most money possible out of them. That is definitely not our role.
Our job is to make them feel special.
You need a certain creativity to match the wines with the incredible creations from this sort of kitchen.
Often patience is required. It takes time to learn this job and great sommeliers have the experience to mould themselves around the guests.
There is also a certain resilience required especially when it comes to learning – it is never ending!
Where did you start with wine education?
My wine education started with the Association of Italiana Sommeliers, then I studied for the Diploma Wines and Spirits and Master Sommelier. I moved to the UK in December 2013.
Originally I was a bartender in a big resort, where I was appointed bar manager. We tried to innovate and created a wine bar, which worked well. I realised that guests needed and wanted more information about the wine, so I began studying, travelled to a wine region and have never stopped. My wife now thinks that I am sick!
Is the role of Sommelier confined to just wine?
No, the role is not just about wine, but also about food, the bar and all beverages. You'll need to make cocktails, know about digestif's, Amaro, fine Cognac & Armagnac and Beer.
Is there a career path beyond Sommelier?
It is good to start as a waiter and begin to gather knowledge about wine. In order to become a Sommelier, you will need to be obsessed by gathering knowledge.
But also looking after people – hospitality is fundamentally about that.
Beyond the role then you can go either towards a more business-oriented career, for example, an importer, getting to know closer more vignerons, sharing knowledge of wine or move into more general hospitality management roles.
My dream is to become a wine buyer.
Is wine still basically all about Shiraz, Chardonnay, Pinot Grigio, Merlot or has it moved on?
I confess to being a little sick of the mainstream varieties. Of course, we have some, but it is a shifting market where small sustainable producers are what people want. They don't want the big producers.
Tell us about the latest trends – English Wines, Prosecco, Australian Italian varieties?
English sparkling wine is the next future trend especially in London and for the next 10 years.
I predict that there will be some great still wines also from England. Gusbourne Pinot Noir is fantastic now.
There will be more 'obscure' regions come to the fore like Washington State. This is mostly down to great work from sommeliers in promoting and working with these different winegrowing regions.
Riesling will be identified outside of the wine community as great. Chardonnay is still strong, whereas Sauvignon is declining.
I'd like to think that Sweet wines will be rediscovered.
The trend of offering wider ranges By The Glass will continue.
What tips can you give for the aspiring or new sommelier?
Be passionate. If you need to stay an extra hour then do so. You have to try to learn and be humble all the time and serve the guest.
Will Alexa ever replace sommeliers?
No – Alexa can never replace experience.
About the Author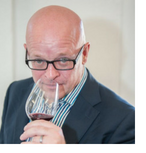 The article is contributed by Alistair Morrell a Wine Inspector, wine industry consultant, journalist and, commentator. Over 30 years as a wine business professional, Alistair shares his global knowledge, network, and experience of growers, importers, distributors and buyers.
More Interviews from Author