Fattoria Villa Saletta Società Agricola srl- A Historical Estate In The Geart of Tuscany
28/10/2020
By pursuing high-quality ingredients & simple processes, blending old ideas & new techniques gives birth to the award-winning wines of Fattoria Villa Saletta.
(Image credit: Fattoria Villa saletta)
The Fattoria Villa Saletta estate is nestled in the heart of the Pisan Hills, south of the Arno river, and enjoys an enviable position made up of a warm and sunny climate, fertile and dry soil, steep slopes that rise from the valley to the ancient town of Palaia; in addition to the strategic proximity to the historic cities of Pisa, Lucca and Volterra capable of offering an unparalleled concentration of beauty and culture.
History
Villa Saletta has very ancient origins - it was already known in Etruscan times - but it lived its period of greatest splendor between the 16th and 17th centuries, when the Riccardi family - whose fortunes were inextricably linked to those of the Medici - made one of the most flourishing and well-known estates in the whole of Tuscany.
In 2002 the recovery of agricultural activities, in particular of the vineyards, has finally begun, the utmost attention has been paid to the details of each phase of the production process with the aim of returning Villa Saletta to the forefront of wine production. From the beginning the line of producing superior quality wines has prevailed, focusing on the production of a few labels in the name of "Villa Saletta", which allow us to compare ourselves in the Italian wine scene with the best "Super Tuscans".
Award-winning Wines
Fattoria Villa Saletta have won many awards for their delightful wines including the London Wine Competition 2020 This time Gold medal winner with 96 points is Chianti 2015. Chianti also won Best Wine By Value, Best In Show By Varietal, and Best In Show By Country. Check out their other winning wines here.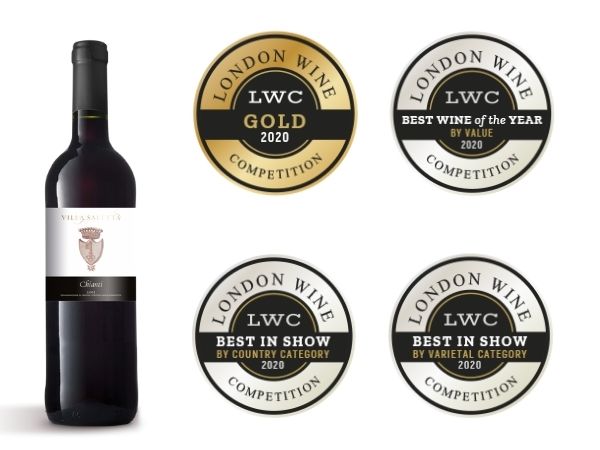 The Chianti opens with a ruby red colour with violet tinges. It has a full, intense aroma, which recalls floral and red fruit notes. In the mouth, the wine is fresh, smooth, and well balanced with a complex consistency, recalling hints of violets, cherries and vanilla. This blend is well fused with smoky sensations. On the palate, it shows the characteristic intensity of Sangiovese, tannins that boast suppleness in their texture, and a vibrant, dynamic freshness.
Online Order: Distributors or wine buyers can info@villasaletta.com
Enter your brands now to save with early bird pricing and ship your samples later. Give a boost to your brand globally.