Cuvee Pazo Pondal has been Awarded Best Wine of Spain
Out of the hundreds of entrants from Spain in 2018 London Wine Competition, Cuvee Pazo Pondal scored highest to become the Best Wine of Spain.
The London Wine Competition took place on March 8-9, 2018 in London. To win an award in this competition, every wine was required to score highest in three different categories: Quality, Value and Packaging. Two wines – Cuvee Pazo Pondal and Pazo Pondal Albarino represented Spain's Pazo Pondal winery in the competition and won in total three medals and awards. Along with Best in Show by Country award, Cuvee Pazo Pondal was also awarded a gold medal. The other wine from this winery, Pazo Pondal Albarino was awarded a silver medal.
The impressive landscape and the beautiful outdoor area inspire and attract many visitors to this winey. The winery is located the way that every visitor is able to enjoy the exceptional view of vineyards of Pazo Pondal winery. Currently, the winery is owned and operated by the second generation of the family.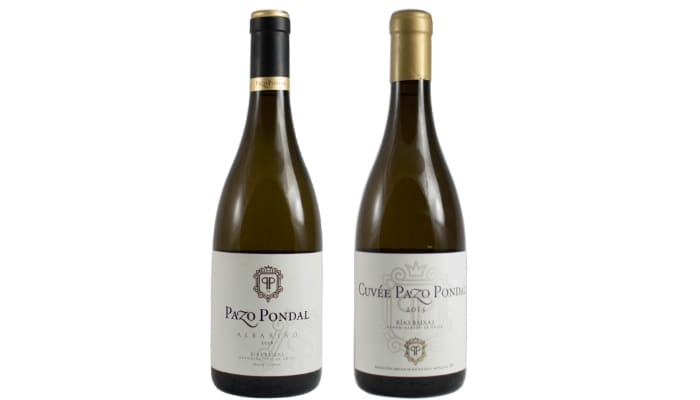 Image: Cuvee Pazo Pondal and Pazo Pondal Albarino
Cuvee Pazo Pondal wine has the notes of balsamic, mint and eucalyptus followed by the notes of elegant pastries, cream and honey. The orange peel and quince contribute well with the citric part of this wine. This full-bodied and well-balanced wine has an interesting minerality which makes it a very lively wine. Pazo Pondal Albarino is a premium brand of Pazo Pondal winery. This wine is produced from the grapes selected from Leira Longa, a lower altitude plot with less acidity and more body. It comes from the winery's one of the oldest plots. Its complex nose represents balsamic notes followed by white fruits, hints of the fine bakery, citrus fruits and flowers.
Apart from the London Wine Competition, Pazo Pondal winery participated in World Wine Meeting in San Francisco this year which is said to be the best way to promote wines in the USA.
Enter your brands now to save with early bird pricing and ship your samples later. Give a boost to your brand globally.