Argentina's 2016 Alpasión Grand Cabernet Franc Bagged The Gold
04/08/2020
2016 Alpasión Grand Cabernet Franc by Alpasión Wines Won The Gold Along With 'Best In Show By Country (Argentina)' & 'Best In Show By Varietal'
Alpasión Wines' 2016 Alpasión Grand Cabernet Franc from Argentina grabbed the Gold along with 'Best In Show By Country' & 'Best In Show By Varietal' at the London Wine Competition held on July 8, 2020.
Aged in French Bordeaux style barrels for 12 months. Cabernet Franc is quite "in" and so Alpasión wines wanted to follow the trend and come out with something different, innovative, and trendy. As a result, they came up with 2016 Alpasión Grand Cabernet Franc is 100% aged - minimum 10 months in new French/Bordeaux oak barrels.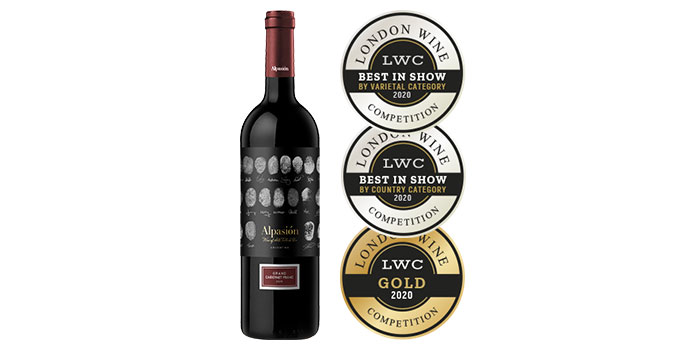 2016 Alpasión Grand Cabernet Franc comes with good volume, boasts an intense ruby color and bright aromas of cherries, ripe currants and hints of leaves, green peppers, and a marked mineral touch. The palate of this wine reminds you of peppers and spices. This is balanced with notes of coffee and chocolate, brought by 12 months of ageing in French Bordeaux style barrels.
Food pairing: This wine pairs well with red meats and spicy sauces.
The people behind Alpasión wines are all wine lovers who decided to make a dream come true by making honest, iconic wines together. The winery owners are all friends who decided to name their inaugural release "Alpasión," a combination of the Spanish "alma" (soul) and "pasión" (passion). The Alpasión label features the fingerprints and signatures of all of the winery's owners as a testimony to friendship for life.
Alpasión wines own 85 hectares of land and although not certified just yet, Alpasión practices sustainable organic farming to ensure the health of soils, ecosystems, and people. Even part of the vineyard is planted in the shape of a giant fingerprint.
2020 London Wine Competition Results are live. Click here to check out
Enter your brands now to save with early bird pricing and ship your samples later. Give a boost to your brand globally.