2023 Winners
London.
March 20 & 21
Announced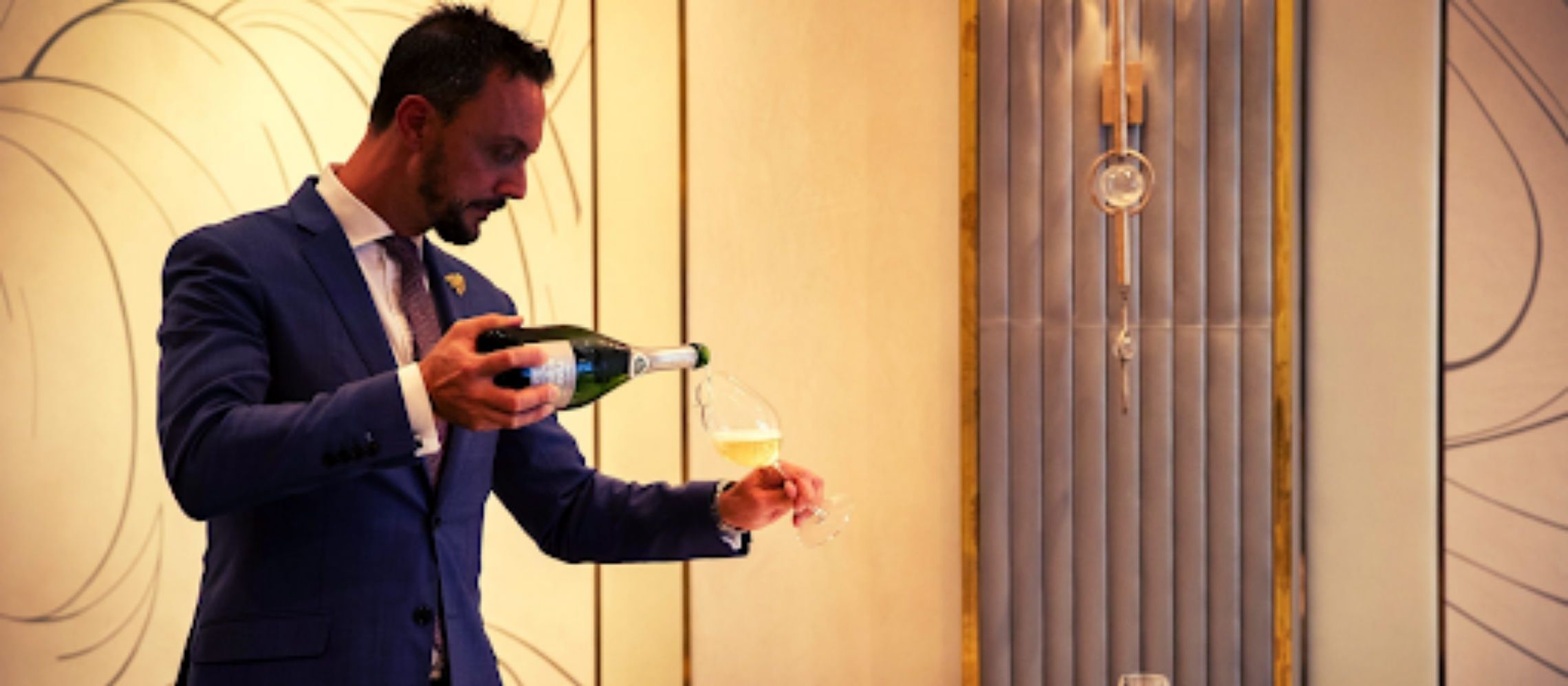 Step into a Winter Garden with Marco Iaccarino
A Winter Garden created with exquisite food and matched perfectly with impeccable wines, especially for you. Step in to be blown away.
Where do you currently work?
Tell us a little about yourself and how your career has developed over the years.
I have been working as head of wine at the Berkeley Hotel since the summer of 2019. I have previously worked at Murano with Angela Hartnett and also worked for Marcus Wareing and Jason Atherton.
I have been part of the opening of the Park Chinois with Alan Yau in Berkeley Street. I moved to London in 2014 with my family, My wife Daniela and my son Andrea who was only 2 months old when we moved. In Italy I had experience at the Armani Hotel in Milan and worked many years behind the bar in a resort in Sardinia: Timi Ama, which is part of the Accor group.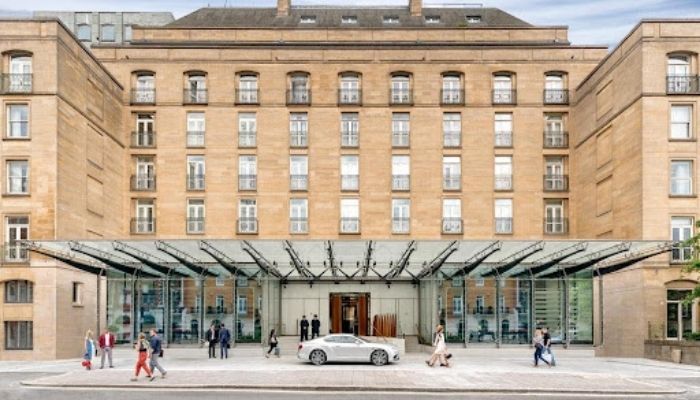 The Berkeley Hotel
I like travelling, for work and for leisure. I love swimming and spending time with Andrea at the park or having pizza. With my wife we always take the chance to try different restaurants and explore the London food scene. The last restaurant we visited was KOL in Marylebone. It was an amazing experience with a great 'down to earth' chef who was available for conversation.
Why did you want to become a sommelier?
When I was a Bar manager at TImi Ama resort we set up one of the bars as a wine bar serving local prestigious bottles by the glass. It was such a success. I discovered that wine is not only a beverage but within a single bottle of wine there is a story of families, stories about the place where the wines are grown, geology, climate, viticulture etc.
I was sorely lacking in my own knowledge that's why I decided to enroll in the A.I.S (Associazione Italiana Sommelier) program and there I was hit by the wine bug and decided to become a Sommelier.
How according to you has the role of the Sommelier evolved, especially now during Covid times?
The Sommelier's main role is still suggesting the appropriate wine/beverage to guests in restaurants and enhancing the overall experience. Nowadays hopefully some of us have evolved by covering the role of wine director, where not only we train our staff to act as sommeliers on the floor but we run the entire beverage program for hotels and restaurants.
This has improved not only the drink offerings of well known establishments but also their profitability and service for the guest. A win-win situation!
Lately we are seeing a shortage of staff, especially among sommeliers. As wine director / sommelier the challenge is dragging and involving the whole staff into the wine/beverage world.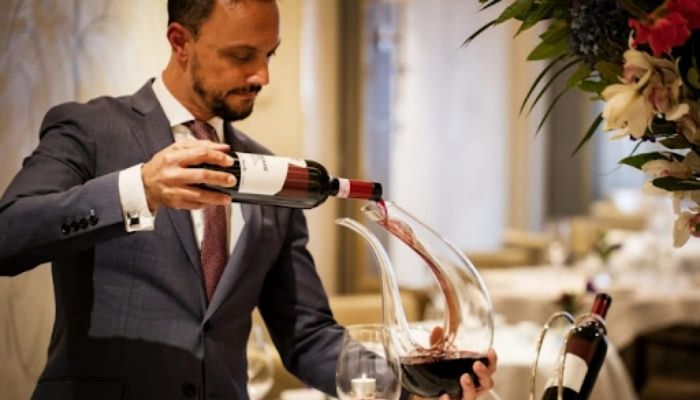 What are some of the most important skills for a sommelier to have?
Listening before suggesting any wine/beverage. A sommelier has to listen to the guest's preference and try to read them. This is the main skill. Thirst for knowledge. The wine and beverage world is constantly changing. The more you know, the less you know.
Smiling/having good manners.
As part of restaurant hotel staff we work in hospitality. The most annoying preconception is an 'arrogant sommelier'. Not all of us are like that.
What do you look for when you plan to buy wine for your business?
First the market where our business is located. Then what the company ethos is. What food is served along with understanding which season we are in. Is there any theme in which the wine has to be listed? After this identify the style and the provenence. Then I generally taste different cuvee at the price point I decide for that particular wine.
Your favorite places to enjoy great wine in London?
Noble Rot, 10 cases, The Remedy, Passione Vino, Newcomer wines. Sometimes in our communal garden with my neighbour. We created such a great community when in lockdown last year. Wine was one of the reasons for us to meet!
What is your approach to matching food and wine?
Sometimes quite classic. Goat cheese and sauvignon from Loire. Oyster and champagne. But sometimes I like to experiment. Scallops with Jalapeno sorbet served with sparkling Saké! Generally I gather with chefs and we try food and wines (and sometimes saké and beer). Lately we tried to develop our dessert menu with some beers. Still need some tweaks though.
If you had to pick one red and one white wine as your personal best, which wines would they be?
That is a tricky question! The wine world is so huge that picking one bottle seems to be impossible. I will try by imagining myself in our last project here at the Berkeley: The winter garden. We are going to serve cheese and Raclette and I will take CHASSELAS 'C DE MARRIN' made by Dominique Lucas at Les Vigne des Paradis in Savoie.
Pure, great freshness but also a full body texture. Just remind me of this Alpine landscape. For red we are going to serve Venison Fillet with pickled blackberries and Juniper jus. I will drink a Valtellina Sfursat Ronco del Picchio made by Sandro Fay. Nebbiolo made with dried grape which have an overripe fruity taste and raisin character matching the dish superbly!
What's the best part of your job?
There are many aspects of my job which I love. Tasting, being invited to lunch and travelling around the wine world. But by far the best is meeting people, talking and getting to know all the different personalities and taste profiles. This is really the meaning of the word 'Social'.
What are 5 challenges you face in your job normally and how do you tackle these?
1-price increase and scarcity : always find new wine/beverage to offer and trying to work with many suppliers to create competition.
2-lack of staff: try to involve the whole team in the wine/drink sales.
3-buying in advance: many places do not see the great advantage to buying EPs or investing in wine. Hopefully is not the case with my company at the moment.
4-People are drinking less alcohol: a good thing for the health of people but of course a challenge for us. My motto is to drink less but drink better. We improved our fine wine selection by the glass.
Any favorite food and wine pairing suggestions for London drinks enthusiasts?
Well, check my suggestion above about the Winter Garden at the Berkeley.
Any tips for wine brands trying to grow in the on-trade and how they can help sommeliers?
Well, difficult to say. I personally am very curious about new products as long as they have a story behind them. Also, if they are focused on quality, they have a unique profile and production technique but above all they have to promote, protect and show the particular terroir they are made in.
Please explain your weekly tasks, going into detail about what all you do.
Training of the staff - Weekly especially on the By the glass offers - We run different programs in our outlet - Ordering and checking all the lists in the different outlets - Manage the master list adjusting price vintages and adding new wines -Tasting with clients for private hiring of our event space - Tasting with suppliers to try new wines and new vintages - Spending 2 hours a day especially in the evenings in our outlets working with the staff, talking with guests and suggesting and selling wines - Spending 1 hour a day in the cellar to arrange and help purchasing team - Checking the sales and that all the numbers of the beverage are in line with the financial monthly budget - Meeting with finance GM and hotel manager for future opportunities.
What's your personal career goal? And how are you investing or planning to get there?
Become the wine ambassador/ director either for a top brand or a top hotel group. But I have to say I am pretty happy already with the title I have. I am trying for the 3rd time to get my MS diploma. Missing tasting only. Another excuse to drink more.
Tell us one good story that you remember of a customer and you.
Once working at the Armani Hotel I had the privilege to seat Sting. I asked politely 'can I take your coat?' and he said to me no! I love my coat and I am not going to give it to you! Great ice breaker from the guest! Then he ended up spending the whole evening in our lounge sampling many vintages and styles of Brunellos! I think he ended up buying a vineyard in Tuscany.