Stefano Rossomando of the RC Group
06/12/2021
Stefano Rossomando is an Italian who left his heart in London and stayed with it. He is now the Beverage Director for the RC Group with a few restaurants under their belt.
Where do you currently work?
I am the Beverage Director for RC Group.
Tell us more about yourself.
I was born in the South of Italy and lived there for 23 years until I decided one day to visit a friend in London and spend a few weeks at his place. I never came back home, 23 more years went by and I am still a Londoner. I have always worked in the hospitality business since my late teens, I have worked back and front of house roles until I finally settled in the wine world around 12 years ago. I am a father of three and my passion outside of work is still food and drinks.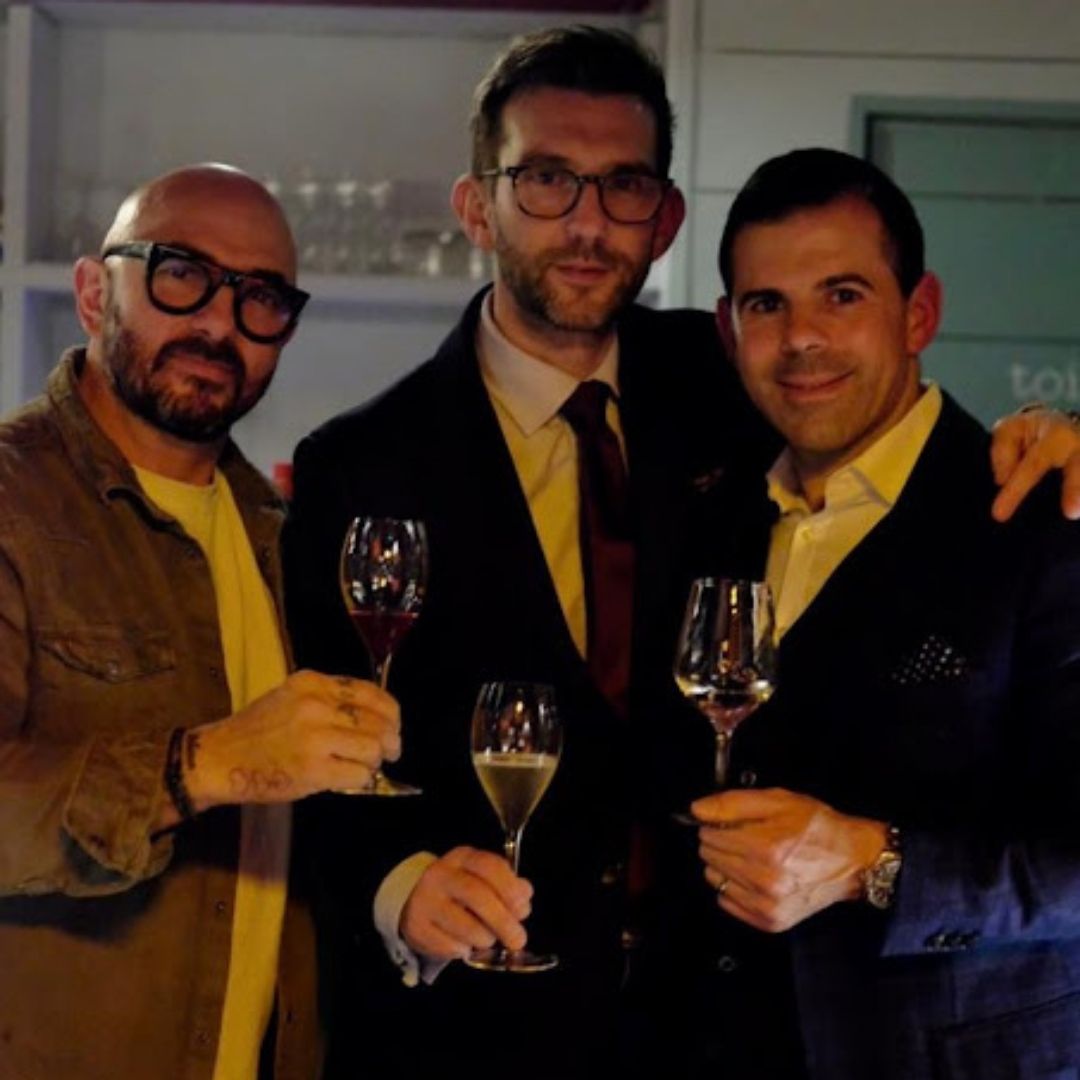 Stefano Rossomando (In the middle), Wine and Beverage Director at RC Group
Why did you want to become a sommelier?
After so many years spent working in restaurants I sort of developed the passion for wine and drinks. In our world one never stops learning, we get to meet amazing people, travel the world and drink some of the best wines and spirits in the world, what else would you want haha.
How according to you has the role of the sommelier evolved, especially now during Covid times?
People have been in lockdown for so long and restricted to a limited choice of drinks, I feel there is a great excitement around again and everyone is a little bit more adventurous and willing to try new things and let us guide them through the experience.
What are some of the most important skills for a sommelier to have?
After all that has happened in the past year and half is time to reconnect with people. Developing a good wine list isn't enough, we need to be personable, connect with our guests and tell a story. I think now more than ever we have to go the extra mile to give our guests the best possible experience.
What do you look for when you plan to buy wine for your business?
I work for a restaurant group and having multiple restaurants in different locations requires that I have a certain balance in the overall selection of wine I buy. I obviously look for quality first of all, if I don't think a product is good I won't buy it no matter the price. I mostly look for wines that I know will please our clients and will make my company money.
Your favorite places to enjoy great wine in London?
La Petit Maison in London has a stunning wine selection, Andrew Edmunds restaurant of course is a must go for wine lovers. I am also a big fan of what Brat is doing at the moment with their btg selection.
What is your approach to matching food and wine?
I like to experiment with new things all the time, go a little bit off the books if i can say that. Food and wine pairing is probably the most challenging thing to do for a Somm, making mistakes is nothing to be ashamed of but is the best way to learn. Impressing a client with a pairing he/she would have never thought of, is what gives us great pride in what we do
If you had to pick one red and one white wine as your personal best, which wines would they be?
I have a soft spot for Chateau Grillet from the Rhone Valley when it comes to white. Red has to be a good Barolo from Giacosa or Conterno.
What's the best part of your job?
I get to travel the world, make great connections, meet amazing people, eat in the best restaurants and try some of the best wines in the world.....that enough?
Any favorite food and wine pairing suggestions for London drinks enthusiasts?
It's Game season right now and if you are a bird lover try matching Grouse with an old dry Oloroso like a 30yrs Del Duque from Gonzalez Byass.
What's your personal career goal? And how are you investing or planning to get there?
I love what I am doing right now, I would love to keep growing within the company and help it expand.
Give us one good story that you remember of a customer and you.
Come see me at the restaurant, I will buy you a glass of wine and share a few good ones