Q&A with Award Winning Sommelier - Winnie Toh
21/07/2021
Winnie Toh is one of the world's leading sommeliers who has worked across Asia, Hong Kong, and Macau and is now running the wine offer at Amanyara in Turks & Caicos in the Caribbean.
Can you tell us about your background and how you first got into wine?
I am from Singapore, and I was a hospitality management student at the local polytechnic. I have always been in the restaurant business, juggling between school and odd jobs. It was during my internship at the Raffles Hotel in Singapore that I got involved in wine.

Winnie Toh, Award-Winning Sommelier
Why did you want to be a sommelier?
I was evaluating my post-grad career options during my final year at school. At the Raffles, my most significant memory and the joyous moment where being a part of the wine team and serving dinners alongside top winemakers and Michelin starred chefs. It was during this time that I understood the world of wine is an explorative space where I could continue to learn something new every day. I made a decision to continue studying wine and to become a sommelier.
What is involved in your current role and what are your main tasks?
I am currently employed as the head sommelier of Amanyara in the Turks and Caicos Islands. My primary role is in operations, where I connect with our clientele to enhance their culinary experiences through thoughtful wine and food pairing. Off hours, I am usually caught organising cellars, leading beverage training, and managing procurement.

Amanyara Restaurant view
What advice would you give to a sommelier taking over a restaurant's wine list - what are the steps you take to introduce a new wine program?
The foundation is important. The first step I take is to review the list to identify its strengths and weaknesses. It is then important to look at the clientele and restaurant concept and decide if the list connects with the current business model.
It is vital to learn the list and observe what sells. As you ease into the role, you could take time to re-examine the wine philosophy of the company and look to synergise with that and then add a touch of your wine personality.
I would often only, for example, add labels as I delist another to prevent overstocking. There will be times where ownership decides to invest in the wine program and that is the best time to re-invent.

Amanyara restaurant inside view
What questions would you ask the restaurant owner to know what sort of wine list to create?
It is important to establish what their revenue projections are and what is their overall philosophy and focus for the restaurant e.g. sustainability, supporting small and growing brands, or looking to offer wines that would be a collector's dream to buy. Do they want the list to be New or Old World centric? Would they be focused on food and wine pairing?
What do you most look for and want from wine suppliers?
Having a very good knowledge of their producers and the styles of wine they make is crucial. Then it is all about reliability and the ability to provide real-time updates on deliveries. I would also expect them to understand the establishment's wine program and being able to make suitable recommendations to complement the existing selection.
Can you think of any good examples of wine partnerships with suppliers and wines you have listed as a result? What was it about those wines that stood out?
Our collaboration with Charles Heidsieck and Rare has worked very well. We were also able to introduce our clientele to a lesser-known Champagne of high quality. The overall reaction has been high and some of our colleagues have moved on to establishments worldwide and continued the relationship with the Champagne house by introducing it in their various markets.
These Champagnes are of outstanding quality at a lesser cost than many NM and prestige cuvées at the same level.
A steady partnership with the Kendall Jackson's Spire collection has allowed us to develop an interesting and diverse Coravin wine program to complement the resort's cuisine, featuring mountain wines, premium verticals, and new luxury brands from across continents.
What does success look like for you from running a wine program - what are the key ways to show success?
Feedback from the guests is the best testimony for any wine program. I often hear guests comment about how surprised they are to find a lengthy and well-thought wine list in the Caribbean.
The incremental revenue that is created from the wine program is important so that the owners can appreciate and acknowledge why it is important to continue to invest in it. The Coravin program created at the resort has led to a 20% increase in average wine by the glass prices, whilst at the same time offering different options and a wider variety of wines to the guests. Definitely a win-win.
How have you devised the wine list and wine program at the Aman hotel?
The wine list has been curated by observing the demographics of our clientele. We serve a mostly elite clientele from larger north and south American cities. As such, the program has been shifted to an Old World focus, while complementing the existing New World selection that has always been our strength.
I ensure that classic styles and producers are always represented for the curious learner, and we also include iconic wines as they are popular with our more prestigious clientele. I am able to show my own wine personality by including some of my favourite biodynamic producers from across the world to go in line with the resort's sustainability focus.
What are the key four things you focus on to be good in your role?
The most important is to be present – physically and mindfully. We have to remember sommeliers are sales people and we have to keep up with our knowledge to be able to recommend the most suitable products to our clientele.
It is also important to be flexible and help out as often as possible on the service floor. This creates higher engagement with staff and guests alike, thus building relationships that are important for us to succeed in our role.
Train and engage. It is important to ensure staff are equipped with the knowledge to answer basic questions on the service floor. The more the team knows about wine, the higher the level of guests' satisfaction and the closer the owners get to achieve revenue goals. Engaging with guests often also allows me to understand what the market likes, and I get to learn about wine from them too.
What do you think sommeliers spend too much of their time on which is not that important?
I think it is important to learn with a focus and strategy. There are many amongst us who try to learn a little of everything with no focus. The grids are important, choosing the right wines to taste is equally important. Keep a progress check and keep working on the right areas to improve on.
What do you see as being the key skills and talents needed to be a good sommelier?
The desire to learn is of utmost importance. It keeps us grounded and updated with knowledge for the job.
Stamina. The job is demanding and requires long hours of physical toll between the cellars and service floors. I personally think being an active person with high energy levels has helped!
Be intuitive. This allows us to taste and understand wine better, and also to read the minds of our clientele.
Be imaginative. Some of the most memorable wine and food pairing options are achieved by thinking out of the box.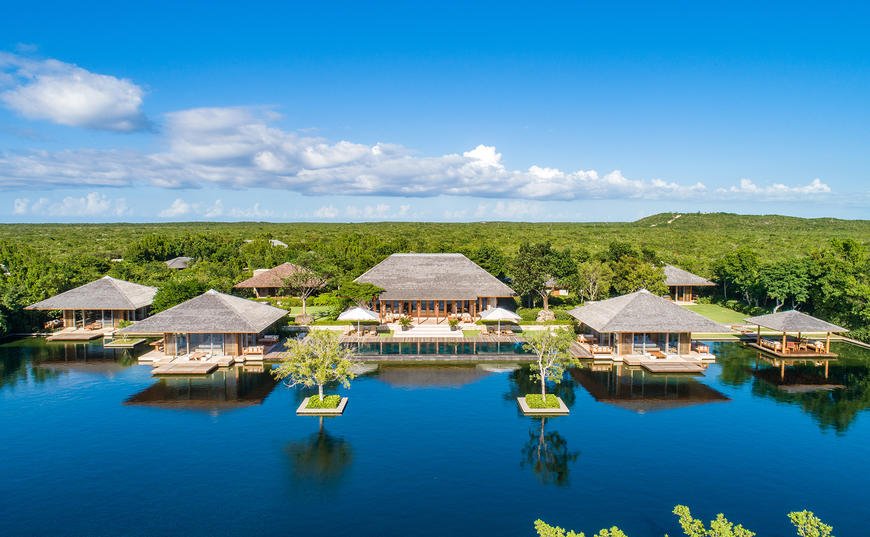 Aman Resorts Top View
* If you would like to know more about the wine and food offer at the Amanyara then click here.