Lights, Camera, Service Time!
29/11/2021
Dylan Maiorano's favourite time is when service begins at the Margot Restaurant and customers start looking for the sommelier. He's more than happy to oblige!
Where do you currently work?
Tell us more about yourself
I was born and raised in a small town in the Lombardy region, nothing to do with the greatness of London. Together with my usual friends I have lived and shared many emotions but also many sad moments in particular the loss of a great friend of mine.
My family has always wanted the best for me despite the various difficulties and even if the choice to become a sommelier was not suggested by them, I thank them for educating me and teaching me the value of work.
Why did you want to become a sommelier?
The decision to become a sommelier was taken mostly out of personal pride when during the last year of hotel school I decided to sign up for a wine competition. Not having won it pushed me to want to know more until I moved to London where through key people and restaurants I continued to deepen and develop my knowledge about wine.

Margot restaurant in London's #CoventGarden
How according to you has the role of the sommelier evolved, especially now during Covid times?
Despite having only 5 years of career in this sector, I can guarantee that the figure of the sommelier today is still, if not more, a key figure in any restaurant. Many people not related to wine during the various lockdowns became interested in the world of wine by participating in online Masterclasses.
Today's customers know more about the product but at the same time want to know more and it is here that the sommelier plays a more crucial role than before.
What are some of the most important skills for a sommelier to have?
Believe in the product you sell, but above all, do it in a genuine and respectful way.
And last but not least, the wine knowledge.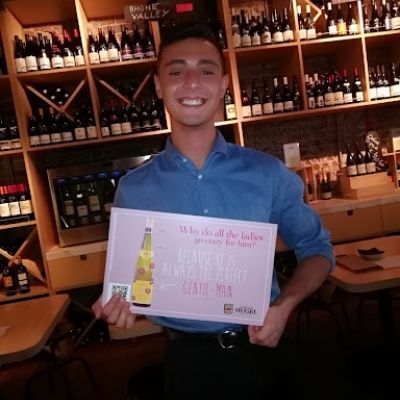 Dylan Maiorano, Head Sommelier at Margot Restaurant Covent Garden
Your favorite places to enjoy great wine in London?
My favourite place is certainly the Davy's Wine Vaults in Greenwich.
What is your approach to matching food and wine?
I like to play on many aspects when I find myself in front of organizing a wine pairing. The most important thing for me is to understand if the customer prefers to amplify or contrast the aromas and flavours of their dish.
If you had to pick one red and one white wine as your personal best, which wines would they be?
Being a lover of Chardonnay I would choose a Gaya & Rey 2004 as white and for red a 2012 Domaine Prieure Roch Les Clos des Corves.
What's the best part of your job?
The best part of my job is when the service starts and the customers start to look around for the Sommelier.
Any favorite food and wine pairing suggestions for London drinks enthusiasts?
Of course! Here is a wine pairing from the north of Italy:
Polenta e porri paired with a Roagna, Langhe bianco,Solea.
What's your personal career goal? And how are you investing or planning to get there?
My personal career goal is to become a brand ambassador for a high end wine business. Hope that one day I will be able to achieve this but for now I'm just focusing on tomorrow.
Tell us one good story that you remember of a customer and you.
A couple of years ago I remember a customer asking me for an orange wine because he was tired of drinking wine made from grapes.