Deadline
September 30, 2023
Enter Now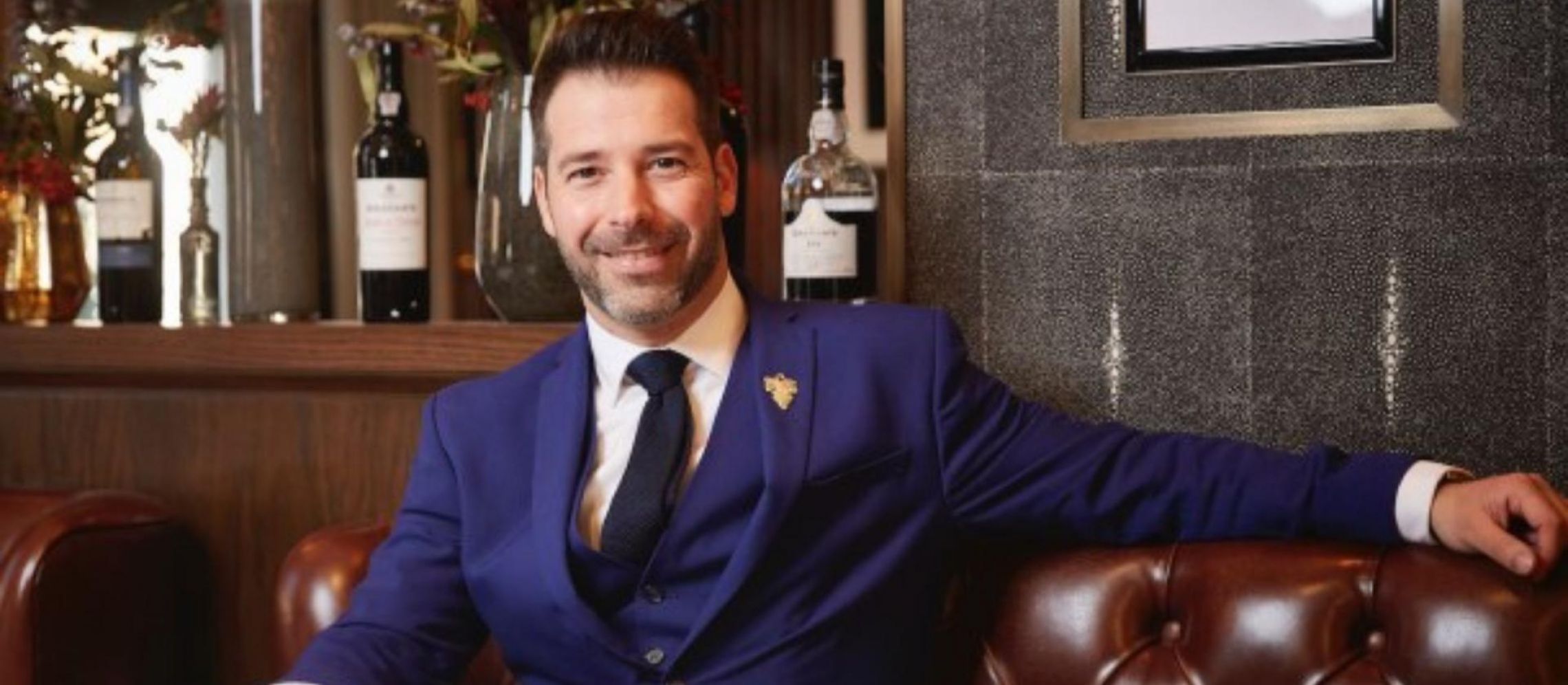 Having a Good Relationship With Your Suppliers is Crucial. Says, Anastasios
In the interview below, Anastasios Karakasis, Head Sommelier at Marcus Belgravia
Anastasios is a strong operations professional who graduated from Wine & Spirit Education Trust. He is an experienced Wine Consultant with a demonstrated history of working in the food & beverages industry. He is highly skilled in areas such as Food & Beverage, Hotel Management, Sales, Hospitality Industry, and Event Management. He has previously worked as a sommelier for Dinner by Heston Blumenthal, The Carlton Club, and the ONIMA Restaurant. He is currently working as a Head Sommelier at Marcus Belgravia.
Your current place of work
Marcus Belgravia, London
Tell us about yourself.
My name is Anastasios Karakasis, I hail from Greece, and my hometown is Patras. I am 36 years old, and for the past 3 years, I moved from Cyprus, where I was living for four years, to London. The main reason I decided to move was my passion for wine. London is the perfect place for anyone who enjoys getting to know new tastes of food, combined with excellent wines. In my free time, I enjoy meeting with friends, exploring London and sometimes cooking for them at home, and sharing/having/drinking some fine wines. Moreover, I always get the chance to travel to countries I have never been to. It fascinates me to know different regions and cultures and try their traditional cuisine, paired with their own wines. Another thing I have enjoyed a lot in the last few months is playing Tennis. I started to play tennis a few months ago, and I can say that I found my sport because it's always tennis o'clock for me. I still need a lot of improvement, but that is why training exists.
[[relatedPurchasesItems-38]]
Why did you want to become a sommelier?
Wine has been present in my life since I remember myself.
At our family tables, in any celebrations, we had, at the local taverns, and on any other occasion, the wine always had a good reason to be on the table. Another strong memory is my uncle's small vineyard with local grapes, where our whole family would gather for the harvest and the Sunday after the harvest, next to the big lunch table.
Because of my age, I was not allowed to drink wine at that time. But sometimes, I was allowed a taste of it. From the first try, I was curious about all the varieties and flavours I could taste.
Growing up, I started working in the hospitality industry after all that. First as a barista and then as a bartender in a Marriott resort named Costa Navarino in Greece.
In an evaluation I had with our HR department, I was advised to pursue a career as a sommelier. I liked it, and with their guidance and help, I started the WSET courses. I am more than grateful to all the HR team and the Hotel Management. They helped me make my hobby a way of living and have this daily joy in my life every day, and no doubt that this is my one and only dream job.
What do I look for in a new brand before taking it to my restaurant?
First of all, the quality of the brand. The history and the people behind it. After if it fits my restaurant as a brand. Then how it is related to the restaurant's cuisine and flavours and, of course, if it will suit my guests and the style of the restaurant's clientele. Ultimately, I'll look for the cost price and the restaurant's profit from the brand.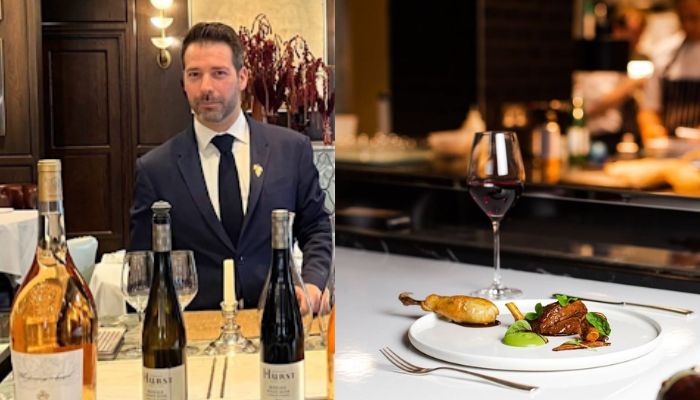 Image: Anastasios Karakasis
What sources do you follow to stay on top of industry trends and new launches worldwide?
I follow many sites with news from the industry around the world and read many wine magazines as well. Also, one of the most important things for a sommelier who wants to be always related to new launches and trends is to keep tasting as much as he or she can's. Another important source of new knowledge is meetings and conversations with professionals from the industry, such as our wine suppliers and producers, other sommeliers, and bartenders. Last but not least, I would mention social media, which nowadays are very important in spreading news and trends worldwide and getting you linked to great professionals.
Questions you would ask a customer who doesn't know anything about wine?
This happens quite often at restaurants. Usually, I ask them if they remember the last wine they really enjoyed and what style and flavours they usually like. I asked them if they preferred white, red, rose, or dessert wine and their mood at that time. Always related to the food they ordered or will order. Then I'll give them to taste of a couple of suggestions, and hopefully, they will enjoy my recommendations.
What are some of the most important skills for a sommelier?
Knowledge. To be ready to answer most guests' questions about wines, styles, grapes, and flavours, serve in the correct glasses to maximize guests' experience. One should be confident in recommending and serving the guests. Feel, read and understand guests. He should be a team player. A sommelier works with all restaurant teams. FoH, BoH. With kitchen, waiters, commis. Should be able to work with all and be on top of everything.
How would I train my new staff member in the first 7 days of their joining?
First, I'll also explain the operation and SOP, verbal and written. Educate about the restaurant's culture. Introduce with the whole team, FoH, and BoH, and update everyone's duties. Of course, we have a file with all of these for every new staff member.
- Spending 2nd day in the cellar familiarizing itself with our wines and spirits.
- 3rd day spending a day with kitchen staff and chefs.
- 4th day with the staff BoH (commis waiters and kitchen porters)
- 5th day with FoH team on the floor going step by step with service procedures.
- 6th and 7th days focus only on the sommelier team and on the sequence of service and opening and closing procedures.
What methods do you use to grow wine sales? Please explain with examples.
- Knowledge and approachable staff. The more you know better you can sell and up-sale your wines.
- Selling an aperitif. We are using a Champagne trolley and approaching the table presenting our range.
- Food and wine pairing. We always suggest making a food and wine pairing for our guests, allowing us to choose the wine for our guests.
- Half carafes and by the glass. We are giving the option to our guests to choose quite a few wines by the glass(an attractive selection) for our guests to taste as they can.
- Rare and iconic wines by the glass. Allowing our guests to have a rare or iconic wine by the glass can always grow our wine sales.
- Always suggesting dessert wine and digestive.
What methods do you use to grow profits?
Having a good relationship with your suppliers is very important. Trying to keep them happy with sales and suppliers keep me happy with discounts and good prices. Trying to minimize the wastage from wines by the glass. Wines we used for tastings and training sell them as the wine of the day by the glass.
How do you self-learn and improve your skills?
I'm attending masterclasses quite often. Following important people of our industry who are giving instructions and information. Studying every day and evaluating myself on what I need to improve to become better and better. Tastings and study with the people of the industry.
[[relatedPurchasesItems-38]]
What's the best part of your job?
The best part of my job is when a guest leaving the restaurant is so excited about the experience and mentions the wine or wines were unforgettable and learned many things from this experience.
How do you elevate the guest experience? Please give 4-5 examples and insights here.
Welcome our guests with a smile and make them feel comfortable. Having as much information as we have for the guests and calling them by their names.
Keeping a history for our repeating guests. Calling with their names and showing that we remember them and their preferences.
Giving the best service and unforgettable experience. Doing our best to cover all the needs of our guests and be on top of every question they have.
Food and wine pairing. Choosing the best pairings, explaining why this pairing, and giving all the information about food and wine.
Always after every course, ask for feedback. If it was something, they didn't like we'll try to give them another course that they will enjoy.
Your favourite TV show right now?
Tales from the kitchen garden with Marcus Wareing.
Your favourite restaurant in London right now?
Milos restaurant. Greek fish and seafood restaurant. I'm a huge lover of fish, seafood, and quality products. Most of the fish and vegetables come from Greece.
Any favourite food and wine pairing suggestions for London drinks enthusiasts?
I love to fish and seafood. Usually has to be simple. A sea bream or a sea bass roasted in the oven with vegetables alongside an Assyrtiko from Santorini island. My favourite is Cuvee Monsignori from Argyros Estate. Notes of sea spray, fennel, and candied lemon on the nose while the palate is so textured and so saline.
Your favourite book?
The old man and the sea. Ernest Hemingway
Name 3 sommeliers in the UK you like
- Isa Bal MS (Trivet)
- Klearhos Kanellakis ( Eksted at the Yard)
- Jonathan Kleeman (Restaurant Story)
What's your personal career goal? And how are you investing or planning to get there?
I want to improve my knowledge and my skills. Shortly I'll start my Diploma at WSET and an MBA essential from LSE in finance and management. I'd like to be Wine Director for a group of restaurants or to have my own Wine Bar with wines from around the world and any style. I want to attract people from the industry and not only organise masterclasses with wineries, wine experts, MW, and MS.
Give us one good story that you remember of a customer and you.
7 years ago, I moved to Cyprus from Greece. It was a group of restaurants that had invested in a new project, an amazing wine bar-restaurant, something pioneer and innovative for that time in Cyprus. I was the Head Sommelier. I was living 10 minutes walking distance from the restaurant. I remember one day they called me around 11.30 am to go to the restaurant because a very important person booked the whole terrace for lunch just for six people. I was starting work at 2 pm that day, but around 11.50 I was there. It was a Russian billionaire who wanted to celebrate a successful business deal. They started with two bottles of Corton- Charlemagne.
Header Image: Anastasios Karakasis
The London Wine Competition is now open for submissions. Register your wines today to save BIG on super early bird pricing. Ship your samples later.