Artist, Performer, Sommelier
20/12/2021
What is a sommelier, if not sometimes a psychologist, at others a counselor, an artist or a performer. And Emanuel Pesqueira, head sommelier of Gordon Ramsay enjoys every aspect of it.
Where do you currently work?
Tell us more about yourself.
After graduating from a business hotel management school, I wanted to work in every aspect of the Food and Beverage to be a successful Director of Food and Beverage one day. I always dreamed of seeing the world, so I decided to follow my love and passion for food and beverage and take a 6 month contract on Crystal cruise line as chef de Partie. I ascended through a wide variety of roles in recognition of exemplary performance and stellar service delivery.
I fell in love with travelling and enjoying various cuisines around the world with the most amazing wines. From kitchen to Restaurant then Bars, Sommelier and finally Food and Beverage Operations Manager. I ended up doing 10 years on Crystal Cruises. My passion and love for wine became my golden key.
I arrived in the UK in 2012 and worked for the amazing Erik Zwiebel MS who mentored me and taught me more and more about wine, competitions and the UK market for which I will be always grateful. Then moved to operation in food and beverage however the pandemic brought me back to my love and passion in wine and I felt that I was taking a lot for granted. Love the life you live <> live the life you love.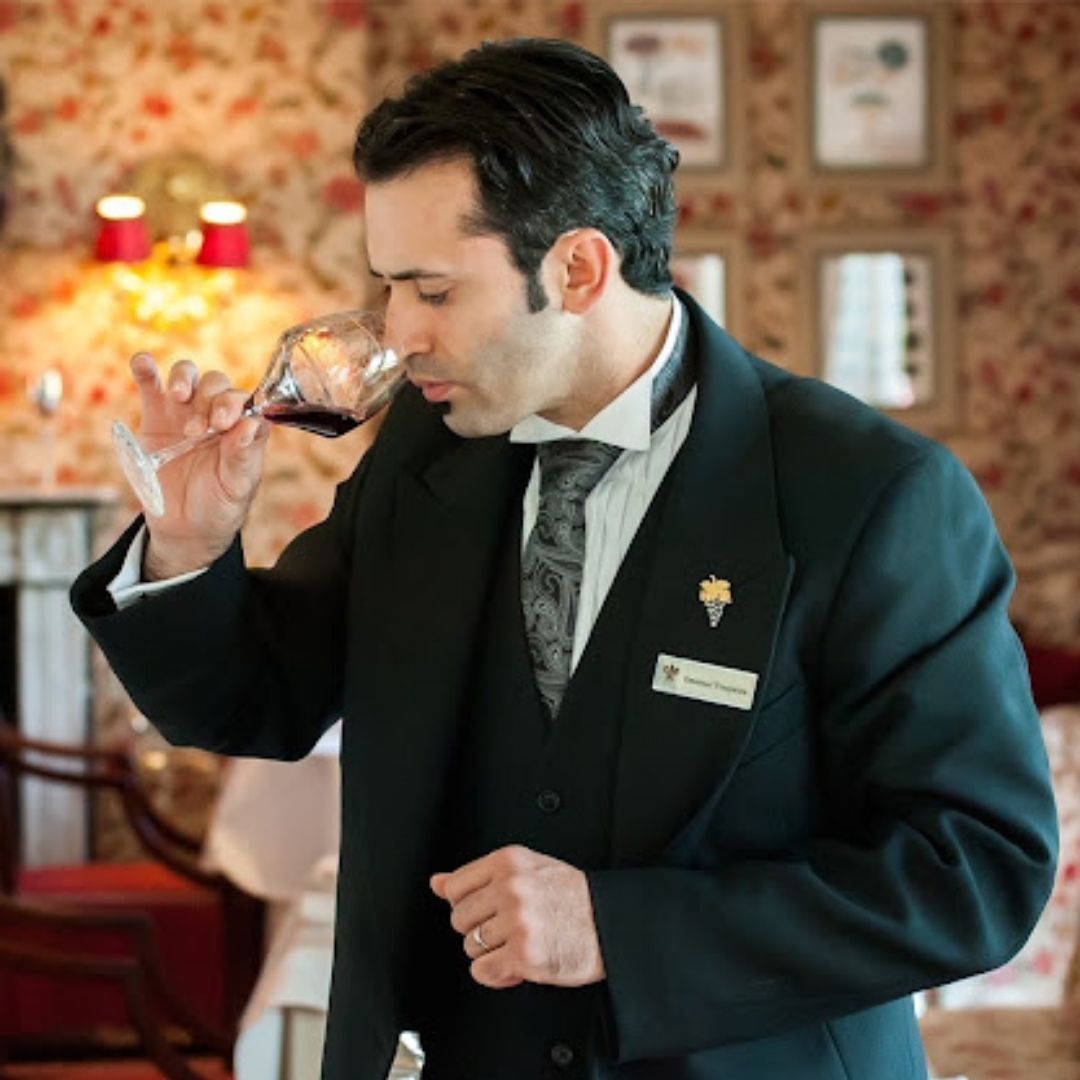 Emanuel Pesqueira, Head sommelier of Gordon Ramsay
Why did you want to become a sommelier?
Mystery is the main word. This liquid took me to science, history and tradition even to nature. It was what I was looking for in the endless study from the moment you see the liquid until you smell it and taste it. It even connects and provokes conversation between people.
I always believed that my life took a different turn when I tasted the Termanthia 2002 in Toro while cooking. It reminded me of when my dad used to enjoy a bottle of wine from his collection with every meal and how curious I was about the back story behind every label. A sommelier is a point of reference for the guest and connection between the vineyard and the consumer.
How according to you has the role of the sommelier evolved, especially now during Covid times?
The role of Sommelier evolved a lot and this specific set of skills is very important in hospitality to enhance customer experience. Many people took online courses during the pandemic and had the time to learn more about wine with virtual tastings.
What are some of the most important skills for a sommelier to have?
A good sommelier has to be a psychologist, a counsellor, an artist and a performer! As well is someone who will talk to the customer about what they like, rather than what the sommelier likes. He is a point of reference for the customer budget and what they are looking for.
Your favorite places to enjoy great wine in London?
67 Pall Mall would be my first choice if I did not work there, however Oeno and the Black book are on the top of my list.
What is your approach to matching food and wine?
Daring is pairing! Allow the guest to decide what they would like to do with their dish when pairing their wine through our knowledge as sommeliers.
If you had to pick one red and one white wine as your personal best, which wines would they be?
MEURSAULT LES GOUTTES D'OR Domaine d'Auvenay from Leroy empire and the 1989 Barolo Reserva Collina Rionda from Bruno Giacosa.
What are the 5 challenges you normally face in your job and how do you tackle these?
You can never please everyone. You must read the table and understand what the guests are looking for. At the end of the day it is about what they like and not what the sommelier likes. The Coravin system turned sommelier life into another planet. Allowed the world of wine to become in our hands and the consumer to have a wider range to taste.
The challenge is to keep up with the wine world and the knowledge and how to allow the guest to leave the safe zone and the usual habits to be able to explore new grape varieties and regions.
Any favorite food and wine pairing suggestions for London drinks enthusiasts?
Langoustine with truffle, sea kale and Jerusalem artichoke. I paired this tricky dish with Domaine Huet's Clos de Bourg Demi-Sec Vouvray 1957
Any tips for wine brands trying to grow in on-trade and how they can help sommeliers?
Wine brands are switching from web based after the pandemic to face to face tasting. I suggest having food pairing alongside the wine because sommeliers use their imagination and they try to match it to a specific dish from their food menu.
Please explain your weekly tasks, going in detail about what all you do.
The usual tasks of any sommelier. Opening the floor that is assigned. Checking the reservations and what wine requests have been registered or what wine the members requested from their cellar. Putting the night before requisition in the fridges and double checking all the wine by the glass, coravin and all tools needed for lunch or dinner service.
What's your personal career goal? And how are you investing or planning to get there?
My goal is to become Head of wine for a luxury group. I have a bank of experience from all F&B outlets and a finance background which helps me understand the business acumen behind every business. This is leading to outstanding delivery and customer experience as well as building a strong team that aims towards the same goal. I'm studying for my WSET Diploma and pursuing my Court of Master Sommelier.
Give us one good story that you remember of a customer and you.
Every day is a different story and different experience. The most amazing is about blind tasting and what the 67 Pall Mall selection allows us to do with it. The core is to suggest a wine that you believe someone never had or dare to try and fit it in the middle of a selection of wine already picked. Then wait for the facial expression when the wine is revealed.