Deadline
September 30, 2023
Enter Now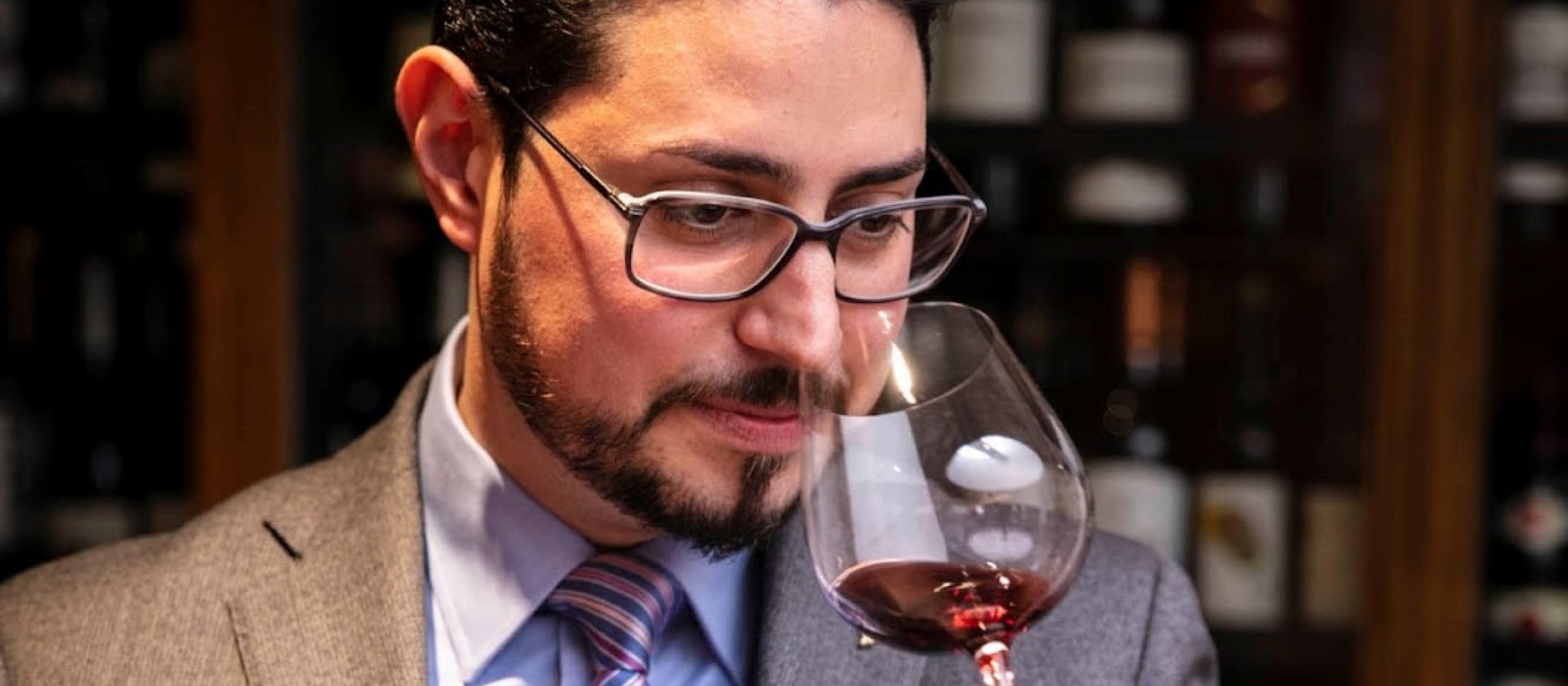 600 bins and climbing
Giuseppe Lacona may currently have 600 bins of exquisite wines in their cellar but he plans to up that number to have the best wine list in the City, with affordable prices and a unique selection.
Where do you currently work?
Tell us more about yourself.
I come from a small town northeast of Italy, a beautiful spot on the map, surrounded by green hills, mountains, and lakes, also known as the Prosecco region, wine was already in my bloodstream.
[[relatedPurchasesItems-22]]
I was 16 years old when I had my first approach to the hospitality world, and since then I started to enjoy it. I had worked in several hospitality roles across Italy, Spain, and then when I came to the UK in 2007, it all changed for me. I was offered a position as commis sommelier in Skylon restaurant, where I laid the foundation, and then I moved to work in very notable establishments such as Koffmann's Restaurant at The Berkeley, Berners Tavern at the London Edition by Jason Atherton, Murano by Angela Hartnett, Union Street Café and Petrus by Gordon Ramsay, before assuming the role as Head Sommelier at Coq d'Argent in 2019.
Why did you want to become a sommelier?
Well, I worked in different hospitality roles, and at one point I simply fell in love with wine and realized how important it is. The more I was tasting the more I wanted to taste, and here in London, I had many opportunities to try wines from all over the world, meeting winemakers, and understanding their work, and I became more fascinated with it.
How according to you has the role of the sommelier evolved, especially now during Covid times?
We are all experiencing staff shortages, many sommeliers left the country because of Covid as well for Brexit. I've been lucky to find the right people just before the reopening after the third lockdown, the demand is very high, wine has always been an important part of the dining experience, especially for fine dining, where the expectations are high, as well as the prices.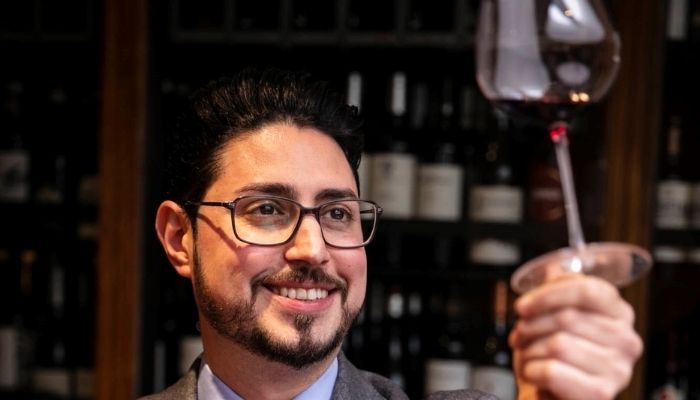 "But now people want to enjoy themselves even more, the wine sales had a big boost after the reopening." - Giuseppe Lacona
Having the right people is a must, it pays back, so that's why all the companies should invest in training and forming the staff, and what the government should do, is to change the actual work permit and allow people to come back to the UK to work.
What are some of the most important skills for a sommelier to have?
Knowledge has always been the most important skill, but not only about wine, but it's also about food, service, and customer service. You don't become a sommelier just because you've done a wine course. What I look for in a sommelier is the personality, selling skills, and ability to adapt to difficult situations.
Sometimes dealing with guests could be hard and the sommelier must be capable to read the guest and anticipate their needs.
What do you look for when you plan to buy wine for your business?
The first thing is that the wine list should be designed around the food, location, and type of restaurant. For example, I'm working with classic French cuisine, located in the City, so when it comes to choosing new wines to add to the wine list, I focus on French wines, big names and great vintages. I really love the classic Bordeaux and I believe the vintages 1985, 1989, 1990, 1996, and 1998 are drinking beautifully now.
Then I put my personal input, to personalize the list, I've been sourcing wines from new regions such as China and India, Old World wines from Greece, Lebanon, Georgia, and Armenia, as well sustainable, organic, and biodynamic wines. Biodynamic farming is simply fascinating, but there is a limit. I tasted some Natural wines that were undrinkable, and from the selling point of view if it doesn't sell it does not make money.
Your favorite places to enjoy great wine in London?
At Coq d'Argent of course, the more expensive the wine, the less margin there is. A perfect way to enjoy a fine wine without breaking the bank, personalized service, and amazing food.
Then if I want to treat myself I pick a bottle of wine from my personal cellar, cook a nice dinner at home, with the right company, that's perfect.
What is your approach to matching food and wine?
Just following the basic rule of food and wine matching, things are changing now, and there are no more boundaries. I remember when I was working at the Murano restaurant I used to select a different wine pairing adapting to the guest's liking. It is ideal to find the perfect wine matching with the food but more important is to match it to the customer's taste, and in the end, I want the guest to be happy.
If you had to pick one red and one white wine as your personal best, which wines would they be?
Tignanello 2004 and Chateau Pape Clement blanc 2008.
What's the best part of your job?
I drink for a living, no, just kidding! I feel very lucky, I have tasted wines that would have been impossible to taste unless I was a millionaire, from Chateau Petrus to Liber Patel. Then when it will be possible again, I love to go on wine trips. I learned a lot from winegrowers and visiting the wine estate made me understand how challenging, difficult and hard it could be to grow grapes and to make wine.
What are 5 challenges you normally face in your job and how do you tackle these?
First - staff shortages: I'm lucky enough to have staff now, I pushed at the very beginning with interviews and trial shifts. We were among the first to re-open after the last lockdown and I managed to secure staff for the re-opening.
Second - keeping the staff: increasing salary and sponsoring wine courses.
Third - wine shortages: updating the wine list more often and stocking up on the fast-moving items.
Fourth - dealing with supplier's mistakes: patience is the key, I'm trying to be reasonable.
Fifth - try to find time between admin and working on the floor: just better time organization.
Any favorite food and wine pairing suggestions for London drinks enthusiasts?
Oysters and champagne, Taittinger Comte de Champagne Blanc de Blancs Brut vintage 2007 is a match I love, then a nice Cote de Boeuf cooked rare with a Magnum of Chateau Haut-Bailly, Pessac-Leognan 2007, delicious.
Any tips for wine brands trying to grow in on-trade and how they can help sommeliers?
I think nowadays visibility is very important, even though the product is not excellent, a good marketing campaign on the right platform should work at the beginning.
I remember during my judging experience at the London Wine Competition, I was tasting the wine blindly without knowing the product, at the end what is important is what is inside the bottle, getting the sympathy of the sommelier will help the sales.
Please explain your weekly tasks, going into detail about what you do.
My working week starts Monday morning and finishes Friday evening, as I'm working in the City I'm following the same path of the corporate business around us.
Monday morning I started the day with the HOD meeting and normally I'm in the office doing some admin (paperwork, delivery/invoices reconciliation, updating the wine list, and dealing with suppliers) and also placing wine orders for the next day.
Tuesday is delivery day, either myself or my sommeliers with some help of a commis waiter are dealing with it, then I'm doing lunch service, and as soon I can I go in the office to carry on my duties, after a little break I do dinner service, my day finish at 10 pm.
Wednesday, I spend some time in the office just before lunch service as well in the afternoon before dinner service.
Thursday, I place the last wine orders before the weekend then I do the rota for the following week.
Friday is my last working day of the week, so I make sure everything is done before I go, and I do wine training during the briefing, I call it "Wine Friday".
Then I'm off for the weekend, happy days!
What's your personal career goal? And how are you investing or planning to get there?
I keep building up the wine list, looking for big names and great vintages, the current wine list stands around 600 bins but is still not enough for me. We just bought two brand new Eurocave so I have plenty of storage and I have to fill those gaps. My aim is to have the best wine list in the City, with affordable prices and a unique selection. Soon we will start our Truffle Menu, with wine pairing, so exciting.
Tell us one good story that you remember of a customer and you.
I was working at Berners tavern at the time, and we used to use big Bordeaux glasses. I was talking with the guest about the capacity of that glass and he could not believe that I could fit an entire bottle of wine in one glass. He wanted to make a bet, I already knew I would win but I had to prove it, so I took a bottle of 75cl of water and poured it inside the glass and voila, until the last drop, I won the bet.
The London Wine Competition is now open for submissions. Register your wines today to save BIG on super early bird pricing. Ship your samples later.