Romanian Wines - Rebirth Of A Legacy
25/01/2022
Romanian wines have fought a tough fight for a seat at the table. Here's an insight into viticulture and winemaking in Romania.
Romania is a uniquely placed European country. Be it the geographical location with the Danube Delta and being flanked by the Black Sea or the Carpathians Mountains, this 12th largest European country is renowned for its confluence of cultures. It is also renowned for its wine. Romania is one of the largest producers of wine in the world. Romanian winemaking and viticulture tradition is 6000 years old. Its 187000 hectares of vineyards make Romania the thirteenth-largest producer in the world and fifth-largest in Europe.
The boom in the demand for Romanian wine around the world is an exciting feat. Three major incidents impacted the viticulture in Romania.
King Burebista ordered for all the vineyards in then Dacia to be destroyed. He believed that Dacia (now, Romania) was being invaded for the rich vineyards and its exquisite wine. Then in the 1880s, Romanian vineyards struggled with a phylloxera outbreak which destroyed the vines for several years. It was only in the early 20th Century that the restoration began. Several phylloxera-resistant grapes as well as Merlot, Chardonnay, Pinot noir, Sauvignon, Cabernet Sauvignon were planted to reinstate the wine cultures.
Under the communist regime in Romania, wines were being made in massive quantities and lacked quality. The fall of this regime brought in hyperinflation which highly impacted the wine industry as well. Romanian wines struggled with labels of being mass market and low quality.​​ But the times are changing. Romanian wines are now made with a mix of international and indigenous grapes.
For enthusiasts, Romanian Wines might sound like a new phenomenon but Romania is actually a part of the 'old world' of wines along with France, Spain, Germany, and Italy. Romania brews their wine as per the traditional methods. The EU accession of Romania in 2007 brought in funds that were allocated to the removal of low-quality vines, replanting vineyards with better genetic material, and improving technologies for wine-making.
Many small winemakers have emerged in the last decade in Romania. These winemakers focus on low quantity but high-quality wines. The Carpathian Mountains aid this thanks to the variety of soil compositions at its foothills that benefit the growth of vines. Romania is also located on the same latitudes as Bordeaux which makes the climate drier and continental. This attracts wine investors from Britain, Germany, Austria, France, and Italy to enter and attempt to dominate Romanian Wine.
The main wine regions in Romania are Transylvanian Plateau, Moldovan Hills, Munteniei & Olteniei Hills, Banat Hills, Crișana Hills, Maramureș region, Dobruja Hills, and Danube Terraces.
Romania is home to a diverse range of grape varieties, including Fetească Regală, Fetească Albă, Băbească Neagră , Novac, Francusa, Busuioaca de Bohotin, Grasa de Cotnari and Cadarca. Fetească albă, Crâmpoșie, and Fetească regală are the traditional grapes for making white wines in the region. Fetească neagră make the richest red and Tămâioasa românească and Busuioacă de Bohotin produce the most celebrated aromatics.
Grasă de Cotnari is one of the most ancient wines of Romania produced in the 19th Century and popular throughout Europe. Today, Pinot Gris, Pinot noir, Italian Riesling, Merlot, Sauvignon blanc, Cabernet Sauvignon, Chardonnay, Muscat Ottonel and more are also home in Romania.
While Romania produces more than 4.9 million hectolitres, as per the OIV report in 2019 it exported only 3.5% of its total production. Basically, Romania makes more wine than New Zealand, Greece and Hungary, but exports less than Denmark, Austria, Slovakia and Bulgaria.
Here are some top wines from the region: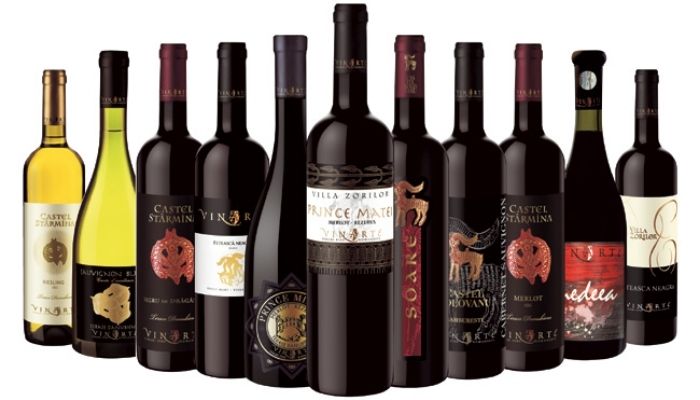 Some Top Romanian Wines; Image Source: Sommeliers-International.com
1. Budureasca Premium Tamaioasa Romaneasca (Ranked in the top 10 for the number of awards won among wines from this region: This wine has won the International Wine & Spirit Competition Silver award for the 2018 vintage and the 2015 vintage.)
2. Cramele Recas Schwaben Wein Feteasca Regală - Muscat Ottonel Alb Demidulce (The Decanter World Wine Awards awarded the 2016 vintage Bronze.)
3. Avincis Cramposie Selectionata (Based on aggregated critic scores this is one of the top 10 Romanian wines: Decanter World Wine Awards gave the 2019 vintage a score of 90.)
4. Avincis Negru de Dragasani (the Decanter World Wine Awards awarded the 2013 Silver and the Concours Mondial de Bruxelles awarded the 2014 vintage Silver.)
5. Cramele Recas La Putere Feteasca Neagra (the 2009 vintage was awarded Silver from the Concours Mondial de Bruxelles, and the 2011 vintage was awarded Bronze from the International Wine & Spirit Competition.)
6. Asda The Wine Atlas Feteasca Regala (Decanter World Wine Awards gave the 2018 vintage a score of 95, 2019 Vintage awarded People's Choice Drinks Award)
7. Cotnari Grasă de Cotnari (the Concours Mondial de Bruxelles awarded the 2021 Silver Medal, Selection Mondiale des Vins Canada awarded the 2000 Or and the Monde Selection awarded the 2006 vintage Gold.)
Do also watch out for the following small producers that are creating global impact:
1. Dealu Mare (Domeniile Săhăteni Lacerta, Davino, SERVE, Budureasca, Basilescu)
2. Drăgăşani (Prince Știrbey)
3. Drîncea (Crama Oprişor, Domeniile Segarcea)
4. Dobrogea/Murfatlar (Alira)
---
Article By: Prithvi Nagpal, Editor & Sommelier, Beverage Trade Network
Header Image Source: Experitour.com